Mastercard expands contactless transit solution in Latin America
January 25, 2018 | Davos, Switzerland | By Andrea Denadai
Residents and visitors to benefit from speedier access to public transportation in Valparaiso, Chile. Valparaiso joins a group of 100+ cities worldwide on a journey to become more connected
Moving toward a world beyond cash, Mastercard is partnering with cities and other technology companies to improve overall quality of life, while helping them manage their logistics in a more efficient way.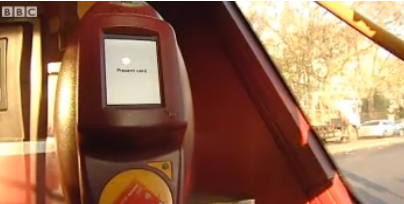 Over the next few weeks, Valparaiso, Chile, one of the most iconic and touristic locations in Latin America, will enable contactless and mobile payments for transit.  With this move, Valparaiso joins a group of 100+ cities around the world including London, New York, Singapore, Sydney, Rio de Janeiro, Bogota and Mexico City that offers residents and visitors the opportunity to get on their way faster and easier.

Valparaiso Metro riders will soon no longer need to pre-pay their fare at the ticket kiosk, instead they will simply access their fare funds by tapping their contactless credit, debit, prepaid card, smartphone or wearables (such as wristbands and others) on the terminal reader.  Essentially, riders will pay-as-they-go speeding up their commute time.

"Latin America is the most urbanized region worldwide, with around 80% of its population living in cities. While every city has its own characteristics, they are all dealing with similar problems such as road congestion and pollution.  Cities across the region are looking for ways to modernize public transportation systems, making them more efficient and accessible to the population," says Gilberto Caldart, president, Mastercard Latin America and Caribbean. "It will take a collaborative and holistic effort from both the public and private sector to meet these challenges – and Mastercard is taking a leading role in making cities more inclusive."

Since the introduction of contactless payments across London's transit system in 2014, almost half of all pay-as-you-go journeys on the city's underground, buses and commuter rails are paid that way. When commuters tap their contactless card or device at one of the readers, they're guaranteed the best available fare at the end of a day or week.

In New York, travelers can "Masterpass" their ticket on their mobile device to access commuter rail lines. In Bogota, more than 20 million trips on the city's public transport system each year are made using a combined payment and transit card.

In Singapore, contactless ticketing was recently launched across the city's transit network, making it the first city in Asia to bring this convenience to its commuters.

In Latin America, Jundiaí (SP) is the first city to equip its 350-strong bus fleet with Mastercard's contactless payment technology, allowing riders to simply and conveniently tap their device of choice. Brazilian cities are moving fast towards smarter solutions for transit. Rio de Janeiro has contactless enabled payments live in 5 train stations, while São Paulo, Porto Alegre, Curitiba and Brasília are piloting the system, which will be expanded in the next few months.

In Mexico City, the Metro authority has just announced that 450 thousand contactless Mastercard debit cards are now available for sale in two metro lines, as part of the efforts launched in November 2017 to modernize the transportation system in the city that presents the worst traffic in the world, according to the most recently TomTom Traffic Index, released in February 2017.

Colombia, the first country to launch a contactless solution for transit in Latin America & Caribbean region, has already 5 cities benefiting from a faster and easier way to pay. Up till now, more than 2 million hybrid cards have already been issued in the market.
About Mastercard

Mastercard (NYSE: MA), www.mastercard.com, is a technology company in the global payments industry.  We operate the world's fastest payments processing network, connecting consumers, financial institutions, merchants, governments and businesses in more than 210 countries and territories.  Mastercard products and solutions make everyday commerce activities – such as shopping, traveling, running a business and managing finances – easier, more secure and more efficient for everyone.  Follow us on Twitter @MastercardNews, join the discussion on the Beyond the Transaction Blog and subscribe for the latest news on the Engagement Bureau.