Make 2018 Your Year of Action: 'Start Something Priceless'
January 18, 2018 | Purchase, NY
There is no better time than the New Year to remind ourselves that we each have the power to do something meaningful, make something special happen in our lives and our world. With the global launch of Start Something Priceless, Mastercard is inspiring everyone to take a first step in pursuit of their chosen passion or purpose, and turn small moments into amazing memories.

"Start Something Priceless is a call to action at a time when people expect actions, not just ads, from brands," said Raja Rajamannar, chief marketing and communications officer at Mastercard. "This is a time when people truly believe in their own power to fuel change, and whether big or small, an action has the ability to make the world a better place. That movement is what we aim to unleash this year.

"Every day at Mastercard we work to make a difference in communities across the world, whether that's reversing the cycle of poverty with the World Food Programme, donating to Stand Up To Cancer to give more people support in their fight, or bringing young girls into our family to inspire and prepare for a career in STEM."

The #StartSomethingPriceless movement launched today and we are encouraging people to share their pledges to pursue a passion or purpose, effect change, and lift one another up. Commitments can be anything that enriches your life, from reading a book every night with your child to adopting a dog from a shelter - just use the hashtag to start something today.

The iconic Priceless campaign has been at the forefront of purpose-driven branding for 20 years, with a story that has evolved with the way people think and feel. Priceless has always been about celebrating connections and experiences, but we are now inspiring and empowering consumers to pursue something that is meaningful to them; our journey has taken us from story-telling to story-making. We are now taking Priceless to the next level, to story-inspiring.

For Mastercard, the new brand mantra will come to life across a variety of experiences and interests like travel, music, sports and philanthropy. The brand will uncover stories, create opportunities, and provoke people to think differently, all in partnership with Mastercard's world-class sponsorship properties – GRAMMY Awards®, BRIT Awards, UEFA Champions League, Rugby World Cup, Australian Open, Cannes Film Festival, and the Arnold Palmer Invitational – as well as through its signature Priceless Causes programs with The World Food Programme and Stand Up To Cancer.

From Adversity to Strength

Beginning this week, Start Something Priceless will shine a light on how passions like music and sports can help people overcome personal challenges and confront bias to pursue their dreams and transform adversity into strength.

This week Mastercard will bring Start Something Priceless to U.S. audiences in support of music's biggest night, the 60th Annual GRAMMY Awards®.  The campaign shares the journey of a group of exceptional emerging musicians who have risen above bias or disability to realize their potential. Watch the short film here.

Today, Mastercard is also teasing the next Start Something Priceless journey, which shows how cultural barriers crumble when people are brought together for the mutual love of sport. The emotional video shows 22 amateur football/soccer players with tight patriotic ties coming together from around the world to play a match where all egos have to be left in the locker room. The video of course, has a very special ending.

Getting Involved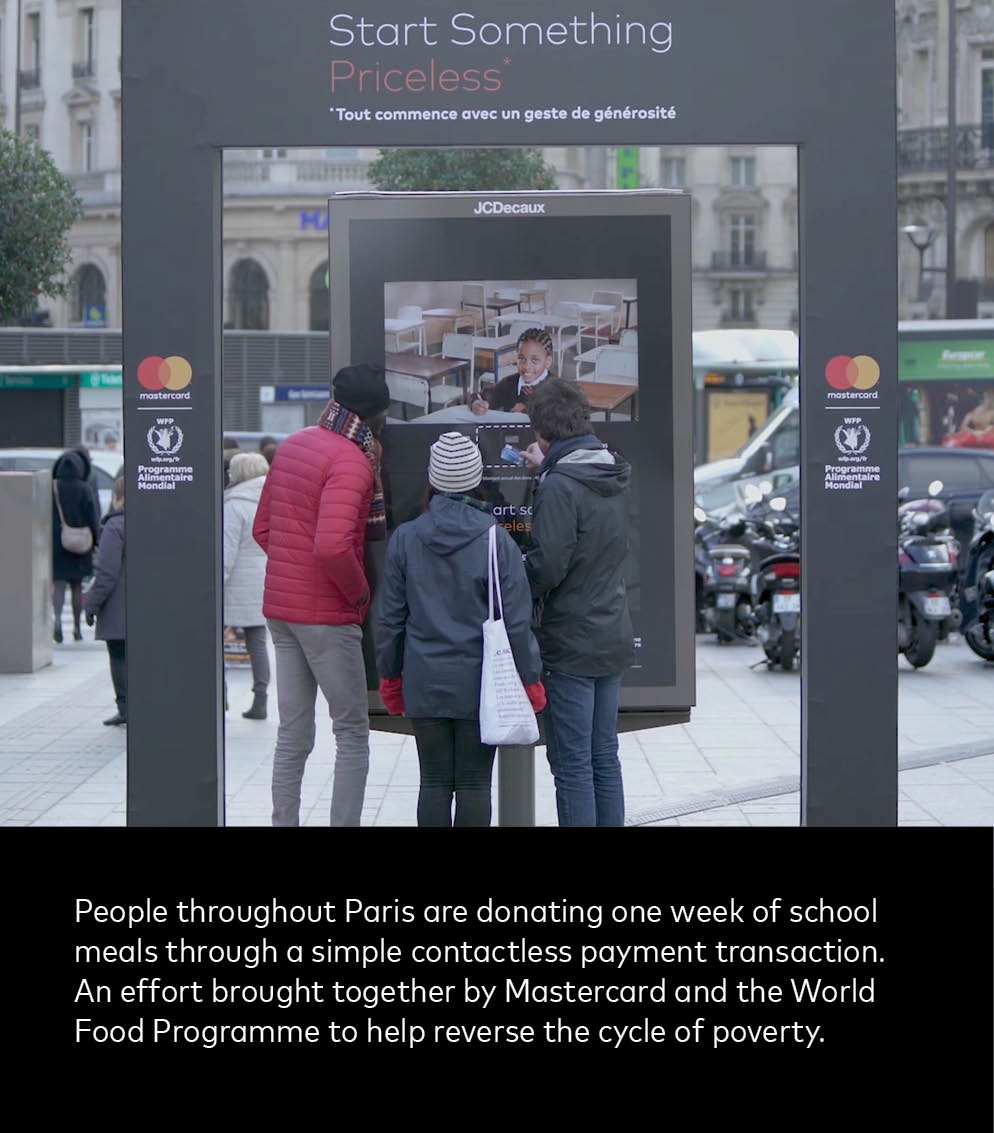 As a leader in the drive towards financial inclusion, Mastercard is exploring innovative ways for people to make a difference. The company has installed interactive donation billboards around Paris that allow passers-by to donate a week of school meals for one euro via contactless payments, simply by holding up their phone or card. See the magic happen here. In partnership with the World Food Programme, Mastercard is committed to delivering 100 million school meals and ultimately contribute to reversing the cycle of poverty.

People are invited to join the #StartSomethingPriceless movement. Let @Mastercard know what you pledge to do by sharing a photo, video or a simple statement with @Mastercard on Instagram or Twitter, using the hashtag.

 

Notes to Editors

This new expression of Priceless, developed in partnership with McCann, builds on Mastercard's 20 years of celebrating moments and creating unforgettable experiences. Guided by the universal human truth that experiences matter more than things, Priceless is an emotion that transcends all borders and cultures, which is why it has been successfully deployed in 54 languages and 113 countries. Over the years, the Priceless platform has been instrumental in uniting the Mastercard brand around the world, which today is among the world's most valuable.