Just Tap and Ride: Mastercard Simplifies the Daily Commute in Over 150 Global Cities
November 6, 2018
Working with transit operators, banks and technology partners, Mastercard Transit Solutions deliver seamless commuter experiences

Tapping your card or phone is all it takes to get around a city – this possibility is quickly becoming real for residents and visitors in over 150 global cities, thanks to Mastercard Transit Solutions and the company's banking and technology partners. Following London, Sydney and Vancouver, the latest wave of cities to join the tap and ride revolution includes Mexico City, Milan and Kaohsiung, Taiwan.

Metro systems around the world are carrying close to 170 million passengers each day. As the ranks of daily commuters continue to grow, improving the speed and reliability of transit services is a key concern for a majority (59 percent) of urban residents, according to a new global survey[1].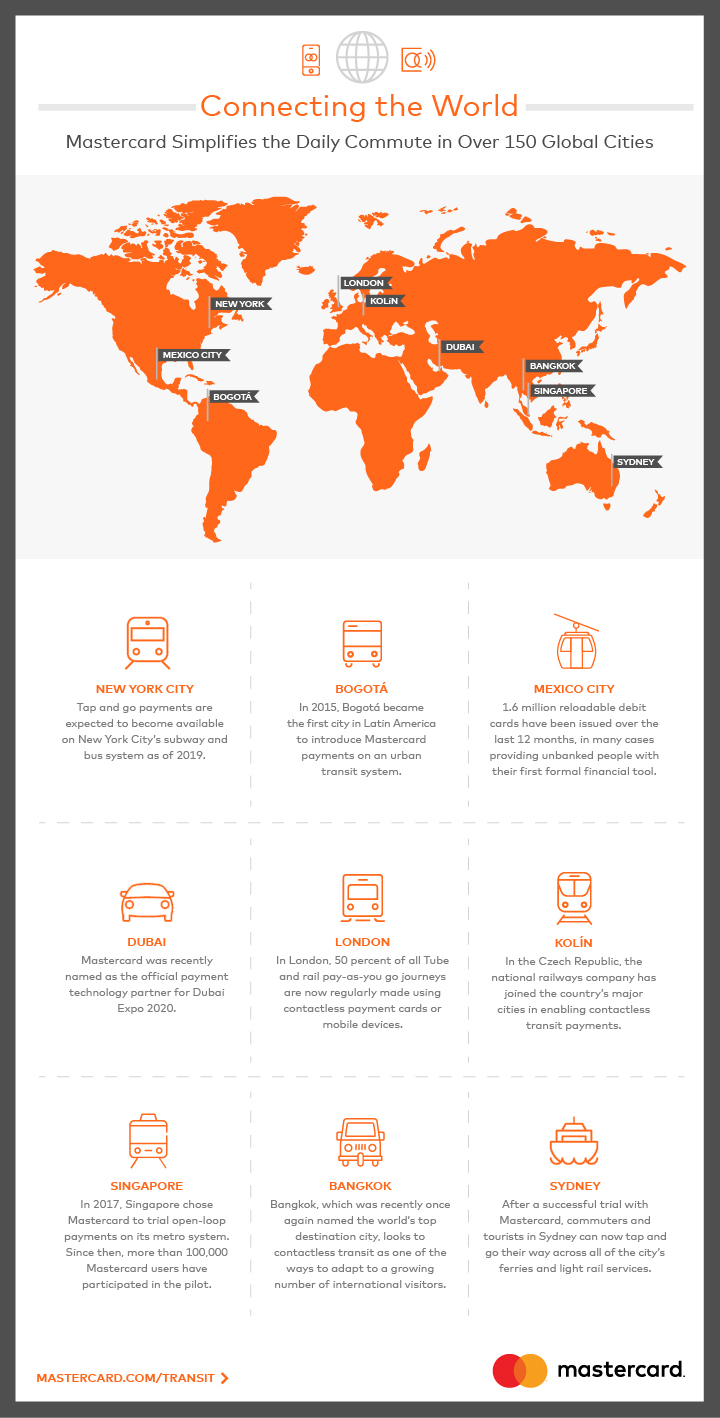 By enabling tap and ride access to trains and buses, a growing number of cities are working to meet this expectation. The benefits are obvious. No more time wasted waiting in line at the ticket booth or holding up the bus while getting change – and no more funds lost on unused tickets. By offering a contactless or mobile payment option, cities can equip their transit systems to provide better experiences for riders – and realize significant cost savings from more efficient operations, reducing the cost of fare collection by 30 percent or more.

"Everywhere around the world, people have the same need. Getting from Point A to Point B should be as simple as buying your morning cup of coffee", says Hany Fam, executive vice president, enterprise partnerships, Mastercard. "Our technology, insights and partnerships deliver on this expectation – from London to Singapore, and from Bogota to New York City. As the world becomes increasingly urban, accessible and efficient transit links are a key to unlocking economic opportunity – for individuals and for cities."

Making Technology Work for People

Mastercard understands that today's challenges are best solved through collaboration. Partnering with cities, transit agencies and technology companies, Mastercard has been architecting flexible transit solutions for almost a decade – and is leading the next generation of mobility services.

By working with partners such as Microsoft, HERE Technologies, Cubic Transportation Systems, Masabi and Vix Technology, Mastercard is paving the way to solving mobility and other urban challenges in a more holistic way. This spirit of partnership is the inspiration behind City Possible, an initiative that brings cities together – and connects them with a united private sector.

Finding the Right Transit Solution for your City
With more people travelling to and from urban areas for work or leisure, cities are looking for better ways to address demand across their public transit networks. Infrastructure, budgets and timeframes vary, which is why, working with its partners, Mastercard helps cities identify the right solution for their specific needs.

On www.mastercard.com/transit, transit operators, systems integrators and urban planners can access case studies and other resources to learn more about how Mastercard Transit Solutions are helping make travel across and between cities simpler than ever – using contactless, mobile or dual-application card solutions. Working together with cities and technology partners, Mastercard Transit Solutions are innovating faster and scaling quicker.

Examples of How Mastercard Transit Solutions are Connecting the World

Europe:


In London, 50 percent of all Tube and rail pay-as-you-go journeys are now regularly made using contactless payment cards or mobile devices, with cardholders representing over 100 countries. Cities across the UK, as well as the national bus network, have also adopted this open-loop approach, helping to make UK one of the leading contactless markets in the world.
In the Czech Republic, the national railway company has joined the country's major cities in enabling contactless transit payments.
In July, Milan became the first Italian city to introduce contactless payments on its metro system.
Tallinn, the capital of Estonia, has chosen Ridango, a Mastercard Start Path company, to introduce contactless transit payments.

Asia-Pacific:


In 2017, Singapore chose Mastercard to pilot open-loop payments on its metro system.
After a successful trial with Mastercard, commuters and tourists in Sydney can now 'tap and go' their way across all of the city's ferries and light railways.
In early 2019, Kaohsiung, Taiwan will become the first city in North Asia to launch contactless bank card payments on its transit system.
Bangkok, which was once again named the world's top destination city, looks to contactless transit as one of the ways to adapt to a growing number of international visitors.

North America:


Since Vancouver launched a new way to pay in May this year, it took only two months to reach 1 million contactless journeys.
Following the introduction of mobile ticketing on Metro North and Long Island Rail Road (LIRR) in 2016, 'tap and go' payments are expected to become available on New York City's subway and bus systems as of 2019.
Over the next two years, Boston will introduce a new fare payment system, including contactless options.

Latin America:


In 2015, Bogota became the first city in Latin America to enable Mastercard payments on a transit system. This example was soon followed by other cities across Colombia, Brazil and Chile.
In Mexico City, over 1 million reloadable debit cards have been issued over the last 12 months – in many cases providing unbanked people with their first formal financial tool.

Middle East and Africa:


As the official payment technology partner for Dubai Expo 2020, Mastercard will help deliver a cashless experience for millions of visitors from around the world.


From November 13 - 15, Mastercard will be participating in Smart City Expo World Congress, an annual global gathering of urban and business leaders. At the event, Mastercard invites delegates to experience City Possible through a series of talks and demos.

 

[1] Smarter Cities 2025, ESI ThoughtLab, November 2018