IFC and Mastercard Expand Partnership to Drive Greater Financial Inclusion in Emerging Markets
April 26, 2018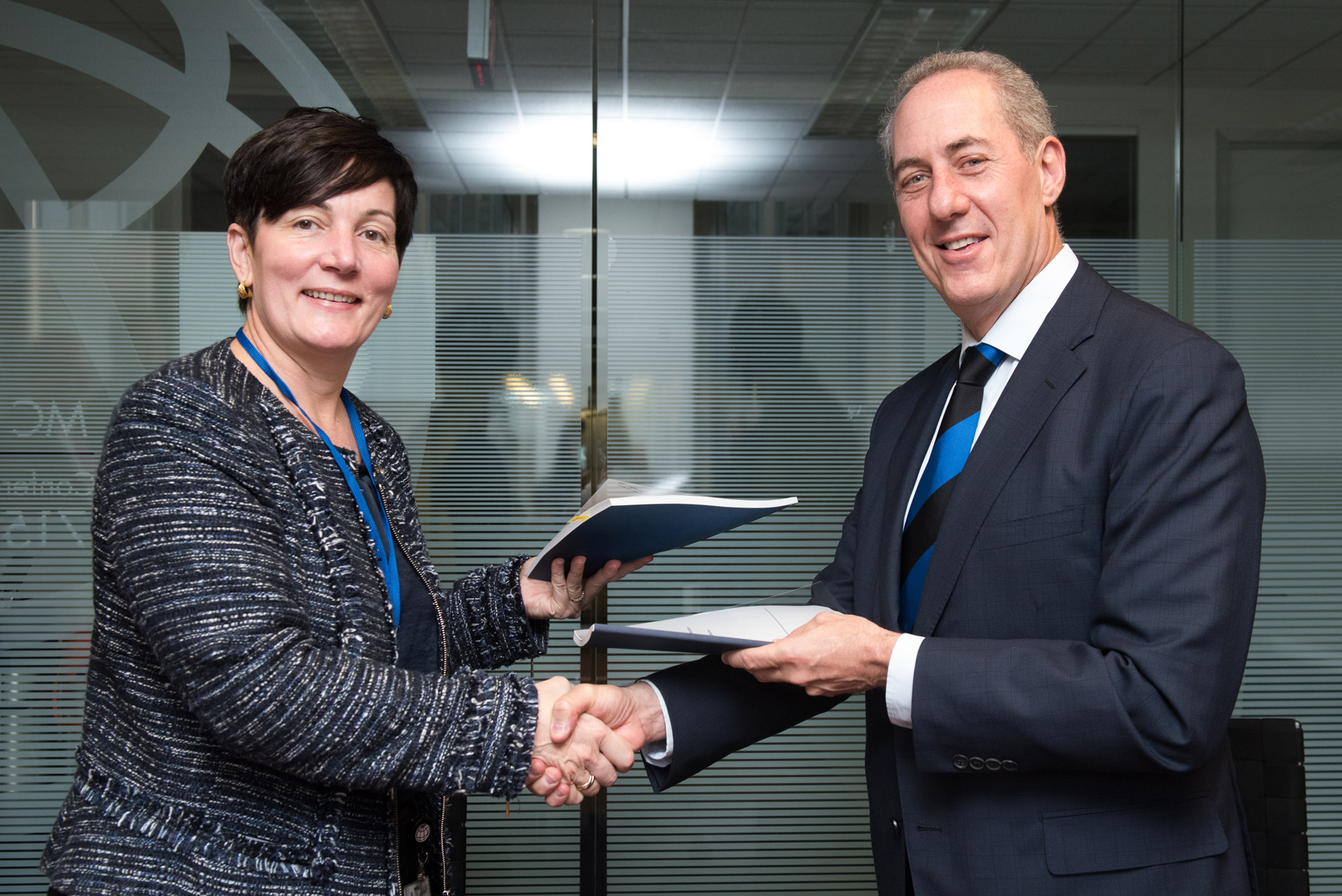 Stephanie von Friedeburg, IFC Chief Operating Officer and Michael Froman, Vice Chairman and President, Strategic Growth at Mastercard Sign Updated Agreement in Washington, DC on Sunday During the World Bank's Annual Spring Meeting

Washington, D.C., April 26, 2018 – Mastercard and IFC, a member of the World Bank Group, today bolstered their partnership to drive financial inclusion, updating a $250 million global risk-sharing facility to expand access to electronic payments in emerging markets.

Electronic payments help underserved people and small businesses more fully participate in the formal economy. Yet, financial institutions in emerging markets often have difficulty covering their transaction settlement obligations, making it harder to rapidly scale financial services where they are needed most.

Updating an agreement originally signed in 2015, the revised agreement between IFC and Mastercard helps financial institutions in developing countries participate in the Mastercard network more effectively through a program in which IFC will guarantee up to 100 percent of the settlement risk. The new agreement will support a major expansion of the program to more participating banks and financial institutions.

Stephanie von Friedeburg, IFC chief operating officer said, "This partnership will help bring modern financial services to underserved people around the world. It allows us to pool our capabilities in risk management and financial technologies, and to leverage our global network of financial institutions to deliver financial inclusion."

With the revised agreement, Mastercard will extend its efforts to identify, develop and implement programs with participating financial institutions. This will improve access to electronic payments for millions of people in emerging markets. The company will also continue to support a separate 2016 agreement with IFC to increase acceptance of electronic payments among small businesses and micro entrepreneurs in the same markets.

"True inclusion is not something any one entity can deliver on its own," said Michael Froman, vice chairman and president, strategic growth at Mastercard. "It's partnerships like this, combined with technology and know-how, that are truly driving greater inclusion in emerging markets. The programs the facility is developing around the world are vital to bringing people and communities into the financial system and on a path to prosperity."

Mastercard's broader work with the World Bank Group is helping to increase universal financial access by 2020. In 2015, the company committed to reach 500 million people previously excluded from financial services within five years. Today, the company has connected more than 330 million people around the world through programs like the Mastercard-IFC public-private partnership, with more to come.
Media Contacts
Alyssa Rosenblatt, Mastercard
About IFC
IFC, a member of the World Bank Group, is the largest global development institution focused on the private sector in emerging markets. Working with more than 2,000 businesses worldwide, we use our capital, expertise, and influence, to create opportunity where it's needed most. In FY15, our long-term investments in developing countries rose to nearly $18 billion, helping the private sector play an essential role in the global effort to end extreme poverty and boost shared prosperity. For more information, visit www.ifc.org.
About Mastercard (NYSE: MA)
Mastercard is a global technology company in the payments industry. Our mission is to connect and power an inclusive, digital economy that benefits everyone, everywhere by making transactions safe, simple, smart and accessible. Using secure data and networks, partnerships and passion, our innovations and solutions help individuals, financial institutions, governments and businesses realize their greatest potential. With connections across more than 210 countries and territories, we are building a sustainable world that unlocks priceless possibilities for all.