New Partnership Aims to Make Payments More Sustainable
October 19, 2018 | Purchase, NY | By Julia Monti
Mastercard, Gemalto, Giesecke+Devrient and IDEMIA Commit to Develop Environmentally Friendly Cards
For many years, the idea of going green in payments has been limited to linking purchases and accounts with donations to environmental causes and carbon offsets. These programs have had an impact in terms of awareness and raising much-needed funds. Now, there's an opportunity to put these efforts into action across a broader part of the payments industry.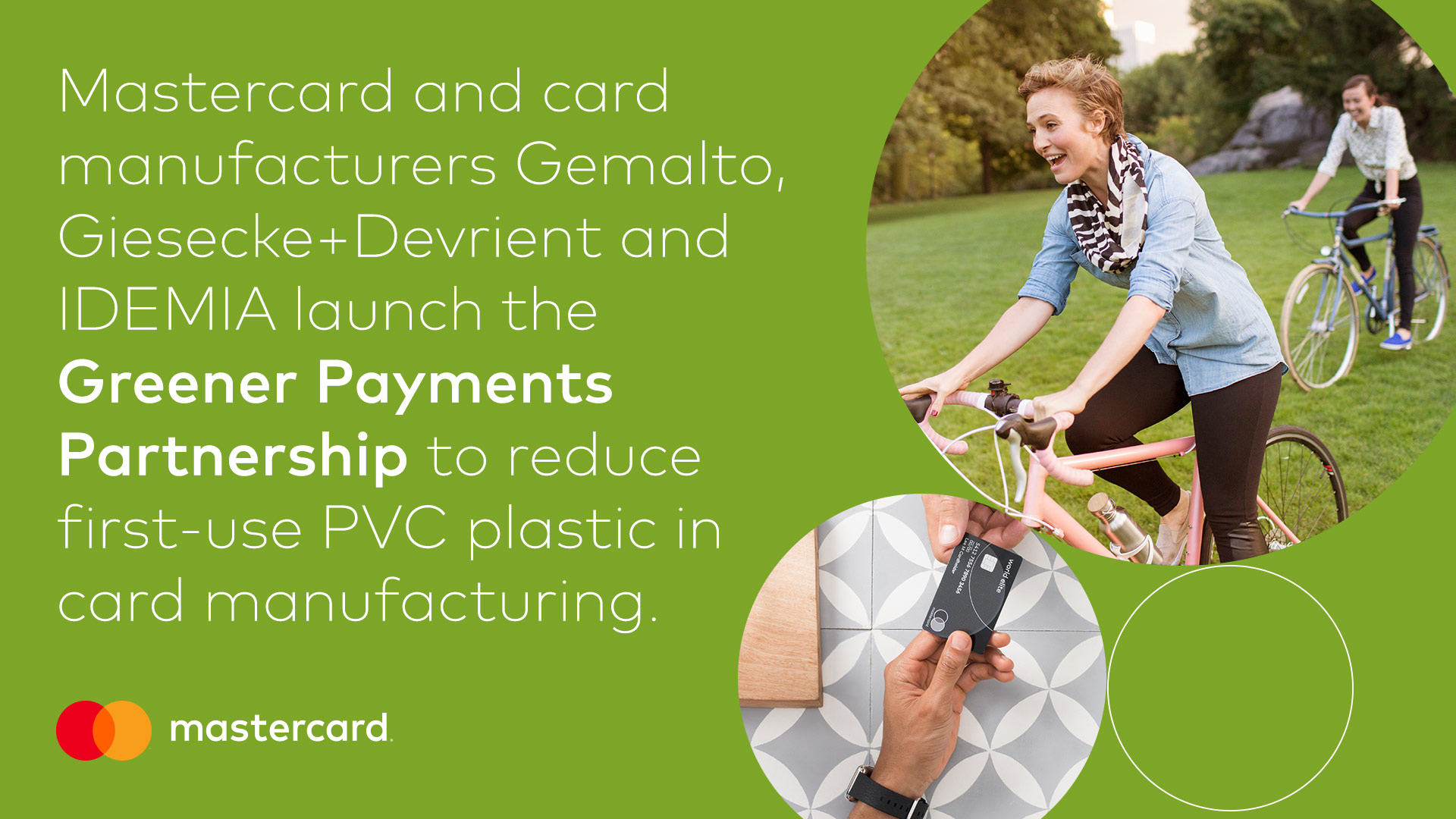 Today, Mastercard and card manufacturers Gemalto, Giesecke+Devrient and IDEMIA launched the Greener Payments Partnership to establish environmental best practices and reduce first-use PVC plastic in card manufacturing.

Roughly six billion plastic payment cards are made each year, according to The Nilson Report. While Mastercard analysis shows that this is less than 0.015 percent of the volume of plastic manufactured each year, there is room to improve that through the use of alternative materials.

"Consumers are increasingly moving from cash to card as they look for greater security and sustainability," commented Ajay Bhalla, president, cyber and intelligence solutions, Mastercard. "This partnership will help us and our industry reduce first-use plastic in cards. Together, we can build on recent research and tests and drive adoption of environmentally friendly materials on a larger scale."

Research and analysis into recyclable, bio-sourced and bio-degradable materials is already underway and now included in this remit. The partnership commits to accelerating that research with the goal of delivering globally available solutions to reduce first-use PVC plastic in card manufacturing in a matter of years.

"Responsible use of natural resources and protection of our climate and environment are core elements of G+D's Corporate Responsibility policy. We are committed to ensuring that our entire value chain is sustainable and to continuously reducing our ecological footprint. As a participant of the Greener Payment Partnership we work on the standardization of bio-sourced materials in payment cards. It is the way to step forward to an earth-friendly solution, reducing petroleum based materials," says Gabrielle Bugat, Head of the Financial Services Division at Giesecke+Devrient Mobile Security.

The group will also ensure best practices around how materials are evaluated, including environmental impact benefits and the ability to meet increasing consumer concerns around the impact of plastic globally.

"It's no secret that we all need to change the way we live and consume to reduce the impact we're having on our planet. For IDEMIA, it's essential as an industrial leader to effect change for the better and play our part to reduce, for instance, our reliance on plastic," said Pierre Barrial, executive vice president for financial institutions activities at IDEMIA. "We're delighted to partner with Mastercard to deliver viable, environmentally friendly alternatives that bring positive change to the industry as a whole."

"Environmental-friendly products are now a priority for all stakeholders in the payment eco-system," says Sylvie Gibert, senior vice president of payment cards, Gemalto. "We are committed to supporting this partnership formed by Mastercard, and we have already adopted sustainable practices in our banking card business. This initiative comes at a time where we see a growing interest from the banks for greener cards."

A Track Record of Sustainability

In 2016, Mastercard partnered with the Finnish Bank of Åland, WWF Finland, KPMG and Gemalto to create a credit card made of renewable and biodegradable materials. This program also provides consumers with suggestions on how they can reduce their carbon footprint and suggests ways they can reduce their impact.

The Green Payments Partnership is just one of the ways Mastercard is looking to encourage more sustainable practices within and outside of the company. The company became the first payments player recognized by the Science Based Targets initiative (SBTi) for committing to 20 percent reduction in greenhouse gas emissions by 2025 in support of the goals of the Paris Agreement and is one of only 150 publicly traded companies listed in the Down Jones Sustainability North America Index. In addition, Mastercard has achieved 100 percent renewable energy across its global operations. This comes as the company has diverted 100 percent of its electronic waste and 62 percent of waste from its owned campuses.

For additional information about Mastercard's sustainability efforts, please visit http://sustainability.mastercard.com/mastercard-corporate-sustainability-report-2017/. 

About Mastercard

Mastercard (NYSE: MA), www.mastercard.com, is a technology company in the global payments industry. Our global payments processing network connects consumers, financial institutions, merchants, governments and businesses in more than 210 countries and territories. Mastercard products and solutions make everyday commerce activities – such as shopping, traveling, running a business and managing finances – easier, more secure and more efficient for everyone. Follow us on Twitter @MastercardNews, join the discussion on the Beyond the Transaction Blog and subscribe for the latest news on the Engagement Bureau.

About Gemalto

Gemalto is the global leader in digital security, with 2017 annual revenues of €3 billion and customers in over 180 countries. We bring trust to an increasingly connected world. From secure software to biometrics and encryption, our technologies and services enable businesses and governments to authenticate identities and protect data so they stay safe and enable services in personal devices, connected objects, the cloud and in between. Gemalto's solutions are at the heart of modern life, from payment to enterprise security and the internet of things. We authenticate people, transactions and objects, encrypt data and create value for software – enabling our clients to deliver secure digital services for billions of individuals and things. Our 15,000 employees operate out of 112 offices, 43 personalization and data centers, and 30 research and software development centers located in 48 countries. www.gemalto.com

About G+D Mobile Security

G+D Mobile Security is a global mobile security technology company headquartered in Munich, Germany. The company is part of the Giesecke+Devrient group. G+D Mobile Security has a workforce of 5,700 employees and generated sales of approximately EUR 812 m in the 2017 fiscal year. More than 40 sales and partner offices as well as 20+ certified production and personalization sites and data centers ensure customer proximity worldwide. G+D Mobile Security manages and secures billions of digital identities throughout their entire life cycle. Our products and solutions are used by commercial banks, mobile network operators, car and mobile device manufacturers, business enterprises, transit authorities and health insurances and their customers every day to secure payment, communication and device-to-device interaction. G+D Mobile Security is a technology leader in its markets and holds a strong competitive position. For more information, please visit: https://www.gi-de.com/de/de/mobile-security

About IDEMIA 

OT-Morpho is now IDEMIA, the global leader in Augmented Identity for an increasingly digital world, with the ambition to empower citizens and consumers alike to interact, pay, connect, travel and vote in ways that are now possible in a connected environment. Securing our identity has become mission critical in the world we live in today. By standing for Augmented Identity, we reinvent the way we think, produce, use and protect this asset, whether for individuals or for objects. We ensure privacy and trust as well as guarantee secure, authenticated and verifiable transactions for international clients from Financial, Telecom, Identity, Public Security and IoT sectors. OT (Oberthur Technologies) and Safran Identity & Security (Morpho) have joined forces to form IDEMIA. With close to $3 billion in revenues and 14,000 employees around the world, IDEMIA serves clients in 180 countries. For more information, visit www.idemia.com / Follow @IdemiaGroup on Twitter