Bass Pro Shops & Cabela's Select Mastercard as Network Partner for Combined Co-Brand Portfolio
February 1, 2018 | Purchase, NY & Springfield, Mo | By James Issokson
Partnership to expand world-class service, cardholder benefits and support a unified focus on conservation and the outdoors
Mastercard announced today that Bass Pro Shops and Cabela's has chosen the company to be the network for the outdoor retailer's combined consumer credit co-brand portfolio. Mastercard has long been the network on the Bass Pro Shops co-brand program. Under this new partnership, the Cabela's CLUB credit card business will convert to Mastercard, unifying North America's premier outdoor and conservation company's portfolios under a single network with opportunities to make conservation an important component of the CLUB's mission going forward.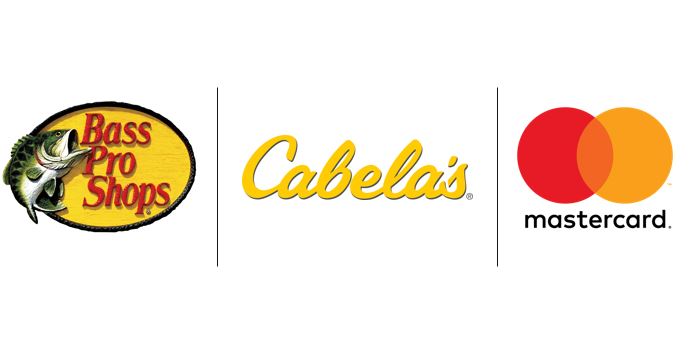 "Bass Pro Shops and Cabela's customers are strong supporters of the outdoors and conservation. We are excited to partner with a company like Mastercard that shares in these passions," said Johnny Morris, Bass Pro founder and CEO. "Our partnership with Mastercard will allow us to bring Priceless experiences to our loyal customers and unite sportsmen and women together to collectively advance conservation."

In addition to the rich rewards already provided by both Bass Pro Shops and Cabela's, this program will be enhanced by Mastercard's benefits and experiences, allowing loyal cardholders to enjoy even more opportunities to demonstrate their passion for the outdoors. Together, the companies will develop programs to engage cardholders in conservation efforts, including supporting conservation education efforts at Johnny Morris' Wonders of Wildlife National Museum and Aquarium. Located next to Bass Pro Shops National Headquarters in Springfield, Missouri, the not-for-profit conservation attraction is the largest and most immersive of its kind in the world.

"We are thrilled to welcome this premiere portfolio to the Mastercard family," said Craig Vosburg, president, North America, Mastercard. "Bass Pro Shops and Cabela's are two iconic brands that have created a best-in-class experience for consumers with their superior products, dynamic locations, unique experiences and outstanding customer service. We look forward to partnering with them to build a program focused on loyalty and outstanding customer service, as well as working to meaningfully advance conservation efforts and introduce families to the outdoors."

The transition is expected to take place before the end of the year with more details to be shared in the coming months. Bass Pro Shops and Cabela's CLUB cardholders can continue using their cards and earning reward points as usual. 


About Bass Pro Shops

Bass Pro Shops is North America's premier outdoor and conservation company. Founded in 1972 when avid young angler Johnny Morris began selling tackle out of his father's liquor store in Springfield, Missouri, today the company provides customers with unmatched offerings spanning premier destination retail, outdoor equipment manufacturing, world-class resort destinations and more. In 2017 Bass Pro Shops acquired Cabela's to create a "best-of-the-best" experience with superior products, dynamic locations and outstanding customer service. Bass Pro Shops also operates White River Marine Group, offering an unsurpassed collection of industry-leading boat brands, and Big Cedar Lodge, America's Premier Wilderness Resort. Under the visionary conservation leadership of Johnny Morris, Bass Pro Shops is a national leader in protecting habitat and introducing families to the outdoors and has been named by Forbes as "one of America's Best Employers."

About Johnny Morris' Wonders of Wildlife National Museum and Aquarium:

Johnny Morris' Wonders of Wildlife National Museum and Aquarium is a 350,000-square foot not-for-profit conservation attraction in Springfield, Missouri recently voted as the "Number One Best New Attraction in America" by readers of USA TODAY. Founded by noted conservationist and Bass Pro Shops founder Johnny Morris, Wonders of Wildlife celebrates those who hunt, fish, and act as stewards of the land and water.

About Mastercard

Mastercard (NYSE: MA), http://www.mastercard.com/, is a technology company in the global payments industry.  Our global payments processing network connects consumers, financial institutions, merchants, governments and businesses in more than 210 countries and territories.  Mastercard products and solutions make everyday commerce activities – such as shopping, traveling, running a business and managing finances – easier, more secure and more efficient for everyone.  Follow us on Twitter @MastercardNews, join the discussion on the Beyond the Transaction Blog and subscribe for the latest news on the Engagement Bureau.

Media Contacts:

For Bass Pro Shops / Cabela's                     For Mastercard

press@basspro.com                                       james.issokson@mastercard.com

(417) 870-4567                                                   (914) 249-6286