Small Business
Righteous feats: How one creator is using his platform to save the small restaurants of New York City
November 20, 2023 | By Beth Szymkowski

For a recent video, Righteous Eats co-founder Jaeki Cho rode his bike through Brooklyn, stopping to savor food from six different countries, including saltah, the stew considered Yemen's national dish, pierogies from Poland and the iconic Trinidadian street food doubles.
The video, which condensed his 13-mile bike ride into 1 minute and 20 seconds set to a gentle hip-hop beat, shows Cho doing what he loves best: hyping the small immigrant and minority-owned restaurants that make the New York metro area a food lovers' paradise.
"It's arguably the highest concentration of diversity in the United States, if not the world," he says.
Cho, a creator who has a background in digital marketing and also owns a streetwear boutique, started Righteous Eats in 2020 to throw a spotlight on the struggling restaurants he loves, especially in his home borough of Queens. When the pandemic forced the temporary closure of his brick-and-mortar boutique, he harnessed his established social media presence to call attention to local restaurants and the people behind them, hoping to drive customers to these small spots while at the same time building Righteous Eats into its own small business.
While numbers are not officially tracked, Eater estimates that 4,500 food businesses have closed in New York since the pandemic shutdowns in March 2020. Even as the pandemic recedes, small businesses like those Cho cherishes still need help — in an increasingly digitized world, many struggle to keep up with changing consumer demand and spending habits and preferences.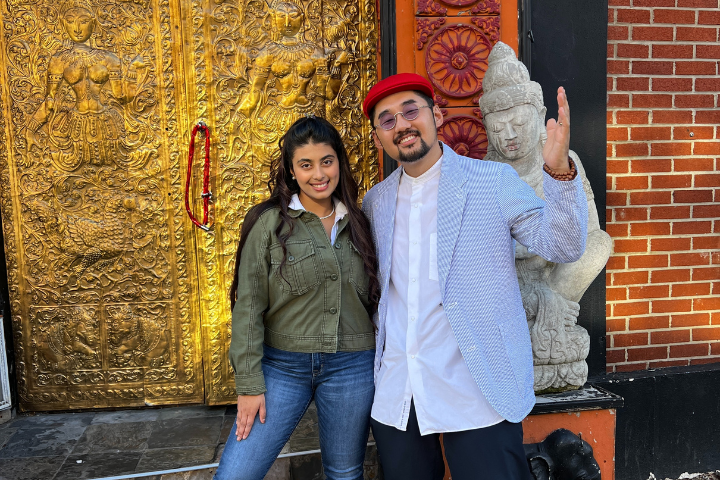 In Staten Island's Little Sri Lanka, Julia Wijesinghe, left, pictured with Jaeki Cho, runs Lakruwana, where her chef mother Jayantha serves up traditional lamprais -- rice, curry, condiments, an egg and a choice of protein steamed inside a banana leaf — and other Sri Lankan classics. (Photo courtesy of Righteous Eats)
That's why Cho participated in Mastercard's support of the TCS New York City Marathon, which included a five-borough tour on Instagram to highlight local eateries along the marathon route and a panel discussion focused on small businesses, in partnership with Citizens Bank. "There are parallels between running a small business and running a marathon — including the grit, determination and resiliency required, and the power of community to make it all possible," says Seema Chibber, executive vice president for Mastercard North America.
Digitization is one of the most pressing concerns for small business owners, but that requires getting comfortable with new skills, which can be a challenge for entrepreneurs who must wear multiple hats.
Cho also stopped by Mastercard and Citizens' "Small Business Boulevard" at the Marathon Expo at the Jacob K. Javits Convention Center, which featured a pop-up of three local businesses: Brooklyn Tea, Anybag and Effie's Paper. Each was equipped with Apple's Tap to Pay on iPhone, which seamlessly enables businesses to securely accept contactless payments, such as contactless credit and debit cards, Apple Pay and other digital wallets,  using only an iPhone — no additional point-of-sale equipment needed. This gives small, often cash-only businesses an easy way to digitize, go on the move beyond their storefronts and keep pace with the evolving digital economy.
Mastercard also recently expanded Digital Doors, its small business digital toolkit, to include more marketing resources to help small-business owners promote their operations and increase their social media savviness. This is where getting noticed by influential local voices, like Cho's and the Righteous Eats family, proves invaluable.
Co-founders Cho and Brian Lee and the Righteous Eats team follow a basic model: They check out restaurants based on community recommendations. They always pay for the food they eat. They don't accept money to do stories, and they always connect the food to the people who make it.
"When we share a meal, we have a better understanding of the other person, the other person's culture," Cho says. "Food is the great equalizer."
Their videos can make a huge difference to a struggling business. At La Dinastia, a Chino-Latino restaurant on the Upper West Side of Manhattan, business tripled after Righteous Eats shined a light on them, he says. The owner's son had to pull his father out of retirement to help with the influx of new customers.
Righteous Eats now has more than 540,000 combined followers on TikTok and Instagram and hosts in-person events to draw attention to some of New York's smallest food outlets.
Cho's next step is trying to help some of these smaller businesses scale up. He believes they could become household names if they had the right partners and guidance. He's still exploring what that might look like. As the old saying goes, you can give someone a fish and feed them for a day, or you can teach them to fish to feed them for life. Or, as Cho says, "you can get in the boat together."
Banner photo: Erik Mayor, right, the founder of the Bronx's Milk Burger, with Cho. (Photo courtesy of Righteous Eats)