Sustainability
Planting the seeds of empowerment in Malawi
January 11, 2023 | By Maura Monaghan

When John and Mary Coyne first visited Northern Malawi in spring 2005, they saw that transporting water from streams to one's village was a feat that required miles of walking every day — a task that usually fell to women and girls — and the water collected often wasn't safe for drinking.
Struck by this reality, the couple went home to Ireland and spoke to their kids about spending their family's savings to try to make a difference in this sliver-shaped, landlocked country, among the poorest in the world. The result was Wells for Zoë, an organization that manufactures plastic water pumps for communities to operate and maintain themselves. The pumps allow for easy access to clean drinking water via hand-dug wells, and one pump can supply up to 500 people with clean water for life.
Easy access to safe drinking water is important in and of itself, but its ripple effects can empower communities. Having a well installed in a village allows gardens to flourish, food to grow and people to be healthy and nourished. And because women are typically the ones carrying the burden of transporting water to villages, having a water pump nearby gives them more free time to work and earn money.
"I joined Wells for Zoë to sort out challenges I was facing at home, like lack of food and school fees for my younger sister," explains Kestina Mphande, the supervisor of an erosion control team in the Mfune area of Northern Malawi. "A lot of things have since changed in my life, because I'm now able to buy food like maize and assist my mother with the groceries."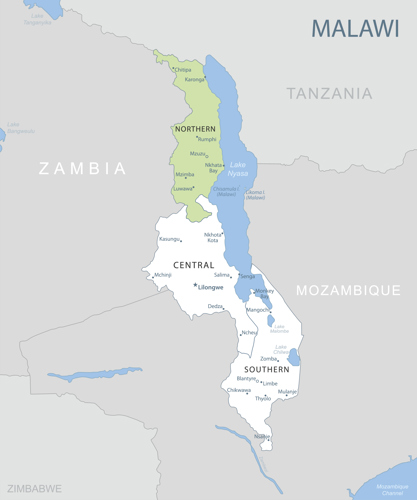 About five years ago, Wells for Zoë realized that restoring the hills and fields in the area could further its water-bringing mission. Kevin Dalferth, the organization's chief technical officer, says the seemingly different projects are connected by a wider mission: "As different as tree planting is from the idea of giving water, it's actually an extension of the original idea, which is the empowerment of women [so that they] can spend less time on the road carrying things."
"In the last 15 or 20 years," he says, "a lot of deforestation has happened, so people are walking further and further away for firewood. We want to restore those landscapes so that people have easier access to their own sustainably grown firewood."
Wells for Zoë's reforestation efforts are also about combating soil erosion, which happens when the top layer of soil is worn away by heavy rains or by illegal deforestation to produce charcoal. This can decrease soil fertility and reduce crop yields — and the less money a farmer has, the bigger a problem soil erosion becomes. Inexpensive farmland tends to be found on steep hills that are harder to work, for example, and more susceptible to the life-threatening mudslides that come with heavy rain.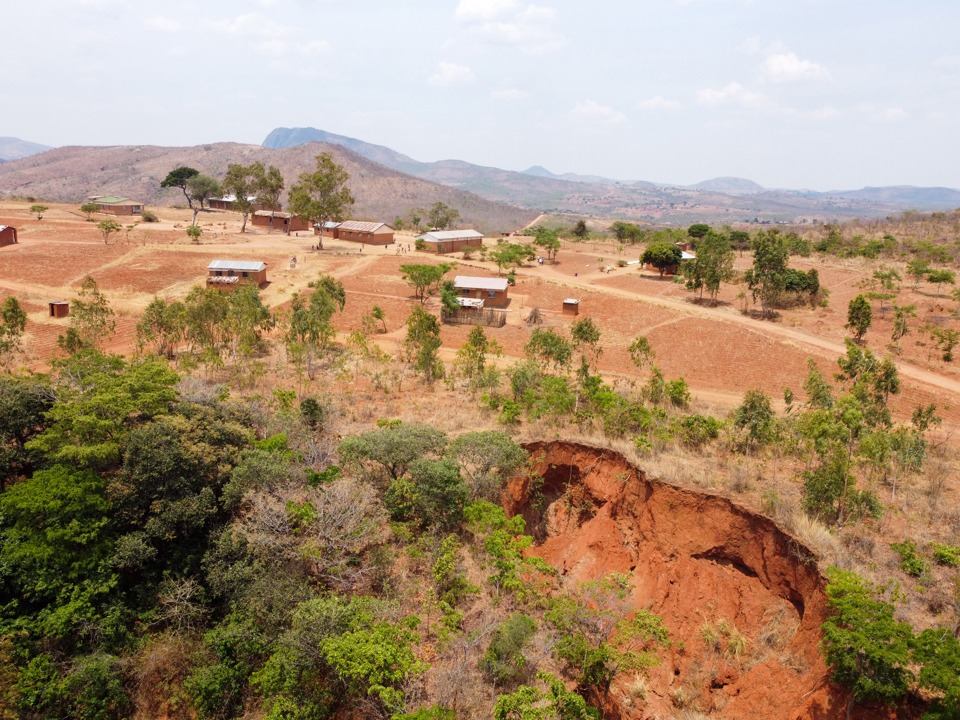 Erosion inches closer to farmland in Northern Malawi, where the nonprofit Wells for Zoë has embarked on an ambitious restoration project with partners, including the Priceless Planet Coalition, to ensure the future of agriculture there." In 2022, Wells for Zoë planted 774,888 trees for the Priceless Planet Coalition, of which 80% are expected to survive. Those that die will be replaced, and thousands more are on the way this month. (Photo courtesy of Wells for Zoë)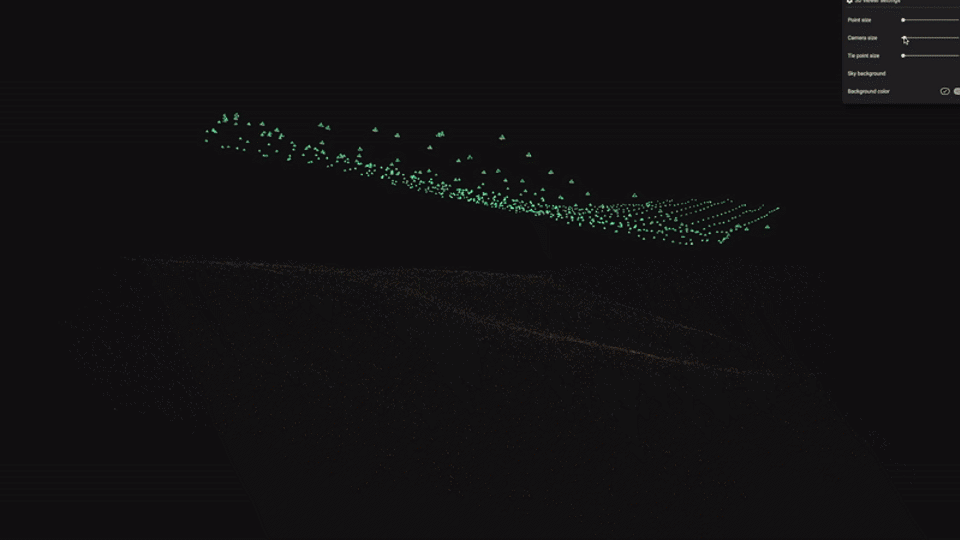 Drone mapping is used to evaluate if an area would benefit from planting and to monitor the progress of the restoration project. (Video courtesy of Wells for Zoë.)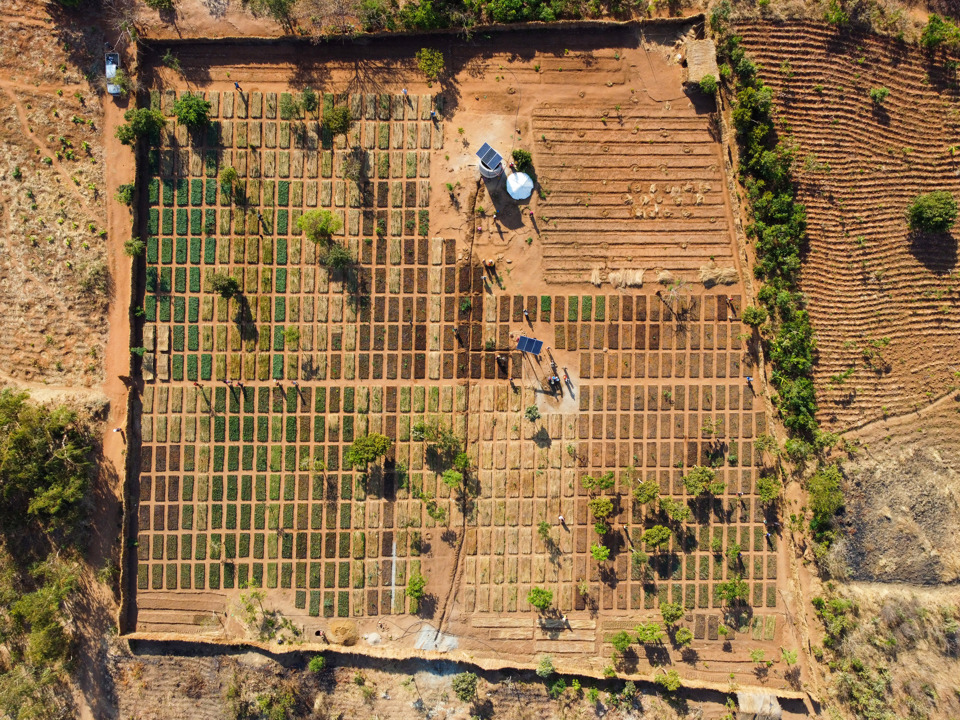 A drone view of one of the nonprofit's  nurseries, where community members are nurturing nearly 20 varieties of seedlings. (Photo courtesy of Wells for Zoë)
Native grasses are collected for ground cover of barren areas to help it retain moisture and create a more suitable microclimate to help establish a first layer of pioneer species. After that, it is much easier to keep seedlings planted there alive, and to control erosion. Grasses are also sometimes bundled and packed into erosion gullies to slow down water and act as a filter where seeds, soil and silt can accumulate. (Photo courtesy of Wells for Zoë)
Digging contour berms like these trap large amounts of rainwater and reduce the runoff loss — both water and soil — from the site. After a rain, hundreds of thousands of liters of water that would typically not infilitrate and nourish the soil are trapped in these berms and can slowly seep into the often over-hardened soil. This can also improve access to drinking water in dry season. (Photo courtesy of Wells for Zoë)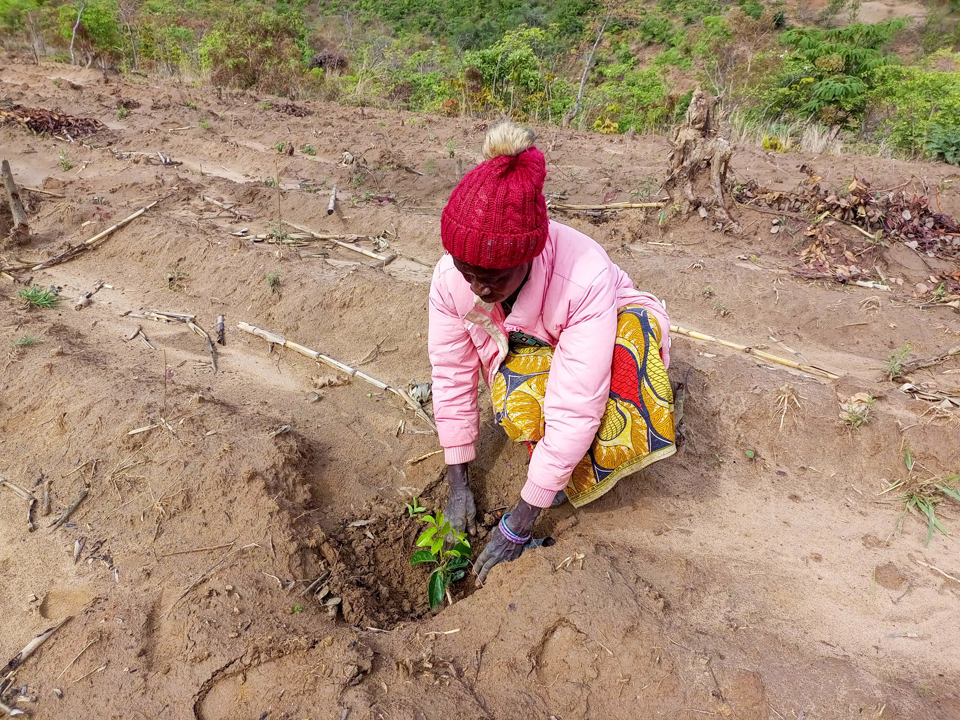 A woman plants a M'bawa seedling, also known as Khaya Anthoteca or mahagony, in an area that was once forested. (Photo courtesy of Wells for Zoë)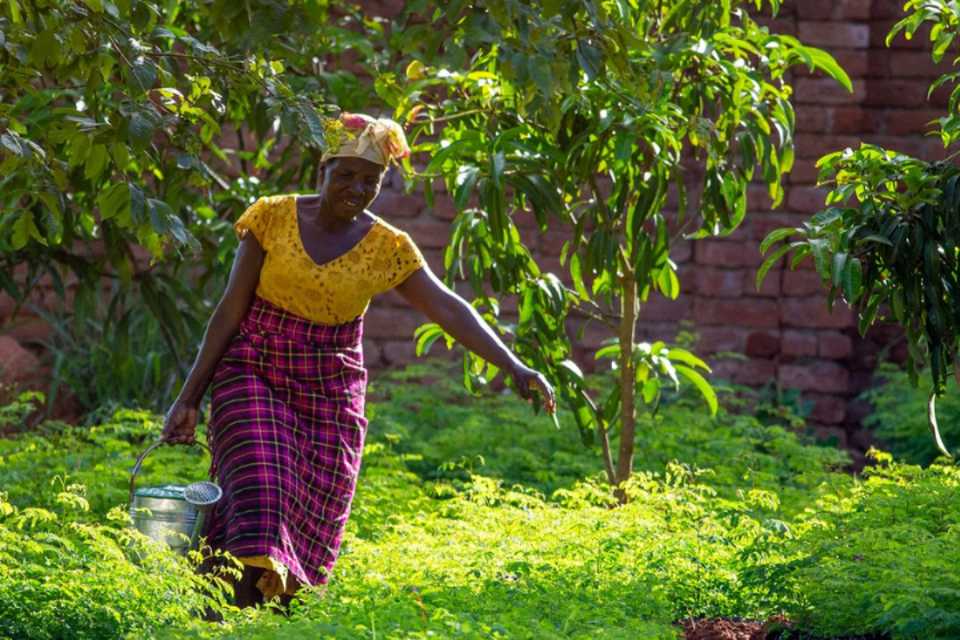 Phil Mpakiza, who has been working with Wells for Zoë since 2005, carries water at one of the nonprofit's smaller nurseries. (Photo courtesy of Wells for Zoë)
By creating reforestation jobs for the local community, Wells for Zoë is helping to reverse that impact. "Through erosion control, you not only stop the process that is making [erosion] worse; you can also drastically improve the quality of the soil," Dalferth explains. Erosion can also deplete groundwater, the source of clean water that the Wells for Zoë pumps provide to local farmers. 
This work drew the attention of Mastercard's Priceless Planet Coalition, which is fighting climate change by planting trees and restoring forests in vulnerable areas. Powered by Conservation International and the World Resources Institute, the coalition aims to restore 100 million trees worldwide by 2025. Last year, Mastercard expanded its efforts with 15 new projects, bringing the total to 18, across six continents, including planting 1.25 million trees with Wells for Zoë in Malawi. Each of those trees will be tracked for the next five years through the coalition's rigorous monitoring framework, ensuring that they grow tall and strong.
"Like a person puts on a shirt, our land also needs to be dressed in trees."
By design, it's the locals who have been at the forefront of these efforts, even before Priceless Planet: In the 2020–21 season, people from communities throughout the Northern Region, employed by Wells for Zoë, planted a total of 1.7 million indigenous tree seedlings. Around one million indigenous seeds were also distributed for people to grow in their own nurseries and near their own homes.
"Me and my people agreed to hold hands and work together to plant trees," says local leader Sitima Nkhambule. "The land should be restored. Like a person puts on a shirt, our land also needs to be dressed in trees."
Planting trees can mitigate climate change while also boosting local economies, and the efforts in Malawi have championed this dual impact. "Women will no longer struggle in the future in terms of firewood," Mphande says, "and they are now able to support their families with the immediate assistance they get through wages."
As for the future, Wells for Zoë is focused on continuing its combined efforts of sustainability and empowerment. This includes providing education, training and support to preschool caretakers, who watch and feed the young children of the women who are working in the plant nurseries, and providing handmade reusable sanitary pads for the caretakers and working women who might otherwise have to stay at home during menstruation.
"We have agreed internally that we will not do [solely] tree-planting projects, but restoration projects with a completely holistic approach," Dalferth says. "It has to be focused on the communities, with female empowerment being the main cause for basically all other actions, because only then can it become a successful project."