Inclusion
Mountains, momos and a monsoon: Tales from Nepal
January 24, 2023 | By Olivia Bellingham

Recently, nearly two dozen Mastercard employees from the Eastern Europe, Middle East and Africa region signed up for what promised to be the trip of a lifetime — and a trip that could change lives. The goal: to climb Mardi Himal in the Annapurna region of Nepal, reaching a high point of nearly 14,000 feet, to raise $10,000 for the nonprofit Children of the Mountain. The funds helped pay teacher salaries and purchase school equipment for an elementary school in rural Nepal. This is a diary of their journey.
Day 1: Long day's journey into night
Our first full day in Nepal involved an early-morning flight from the capital, Kathmandu, to Pokhara, a city near the Annapurna mountain range. By noon, we hit the trail, putting our shiny new boots to use and hiking nine miles over seven hours to reach the teahouse where we were to spend the night. It was an intense start to the trip. Night fell while we were still walking, and the last few hours of the hike were spent in the pitch black, illuminated only by headlamps, cell phones and a few stars. The reward of a warm shower and hot food at the end of the day (yes, momos! yes, dal bhat!) was a blessing. Huge shoutout to the porters who were carrying our heavy packs while we only had to trek with a daypack — they are incredible!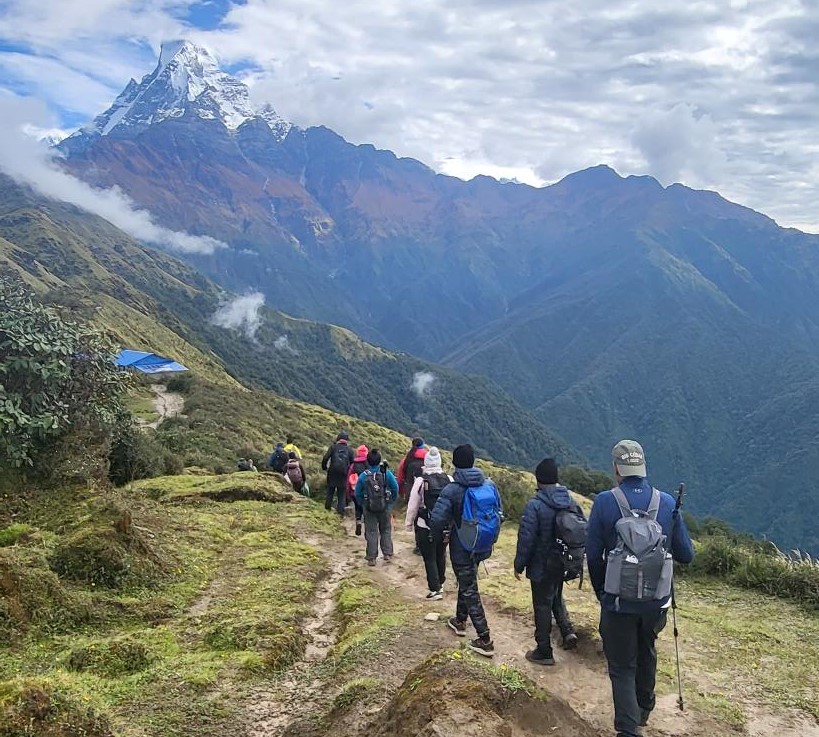 Day 2:  Stairway to heaven
Day 2 started off with some stiff muscles, but we quickly warmed up as we climbed countless steps to reach our next teahouse, at an elevation of just over 10,000 feet. We reached our sleeping spot late in the afternoon and were able to spend the rest of the evening in the teahouse, playing cards and getting to know each other better. 
Day 3: Take our breath away
We woke up to a beautiful sunrise photo session of the Annapurna range, and a beautiful breakfast al fresco. Our climb that morning had us walking between the clouds and the sky — breathtaking! Little did we know that would be the last time we saw the sun for days. Day 3 ended with our trek to the summit — at nearly 13,800 feet. Quite an achievement, as symptoms of altitude sickness are known to take hold above 10,000 feet.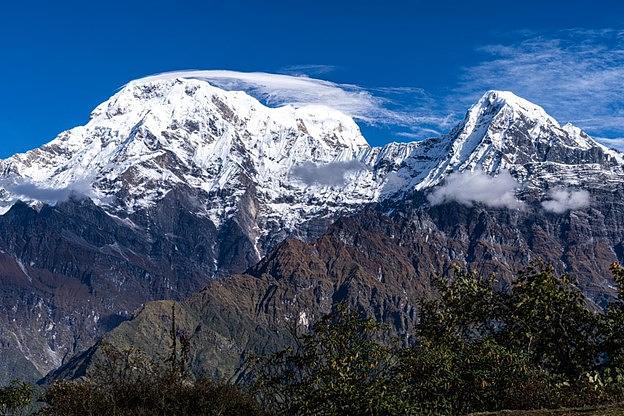 Day 4: Singin' in the rain 
Overnight, we were hit by the tail end of a monsoon. The rain started, and once it did, it didn't stop for days. We made a decision to descend from high camp to a midway point and, not knowing that it was never going to end, we decided to wait out the rain for the remainder of the day, in the vain hopes of a drier tomorrow. To keep us from going stir-crazy, our fearless leader and colleague, Julian Philipps, kept us all entertained and active with quizzes and games, and throughout the afternoon the teahouse witnessed many scenes of charades, dancing, cards, the tabletop game carom, knitting, reading, and even a few renditions of "Singin' in the Rain." 
Day 5: What goes up must come down
Our final day of trekking was the mountain descent. Little-known fact: The forests around the base of the mountain are home to the most dreadful creatures in the world—leeches! None of us were prepared for the 45,000 steps to descend the mountain, nor the hordes of leeches that were constantly attaching themselves to any part of our bodies that were exposed … and often crawling up to even the parts of our bodies that were covered. We'll spare you the details, but we do have photographic evidence.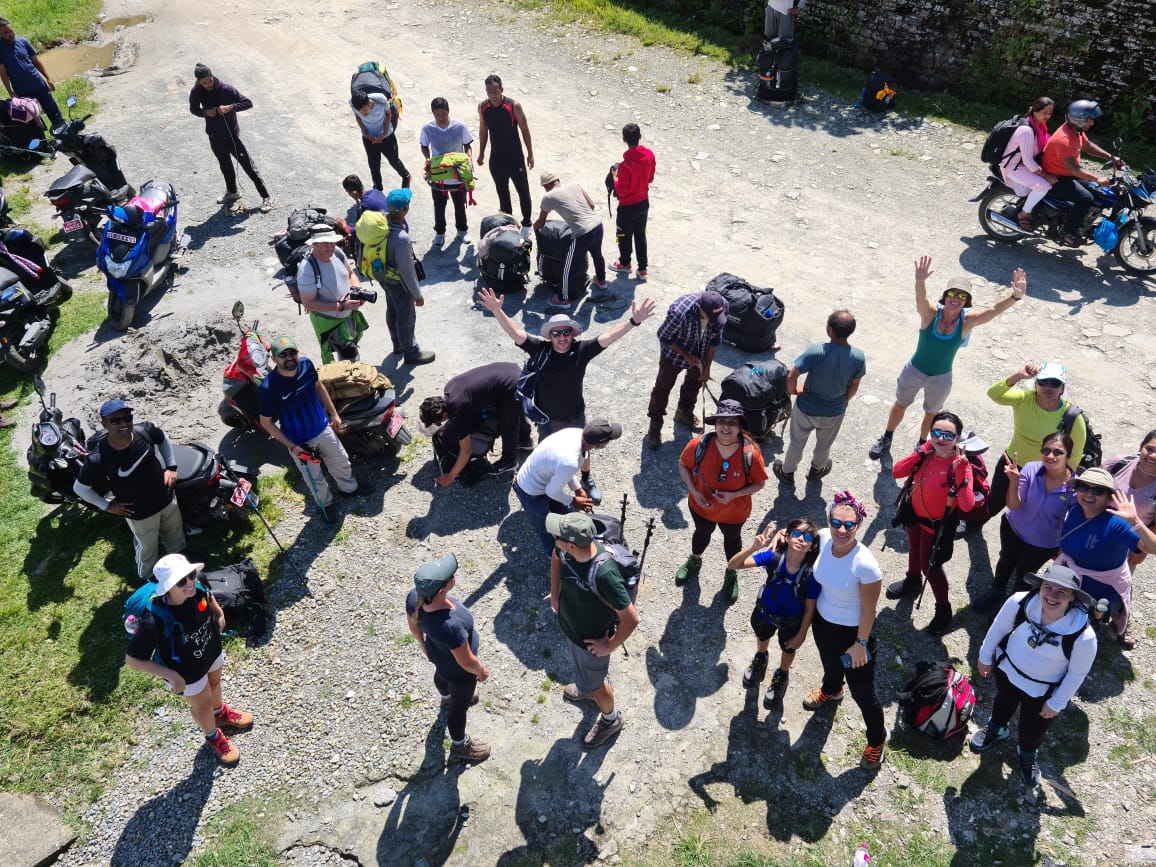 Day 6:  Magic bus
Besides the gift of leeches, the rain also brought with it the gift of an airport closure. So rather than a quick 20-minute flight back to the capital, we were relegated to a 12-hour bus ride back. But never in Nepal have they seen a more positive, fun busload of people, and with a little karaoke and a lot of laughs, the ride turned out to be enjoyable. Sadly, due to the 12-hour delay, we were unable to reach the elementary school on time to meet the children and hear the song they had prepared for us. However, we were really happy that the $10,000 we raised went to Children of the Mountain to fund new volleyball and basketball equipment, teacher salaries, whiteboards and blackboards and many other school supplies. Teacher salaries in Nepal can be as low as $50 per month, so the money we raised will go a long, long way.
You've got a friend in me
Sure, there were moments when we felt tired, wet and cold. Moments when we felt physically and mentally exhausted and the thought of taking another step … or another few hours of steps … was daunting. But each and every one of us kept our own spirits and one another's spirits up. We forged new relationships and got to know each other — and many parts of Mastercard — much better. And the most important thing of all: We started the journey as 20 colleagues, but we came out of it as 20 friends.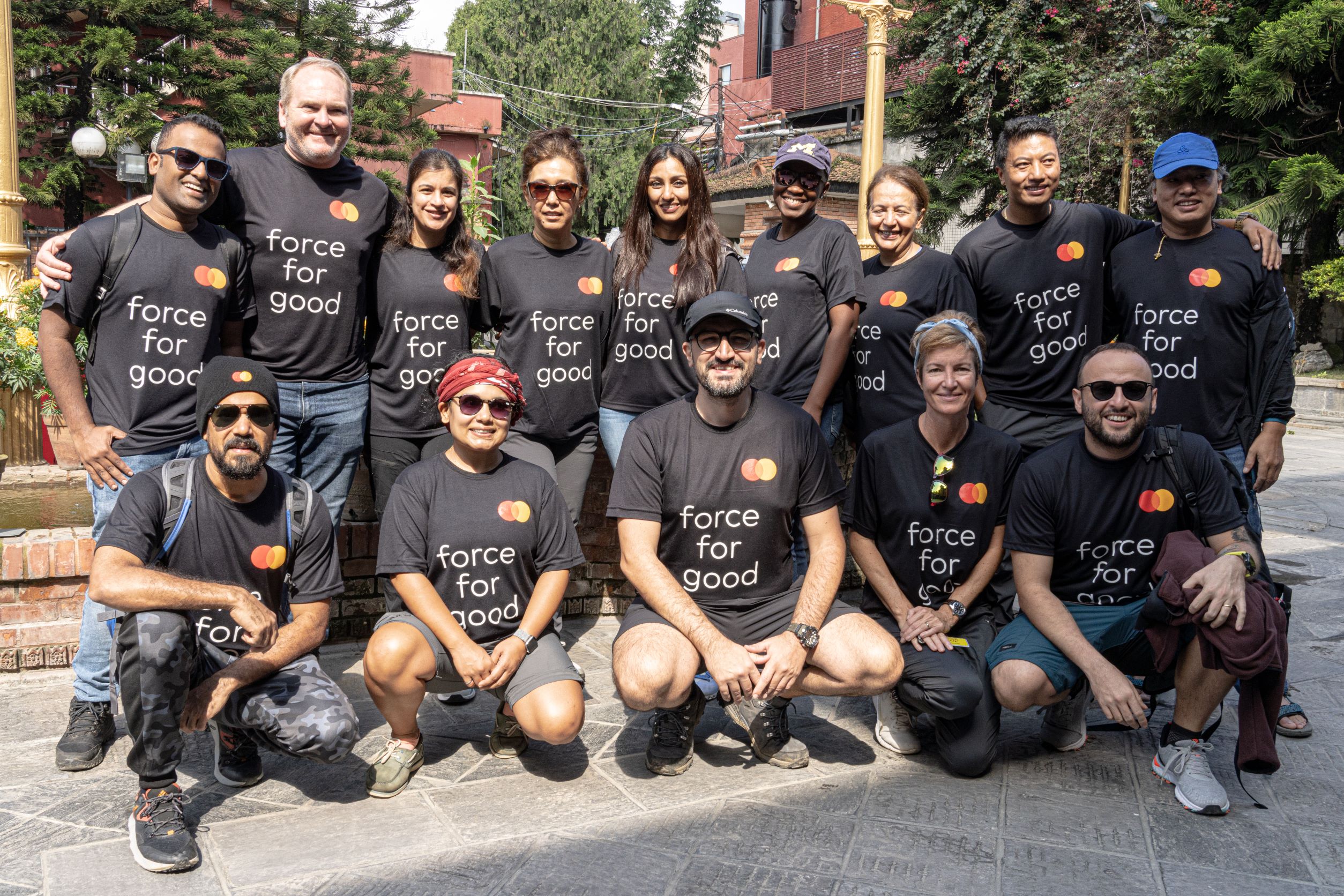 The Mastercard team, led by Julian Phillips, included Semih Akan, Fatima Al Hammadi, Cagri Aydogan, Ashish Bahl, Bob Barham, Olivia Bellingham, Neha Bhatia, Zeynab Diakite, Deepika Dudeja, Mohammed Faizal, Samrin Kibria, Ramy Mansour, Sailesh Gopala Pillai, Andrea Prazakova, Talat Qureishi, Kuntay Simbatova, Athena Stamouli, Virginia Reinecke and George Zilvetti. 
Photos courtesy of Julian Phillips, Ramy Mansour and Kuntay Simbatova.