Future of work
'Look for the ability, not the disability': Thinking outside the box to nurture neurodiverse talent
November 8, 2023 | By Sophie Hares
Nearly one in five people are neurodiverse. As individuals living with conditions such as autism spectrum disorder, attention deficit hyperactivity disorder and dyslexia, they may not experience the world as neurotypical people do.
That means employers often overlook them during the hiring process or misunderstand them as managers and mentors. It's a losing dynamic for all: Neurodiverse people are shut out from rewarding career paths, and companies lose a crucial hiring opportunity at a time when the labor force participation rate in the U.S. sits at 62.8%, according to recent data.  
As companies struggle to recruit the skilled staff they need, finding creative ways to foster and develop the deep pool of untapped neurodiverse talent is an important way to help them innovate and grow, said speakers at Mastercard's recent Neurodiversity in the Workplace Summit at its St. Louis Tech Hub. It was organized by the company's ADAPTability business resource group, which supports employees with disabilities and their families, friends and colleagues.
"Neurodiverse candidates are known for being some of the smartest people in the industry, and they think about problems differently," said Kim Martin, Mastercard's executive vice president of business operations and automation who is the executive sponsor of ADAPTability. "That's why we want diversity in the first place: to supplement our blind spots, to tackle problems. It just makes good business to focus on this."
During the summit, experts in accessibility and inclusion offered more than 30 local employers insights on why neurodiverse people struggle to find jobs, ways to improve their experiences and the benefits they bring companies.
01
Shake it up
There's no one-size-fits-all approach to embracing neurodiversity, so be open to new, flexible ways of working. Start by frequently updating the language used in job postings to encourage a wider range of people to apply. Formal interviews with open-ended questions can be daunting for many candidates. Providing questions in advance and finding practical ways for interviewees to demonstrate how they work can help.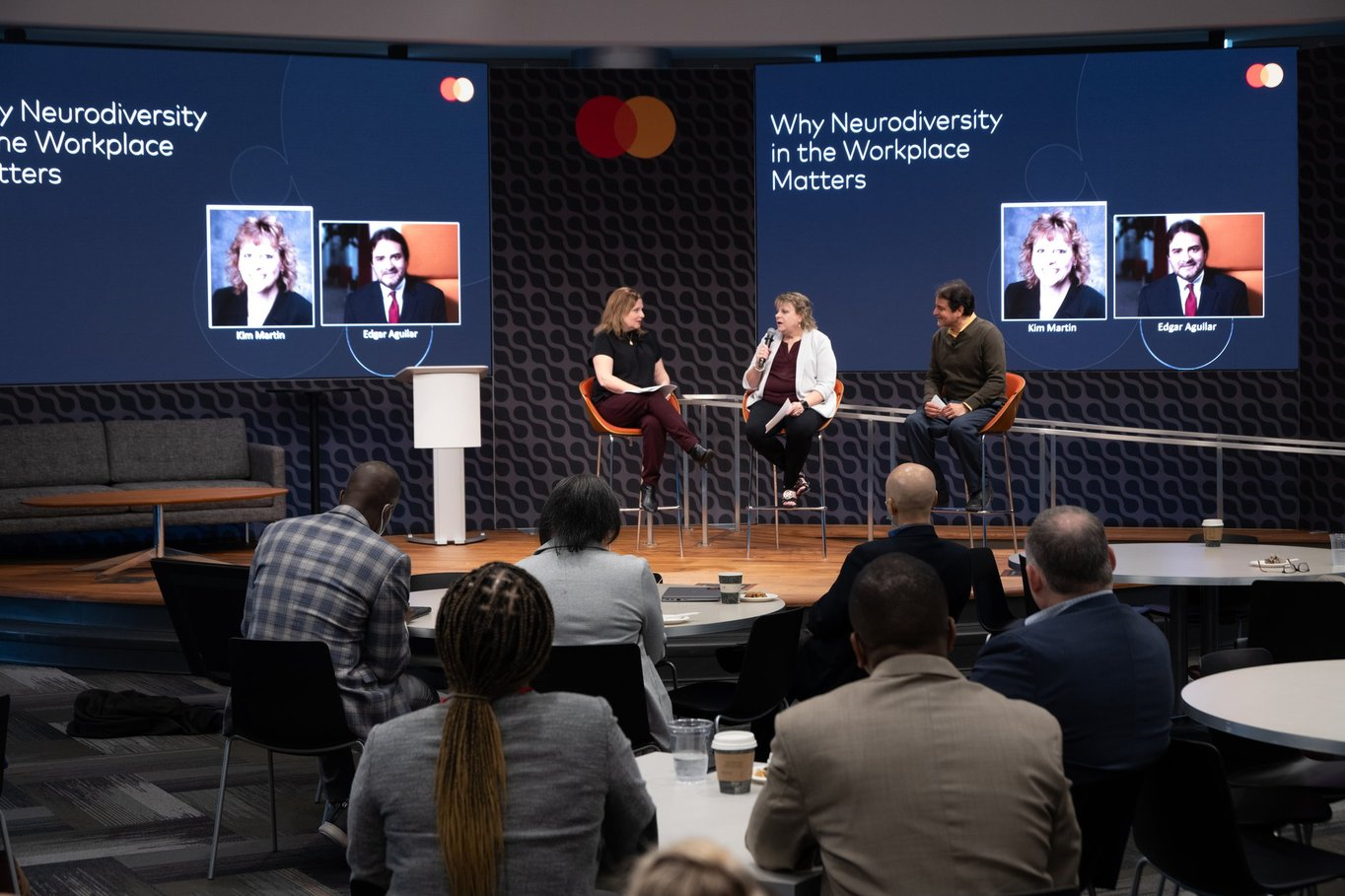 From left, Amanda Gioia, who is the St. Louis and global co-lead of Mastercard's ADAPTability business resource group, chats with Kim Martin and Edgar Aguilar at the summit.  
02
Avoid stereotyping
Be careful not to pigeonhole neurodivergent people into tech or analytic roles. They can also be great communicators and often just need more support to shine. "With a little bit of adjustment and making sure we focus on the right roles and the right level of training, we can make neurodiverse individuals incredibly successful," said Edgar Aguilar, an executive vice president in People & Capability for Mastercard.
"I want people to see the ability, not the disability," said Natasha Grant, director of workplace and community inclusion at First Place AZ in Phoenix, Arizona. 
03
Management makeover
The process of proactively integrating neurodiverse people into teams offers an opportunity to become a better leader. Understanding employees' daily experiences, discovering how they work best and frequently ensuring they have the support they need is vital. When Mastercard launched a pilot program last year to recruit more neurodiverse people, the company looked for managers within the company known for their coaching skills to oversee the new hires.
By rethinking evaluations and providing detailed information ahead of meetings, managers can make it easier for neurodiverse people to grow within a company. Carefully documenting employees' career progression also makes their transition to new roles and teams much smoother.
"As people leaders, just be cognizant of the people who are in your organization, how you're protecting them and how you're looking towards their growth and development," said Maurice Mahone, national program director for the St. Louis-based nonprofit Access Point, which works to connect young people and underrepresented groups to education, mentorships and careers in technology.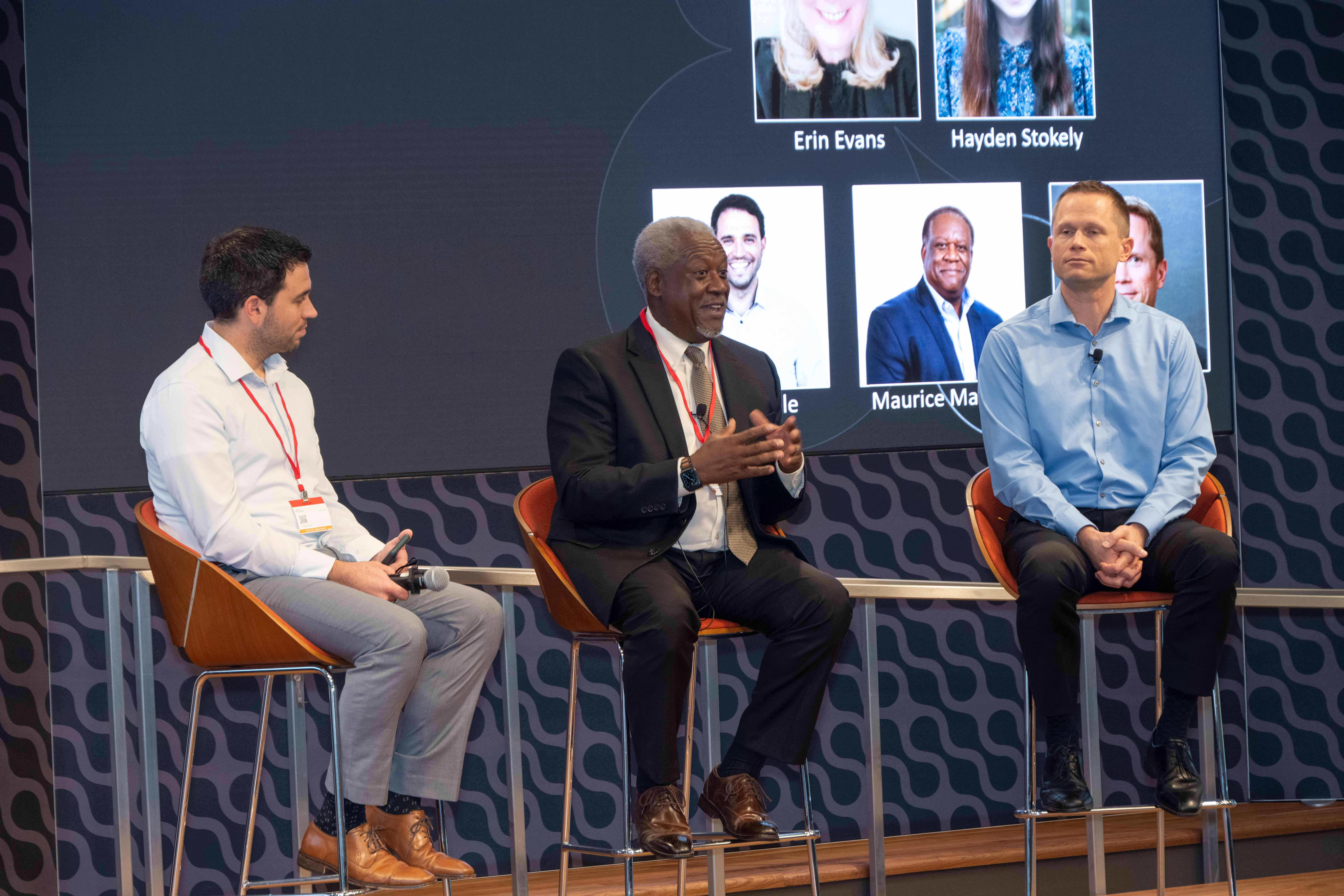 Maurice Mahone, center, at a panel on how neurodiversity can enhance workplace culture, with Joseph Riddle, left, the director of the organization Neurodiversity in the Workplace, and Barry Jacobson, Bayer Crop Science's North America transformation strategy and culture lead. 
04
Accommodate differences
Recognize that neurodiversity can present in many different ways, and that not everyone may have a clinical diagnosis. Many self-identify and need support to overcome the everyday challenges they may face. It's often a process of trial and error, but providing job coaching, learning strategies and adaptive equipment and technology can help people work smarter. Centralizing a budget for accommodations and demystifying the process for requesting them can help employers be more nimble in providing them.
"It is really about trying to anticipate the needs that employees have so that you can meet them where they are," said Roseanna Williams, disability benefits manager at Microsoft Corp.
05
Be intentional
Building a supportive and inclusive company means breaking down barriers and making the workplace more accessible for everyone. But managers alone cannot make all the difference. Setting up employee resource groups, measuring outcomes and sharing personal stories can help foster allies and champions throughout companies. It's important to build a wider community, so collaborating with other corporate partners and reaching out for expert advice is key.
Tools such as Disability:IN's Disability Equality Index help show companies how they stack up and identify how they can take the steps that make a difference.
"Neurodiversity leads to innovation, better decision-making, better financial benefits and improved managerial practices," said Joseph Riddle, director of Neurodiversity in the Workplace. "The future of work needs to be neurodiverse."