Small Business
How to build buzz for traditional beekeepers
May 3, 2023 | By Vicki Hyman

Sergey Petrov is a Bulgarian tech entrepreneur with a bachelor's degree in aeronautical engineering and a background in developing and testing high-altitude drones. But 10 years ago, his career took an unexpected detour when he applied for a Silicon Valley tech innovation program and was asked to develop a concept that would improve the lives of 1 billion people on the planet.
The internet of bees was born.
Alarmed by reports of the collapse of bee colonies around the globe and the potentially devastating impact it could have on agriculture and food supply, Petrov launched the startup Pollenity in 2015 to digitize the ancient art of beekeeping and safeguard its future. Through its technological brand Beebot, it developed a smart device that monitors key colony indicators, such as temperature, climate and noise, and alerts beekeepers of changes that could impact the health of their colonies.  
"Our little friends have developed their methods of survival and development for millions of years and, as a result, they are an integral part of the world as we know it," Petrov says. And, he adds, they do it for free — according to one estimate, natural pollination saves the global economy $150 billion in wages each year. "This is a price that we are already starting to pay, and it will only increase."  
The need to keep both managed honeybee and wild bee populations healthy cannot be underestimated: They pollinate 87 of the leading food crops worldwide, and the volume of agricultural production dependent on pollinators has increased by 300% in the past 50 years, according to the U.N.'s Food and Agriculture Organization.
Can beekeeping help prevent the loss of more colonies? Bees were doing just fine before the ancient Egyptians developed the first commercial beekeeping practices — evidence of honey production dating to 2,400 B.C. has been found in Lower Egypt — but modern beekeepers do their part by providing hives for shelter, and they're on the frontlines of monitoring the health of their colonies.
And to keep the beekeeping economy in Bulgaria healthy, Pollenity launched a marketplace platform in 2019, which includes an Adopt-a-Hive initiative that directly supports beekeepers. In exchange, sponsors receive perks such as three jars of honey each month, access to hive data, and naming rights for the hive and the queen bee.
Now Pollenity has partnered with Mastercard, which played a key role in developing the marketplace, to introduce a loyalty program that effectively turns honey into money — the virtual kind. The HoneyPot digital wallet on Pollenity's website stores HoneyDrops earned with each purchase with a Mastercard, which can then be spent on rural tourism experiences, such as farm visits, stays at mountain guesthouses, and workshops, as well as other products on the site.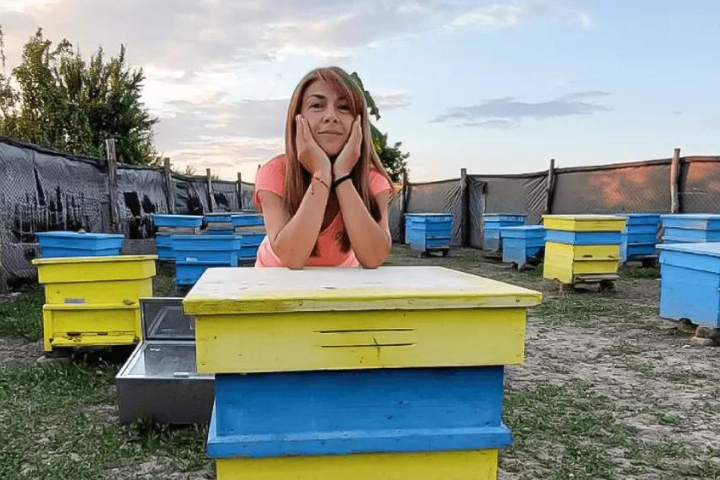 Raime Mehmedova, who tends 35 hives in a village in northeastern Bulgaria, is the daughter of a beekeeper who is teaching her children about the hobby. (Photo courtesy of Pollenity)
"Bees have long been a symbol of industriousness, productivity and order, with each bee contributing to the colony's well-being," says Vanya Manova, country manager of Mastercard in Bulgaria, North Macedonia, Albania and Kosovo. "With Pollenity, we're taking that model and applying it to the agricultural small business sector, creating a sustainable ecosystem where every player contributes to a healthy future."
The plight of the honeybee has been well documented since the onset of Colony Collapse Disorder in 2006, which wiped out 30% of colonies in the U.S., with reports of similar losses in Europe, Africa, South America and Asia. The precise cause is not known, and researchers believe it may be the result of a complex combination of stressors, such as climate change, habitat loss and pesticide exposure, and pathogens.
Losses of colonies have slowed in recent years, but the impacts are already being felt: A large-scale 2020 study led by Rutgers University researchers found that the decline in pollinators has reduced crop yields for apples, cherries and blueberries across the U.S.
"Bees are the most efficient pollination mechanism in the agrarian economy," Petrov says. "Most often, people who become beekeepers are captivated by this. They are curious and attentive personalities who realize their place in nature and their importance to the agricultural sector. These people are an inexhaustible source of inspiration, tirelessly and even selflessly caring for this systematic need in our food production."
Pollenity's hive-to-table initiative offers consumers a new way to connect with these local producers, including Raime Mehmedova, a manager at an international bank by day who tends to 35 hives in Nova Cherna, a village on the Danube in northeastern Bulgaria, after work and on weekends.
"There is no other sound more soothing to me than the buzzing of bees," says Mehmedova, who as a child would visit the hives her father kept. "When I see all the bees working tirelessly, it recharges me again and again and makes me never give up on my dreams."
Bees, Petrov says, taught him humility. "When you are around these beautiful creatures,  the result of 30 million years of evolution, you cannot help but marvel at the uniqueness of nature and the interconnectedness between seemingly unrelated systems. Bees use every opportunity to give their all in the name of the family."
Banner photo: After an early career in aeronautical engineering, Sergey Petrov founded Pollenity to use innovative technology to support local beekeepers in Bulgaria. (Photo courtesy of Pollenity)  
Loyalty
A sweet way to save the world
Adopt a beehive, shop for honey from local beekeepers and and start your HoneyPot bee investment portfolio of products and experiences by registering your Mastercard on the Pollenity site. 
Learn more