Inclusion
How this sign language interpreter brings home the thrill of esports to deaf fans
March 20, 2023 | By Sophie Hares
As tensions mount ahead of a massive live League of Legends esports competition, "casters" — it's the term used for esports announcers — set the scene with their fast-paced commentaries on teams and tactics.
But gamers who are deaf or hard of hearing are shut out from the popular pre-match chat, making it tricky to follow the adrenaline-fueled matches and glean insights into strategies teams use to battle their way to victory, as well as from the post-match analysis of tournaments that don't take accessibility into account.
Now, for deaf fans in Brazil, that's changing thanks to gamer and sign language interpreter Jessyka Maia de Souza. The world's first official LoL esports interpreter, Maia de Souza was hired by LoL publisher Riot Games — with 180 million players worldwide and 14.5 million Brazilian fans tuning in to CBLoL's (Brazilian League of Legends Championship) broadcasts in 2022 — to translate live esports events into Brazil's Libras sign language, becoming the company's first Libras coordinator and interpreter.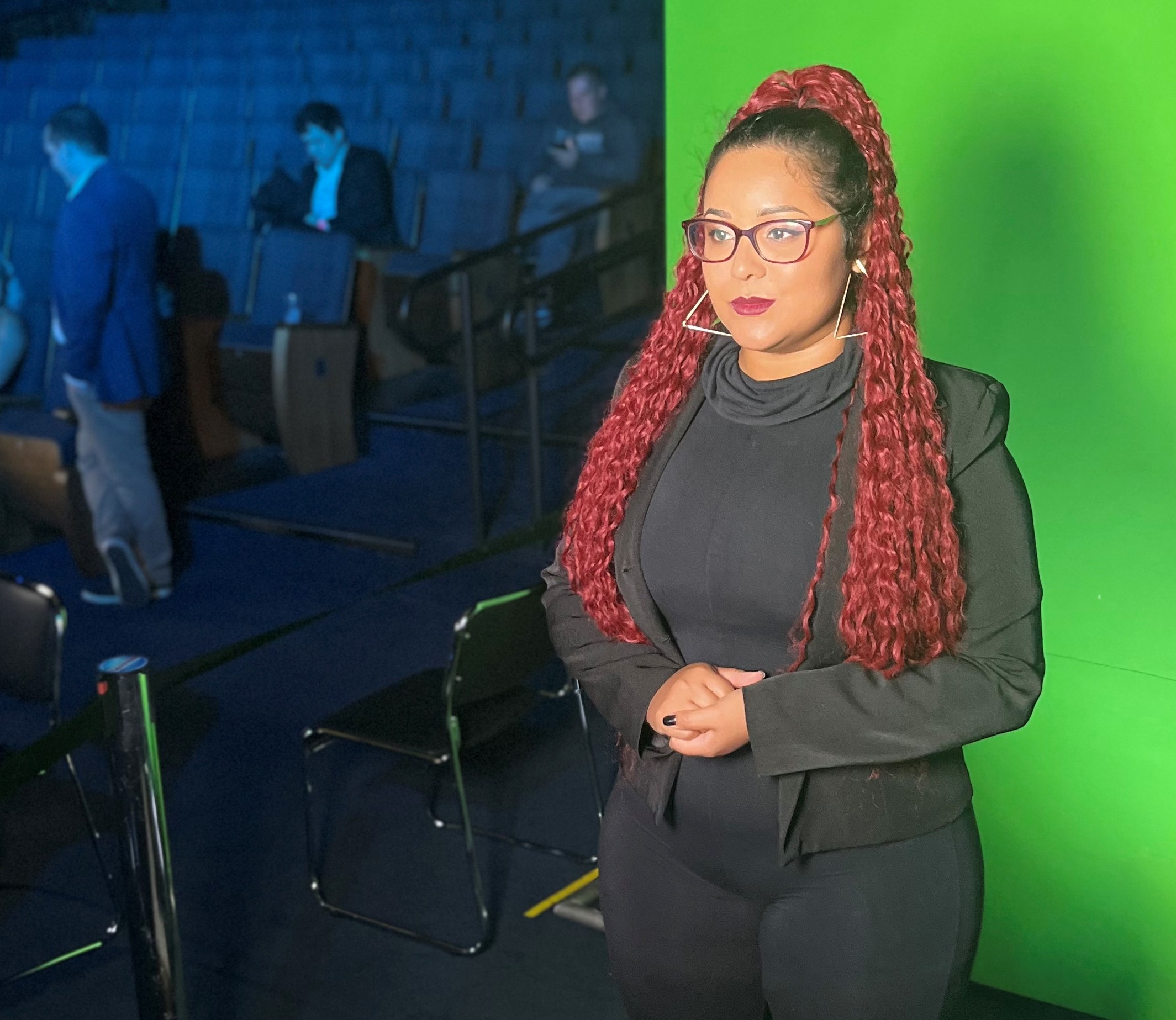 Jessyka Maia de Souza, aka Suuhgetsu, gets ready to "cast" a League of Legends live event in Brazil, where she provides sign language interpretation for fans who are deaf or hard of hearing. (Photo courtesy of Maia de Souza)
"Accessibility in society is still overlooked, and when it comes to games and entertainment, it's considered a luxury, but we are all entitled to it," says Maia de Souza, 28, who goes by the gaming name Suuhgetsu.
High-quality closed captioning is common in video games, making it easier for deaf people to game at home, and last year Xbox launched a dedicated channel on the streaming platform Twitch with American Sign Language interpretations. But as the popularity of esports rockets and millions of fans follow live high-profile contests at home, gaming companies are constantly looking for ways to improve fans' experience and make esports more inclusive to all communities.
Although not deaf herself, Maia de Souza has a deep understanding of the challenges faced by many people who are deaf or hard of hearing. Growing up in Brazil's northeastern Pernambuco state, she started to learn Libras as a child so that she could communicate better with her uncle's girlfriend at the time, who was hearing impaired, and from then on, she dove into the studies of deafness and accessibility.
She soon became hooked and decided to take it a step further, by studying Libras alongside her bachelor's degree in law and specializations in criminal law and forensics.
A keen gamer who has built her own computers, Maia de Souza realized there was a pressing need to make gaming more inclusive, so she began to broadcast the tournaments of players who are deaf and hard and hearing and host accessible live contests. She also began to create Libras content on League of Legends. Riot Games soon came calling.
Signing in Libras is just a part of her job. To provide the interpretation gamers want and need, Maia de Souza makes sure she learns everything she can about the game and the top casters, as well as popular LoL memes and jokes.
"Any interpreter can do signing, but it's about knowing the subject and having experience. Otherwise, it's like asking an orthopedist to check your eyes — both are doctors, but from different specialities," she says.
Through her eponymous company Suuhgetsu, her mission now is to organize gaming championships for people with disabilities and to train them to work as casters, commentators and presenters. In November, she was recognized by Riot Games and Mastercard Brazil at the CBLoL Awards, an event that honors great athletes and important figures in the esports scene in Brazil, as one of four "Unknown Legends" — LoL community members who are making a positive difference inside and outside the game by encouraging and strengthening diversity and inclusion.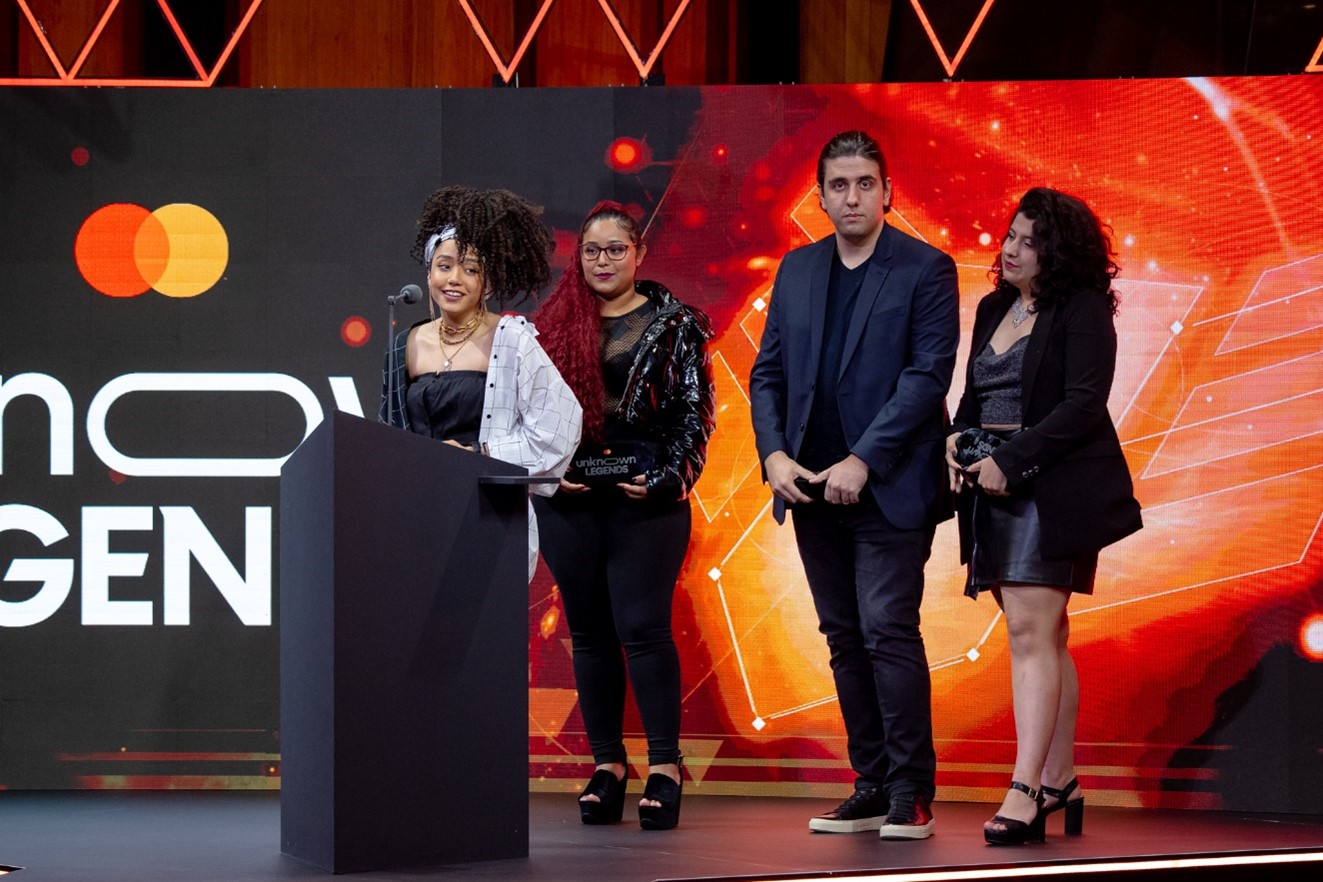 Jessyka Maia de Souza, second from left, was one of four people in the gaming industry honored for their work in making the world more accessible. The others included Vicky Wolf, left, a content producer and caster leading anti-racism efforts; and Pedro Fracassi, second from right, and Ana Maria Jacomini, streamers that promote safe spaces and positive behavior in League of Legends. (Photo credit: Bruno Alvares, Cesar Galeão and Dayane Cruz)
"They are proving that a champion is not only one with great skill in the game  but someone who seeks to amplify values such as empathy, unity and respect," says Sarah Buchwitz, vice president of marketing and communications at Mastercard Brazil.
Maia de Souza hopes other companies will follow Riot's lead and start to make esports more accessible for people with disabilities. "It shows smaller championships — where those who want to become professionals start — that hearing-impaired people are on the scene and that they want to stop being spectators and become players, too."