Innovation
CES 2023: 4 tech trends making the world a better place
January 10, 2023 | By Anthony Venutolo

CES 2023 served up all the cool doodads we'll be salivating over this year, like a 97-inch LG OLED TV, but the world's most anticipated technology show also had a main theme for 2023: how tech can make the world better. Here are four trends and topics that stood out.
Agritech grows up
From weather volatility to increasing production costs to shrinking farmland to a growing population, farming will be increasingly unpredictable in the next 25 years, but tech can help, said John May, the chairman and CEO of John Deere.
One example is ExactShot, a sensor-driven robotic technology intended to minimize fertilizer consumption by as much as 60%, saving farmers money and reducing the excess chemicals that are injected into the ground. In other words, autonomous robot farming that comes complete with machine learning, GPS and computer vision.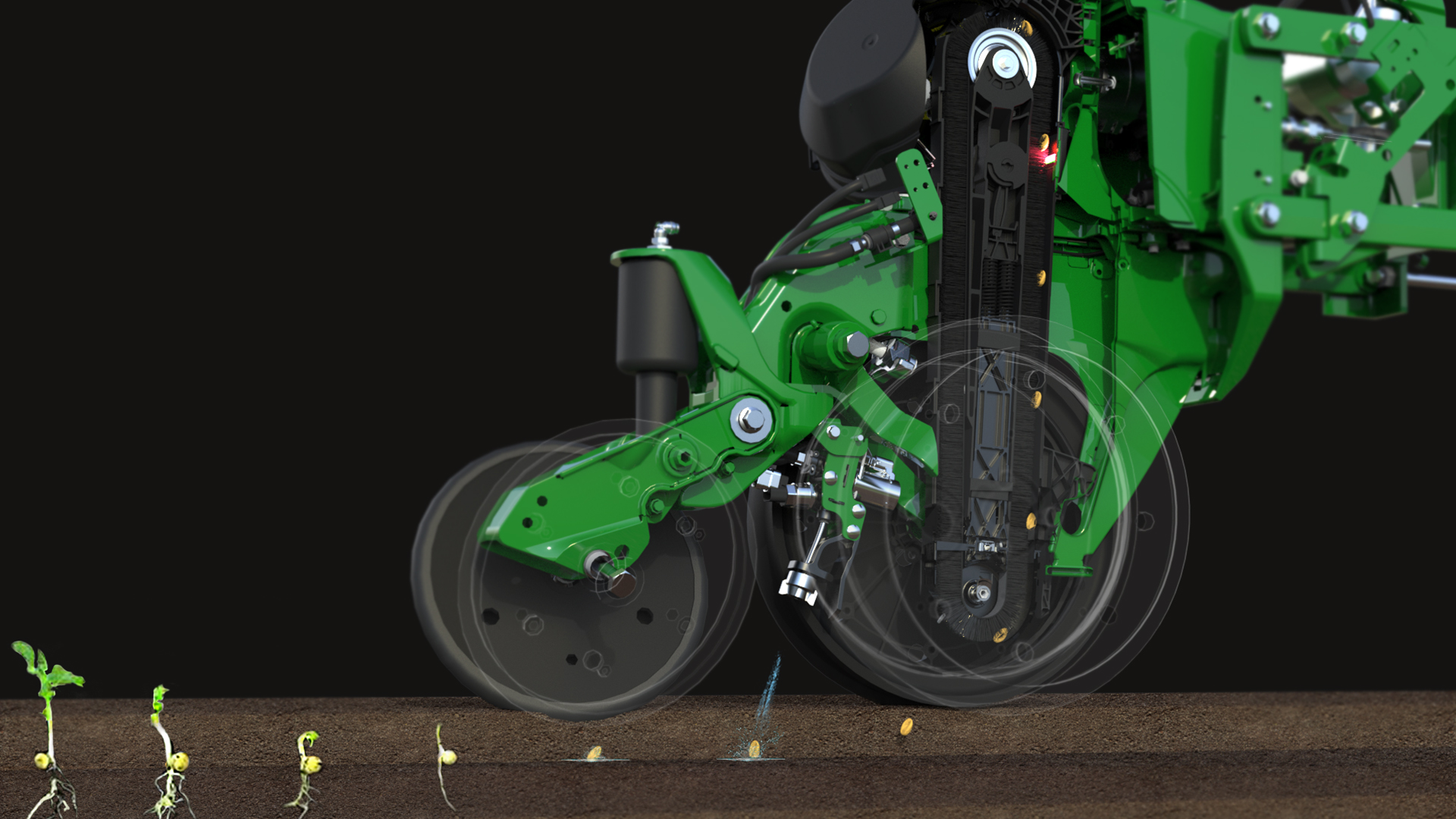 John Deere's ExactShot senses when each individual seed is planted, triggering a robot to spray the exact amount of fertilizer needed directly onto the seed. (Photo courtesy of John Deere)
Sustainability was also top of mind in the crypto-mining space. Bill Kentrup, a co-founder of Allinfra, which develops enterprise software designed to help institutions achieve their sustainability goals, says solutions can come from both the old and the new guard: "The gap that I see at times is the communication between the innovation and Web3 community and the traditional space," he said at the panel "E-merging Energy: Incentivizing a Greener Future With Crypto and Blockchain."
He cited the Ethereum Climate Platform, a project launched by blockchain software technology company ConsenSys and a growing list of companies and nonprofits to fund the creation of practical projects that reduce greenhouse gas emissions and have long-term positive effects on the environment and society.
Also: GUSS Automation's Herbicide Global Unmanned Spray System (GUSS) won a CES Innovation Award. The first and only autonomous herbicide orchard sprayer on the market, it removes the driver from the tractor and eliminates exposure to harmful chemicals.
Leaving us with 'cars' in our eyes
CES loves its toys that go vroom almost as much as it does TVs and gadgets. By now we all know that the future of the auto industry will likely be electric, and CES 2023 has reinforced that — especially with EV manufacturers working with tech brands to produce supercars.
The 2024 Volvo EX90 SUV made its North American debut. Expected to launch in 2024, it will feature tech from Google in a high-definition map feature. Google HD Maps was created especially for automakers to include in their cars. It uses camera, radar and lidar (laser-enabled) sensors as well as lane-level and local data from Google to produce better real-time in-dash navigation that will also feed the car's autonomous and assisted driving systems to improve those features.
Sony and Honda have teamed up on a new electric vehicle prototype called Afeela, which will use Sony's innovations in entertainment, virtual reality, artificial intelligence and augmented reality and will be manufactured at one of Honda's U.S. plants. The U.S. will be the first market to sell the EVs, in 2026, followed by Europe and Japan. Preorders are expected to begin in 2025.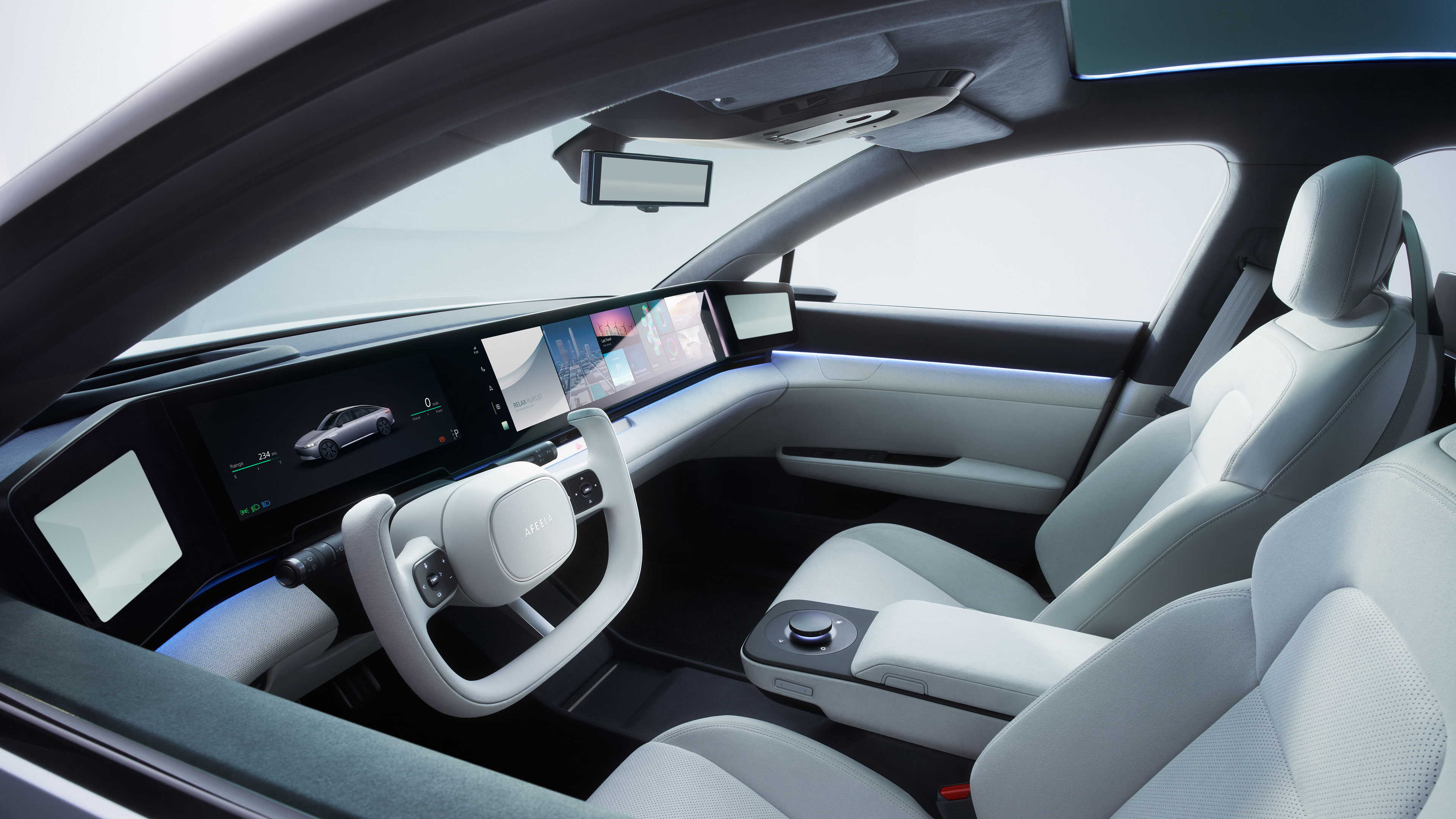 The interior of the EV prototype Afeela, brought to life by Honda and Sony. (Photo courtesy of Sony)
BMW announced its game-changing i Vision Dee concept and, from the look of the innovations shown during Chief Executive Officer Oliver Zipse's star-studded keynote, the company is hell-bent on pushing EVs into the future. There are no buttons or switches, and it utilizes "Dee," a voice-controlled assistant, to seamlessly integrate into our digital lives, he said.
For example, Dee (which stands for Digital Emotional Experience) will recognize when a driver approaches and open the door mechanically, and it can express emotions such as happiness or surprise via the front grille or headlights. Did we mention that it can also change colors?  
As for the inside of the vehicle? Sleek. Minimalist. Stunning. Retro in style both inside and out, the vehicle integrates groundbreaking head-up displays across the entire span of the windshield, a technology that Zipse said is in production for 2025.   
"Don't think of her as merely as car," he said. "Dee likes to think of herself as a promise, a commitment … or, even better, a companion."
Also: Stellantis and Chrysler gave attendees a glimpse of Synthesis, the AI-powered car cockpit of the future, and Lightyear, a new Dutch car company, debuted the Lightyear 2, an EV that runs on solar power. It will have a range of more than 500 miles, cost less than $40,000 and be sold in the U.S., with production expected to start by the end of 2025.
Food and tech: Kind of a big 'dill'
While tech is transforming agriculture, the production, packaging and distribution of food is also undergoing disruptive changes, as is the restaurant industry. From drone deliveries to augmented reality menus, new ideas necessitated by the pandemic have led to new business models in the restaurant world. One of those models is the ghost kitchen, a restaurant with no tables or chairs that serves only delivery and takeout.
Kristen Barnett is the founder and CEO of Hungry House, a ghost kitchen startup located in the Brooklyn Navy Yard, offering expertise and platforms to chefs who may not have infrastructure. "You need online ordering and [to] be connected to a community that you can market your food to," she said at the panel "The Tech-Powered Restaurant."
Hungry House collaborates with select chefs and restaurant owners to modify their cuisine for takeout and delivery. The startup offers them royalties in exchange for using their recipes and brands in its menu.
There's definitely a lack of connectivity between customers and restaurants, said fellow panelist Ben Leventhal, founder and CEO of Blackbird Labs, a Web3 loyalty, membership and hospitality platform. Think loyalty and points: "It's really hard for a restaurant to develop an audience and attract customers, and if you don't know who's in the room, that's a problem," he said.
Both panelists agreed that at the end of the day, the guest experience needs to be frictionless, and whether that means rethinking the QR code or asking for patron data like phone numbers, it has to be for the right reasons.
Also: A robot that uses 3D printing to create plant-based meat is coming from Israel-based SavorEat. The company is now concentrating on the food service industry, but it hopes to make a household appliance in the future.
The intel on artificial intelligence
From voice assistants to individualized medical treatments to analyzing weather patterns, AI touches us every day, AMD CEO Lisa Su said in her keynote. But to bring the right level of AI capability to all devices, the industry needs multiple computing engines — CPUs, GPUs and adaptive accelerators.
As an example of how powerful its new suite of AI processing power is, AMD presented benchmarks for its 7040 Series Mobile processors, which it claims has the fastest PC processor graphics in the world. AMD also unveiled the first dedicated AI hardware in an x86 processor.
But with more AI power comes more responsibility. CES also delved into the thornier subjects involving AI, such as bias in AI and data privacy. Some of those issues were raised in the panel "Artificial Intelligence: New Rules and Tools."
Farzana Dudhwala, a privacy policy manager in AI policy and governance at Meta, cited Open Loop, a consortium supported by Meta that bridges the gap between policy innovation and technology companies.
"When draft laws are put into place and you see what they look like, they sound brilliant," she said, "but when you put them into practice and get different types of organizations to implement those draft laws, you find things that don't actually work in practice."
Proposed EU rules will, in theory, encourage a more human-centered approach to AI developments, allowing for the safe enjoyment of AI's full potential through risk-based analysis, says Laura Caroli, a senior policy adviser with the European Parliament. "Fundamental human rights are not something we can easily put on a scale. It's either you infringe on them or you don't. It's not an easy task, but we are trying our best to get it right," she said.
Also: Bird Buddy uses ingenious AI for fans of feathered friends. The "smart" feeder takes pictures of visiting birds and, after snapping a pic and sending it to a companion app, uses its AI system, which has been trained on millions of images, to recognize roughly 1,000 kinds of birds.
Banner photo on top: The BMW i Vision Dee rolls up on CES 2023. (Photo courtesy of the Consumer Technology Association)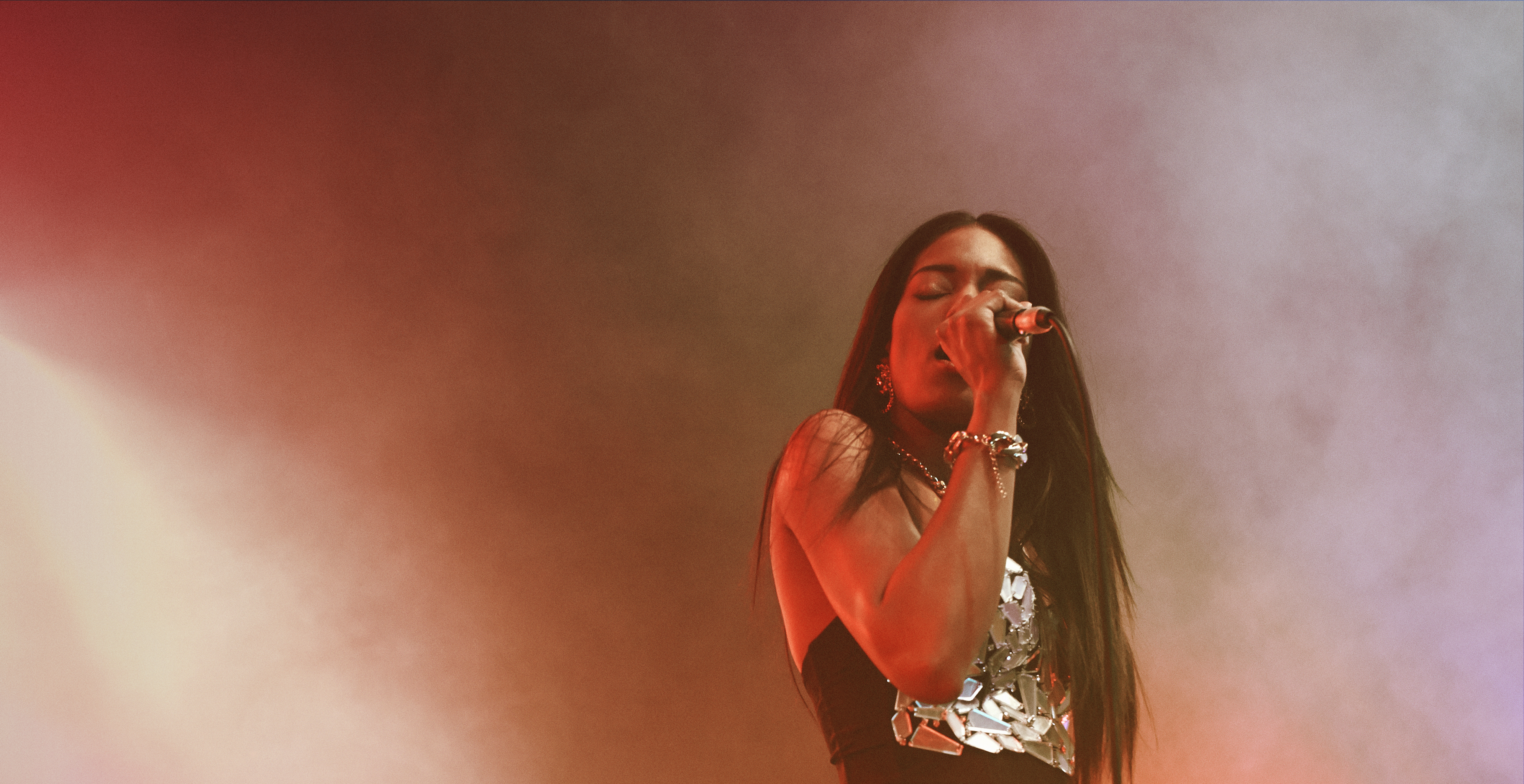 blockchain
Innovating for emerging artists
The Mastercard Artist Accelerator will harness Web3 technologies on the Polygon blockchain, forging new territory by connecting artists with mentors and fans in an exclusive development program, CMO Raja Rajamannar announced at CES.
Read more