Innovation
A land rush in the metaverse?
May 5, 2022 | By Anthony Venutolo

In Tech is our new biweekly feature highlighting what people are talking about in the world of technology – everything from crypto and NFTs to smart cities and cybersecurity.

Location, location, location
Say you're the kind of collector who scoops up a fair share of non-fungible tokens and you're just itching to put them on a virtual wall inside a virtual condo overlooking a virtual ocean. You're in luck.
Digital plots in Worldwide Webb Land's metaverse are being scooped up faster than you can say "House Hunters." Take this Indonesian speculator nicknamed "Clerkclirk," who recently spent $92,000 on a swath of digital land: "You can't say 'no' to profit," he told CNET in March. If you can imagine, his recent purchase is rather tame.
Republic Realm, a metaverse investment firm, spent $913,000 on a piece of real estate in Decentraland, and six months later it also purchased almost 800 plots in Sandbox, another metaverse, for $4.28 million. While Sandbox and Decentraland are two leading metaverses, new lands are being created almost every month and each will have has its own way to attract the masses. Decentraland operates like a simulator, where avatars socialize with others. Sandbox leans into gamification a la Minecraft or Fortnite. Joining in on the action, Yuga Labs in late April launched land sales for its hotly anticipated metaverse project, Otherside.
Now we're just waiting for that NFT Corvette to put it in our virtual garage.

Free peanuts … and Wi-Fi
In the past two weeks, SpaceX inked a deal with Hawaiian Airlines and charter carrier JSX ­­to use the company's Starlink satellite array.
Launched in 2020, Starlink is a low-orbit satellite network that can handle heavy data processing activities like online gaming, media streaming and video calls. And it just may change our in-flight experience.  
Airlines are now understanding that passenger needs are starting to exceed the limitations of their current Wi-Fi offerings, and it's getting harder for them to justify high prices. And sure, JetBlue has made its Wi-Fi free, but airplane Wi-Fi is much slower compared to what we have at home. SpaceX's Starlink intends to change that and several carriers seem open to the idea.
With Delta CEO Ed Bastian confirming that his airline has tested the Starlink technology and with SpaceX planning upwards of 42,000 satellites in its constellation, there's a new possibility that in-flight Wi-Fi will soon be lightning fast — and free. Now if they can only do something about those seat sizes.

Moving mines
Until last September, China held the bulk of the bitcoin mining market. When the country banned crypto, miners had to get out of Dodge.  
Opting for proximity, Vice recently reported that some outfits transported operations to countries like Kazakhstan, while others bit the bullet, paid higher transport fees and headed stateside.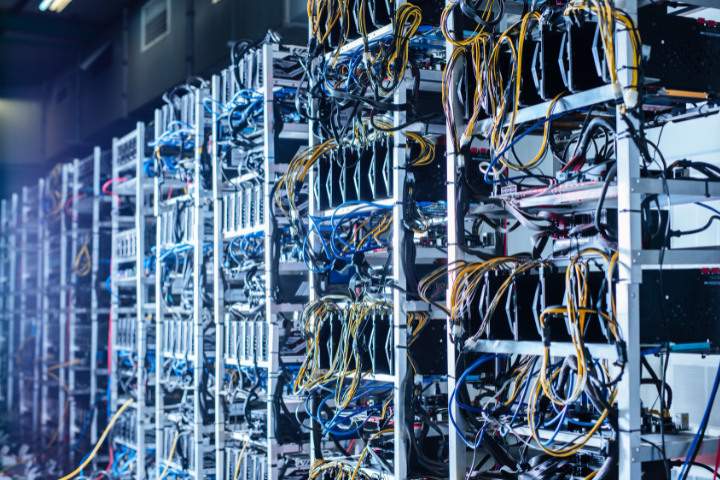 Companies such as Bit Digital, one of the world's largest cryptocurrency mining firms, landed at an old warehouse in upstate New York. Spending months shipping more than 30,000 machines from China just made sense, said Samir Tabar, the company's chief strategy officer.    
Bit Digital's pivot to the Rust Belt not only makes the U.S. the global leader in mining but signifies a remarkable transfer of wealth from China. Still, crypto mining, which requires significant energy consumption, remains a divisive subject with lawmakers who are exploring different crypto regulations. U.S. Sen. (and bitcoin investor) Ted Cruz, R-Texas, predicts his state will lean in hard and may be poised to become "the center of the universe for bitcoin and crypto." Legislators in New York, however, have introduced a bill seeking to impose a two-year moratorium on cryptocurrency mining.
Perhaps the biggest takeaway here, according to Alex Gladstein, chief strategy officer at Human Rights Foundation and author of "Check Your Financial Privilege: Inside the Global Bitcoin Revolution," is that mining activity will start to settle in countries that are less likely to pull the plug on them anytime soon.
Own your favorite song
Can Web3 revolutionize the music business? That's what Justin Blau hopes. Last year the writer and musician closed a $55 million Series A round for Royal, his blockchain-based music investment platform that he hopes will change the way fans and artists interact.
His site allows fans to invest in an artist's music on the platform by buying shares in the royalties earned from streaming. While Royal will be looking to work with musicians of all types, it has managed to snag rapper and hip-hop deity (and investor) Nas for two tracks.
"We believe Web3 will be a building block for every musician in the future," Blau told Music Business Worldwide in late April.
Blau wants Royal to usher in an era where musicians and fans see each other as partners: "When a fan actually owns rights in an artist's music, their incentives are more aligned to share and spread the word about that artist."