Inclusion
Small businesses can unlock the door to generational wealth through better use of data. This app can help
March 30, 2022 | By Deborah Abrams Kaplan

Dionne Gumbs always had a keen understanding and fascination with how the financial world works. She and her family emigrated to Brooklyn from Guyana when she was five, her mother working in banking and her dad an economist for the state of New York. "The language of money was always in my home," she says.
So in 2009, as Gumbs was working at JP Morgan managing large corporate clients, and the U.S. was climbing out of the Great Recession, she paid close attention to the rationale behind which companies got bailed out — and which didn't. She looked around at her own community — local business owners, like her brother, friends and neighbors, who were among those shut out from access to capital. And as a student of economics, she took note of how they were excluded from participating in the growth of the  overall economy.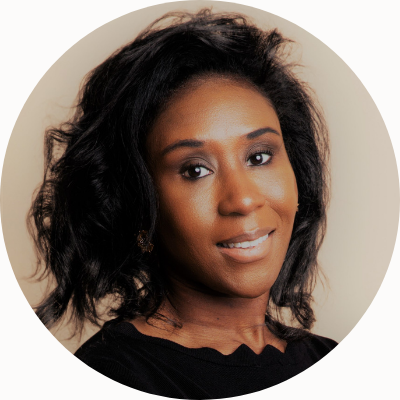 "There are many ways to build wealth in America, but the two ways across time and generations continue to be home and business ownership," she says. "My grandmother, great aunt and parents had a dream of home ownership. For myself and many others, the dream of America is about business ownership."
Fast forward a decade, and the racial reckoning of 2020, combined with the disproportionate impact of the pandemic on women and communities of color, has led to an awakening of the economic challenges faced by these entrepreneurs. Black businesses, for example, had a 41% closure rate in the first three months of the pandemic, compared to 22% overall. World Bank data shows women-led businesses have seen larger declines in sales and profits during COVID-19 compared to male business owners.
"We've moved from a point of personal story to story backed up by data," she says. "We've all lived through this and seen firsthand how communities suffer when their businesses close, and how communities of underserved business owners suffer."
Gumbs wants to make it more accessible for everyone to build generational wealth by removing barriers and opening pathways to business ownership. Women and minority-led businesses who are shut out of capital often lean on personal credit cards, deplete their own savings or resort to high-interest personal loans to build and grow their businesses, she says. "Everyone has the right and freedom to create something, to watch it grow, and to add to our economy with that idea."
In 2018, she founded GenEQTY, a platform and mobile app that serves as a chief financial operating system providing financial clarity, control and capital to small businesses. GenEQTY brings together data from bank accounts and Quickbooks or other bookkeeping solutions, automates financial administration tasks, and provides access to financial reports, key financial ratios and business health information. It consolidates these tools in one platform to enable businesses to manage accounts in one place, automate financial tasks and, most importantly, access loans from partners. The app's business analysis function reveals a real-time health score, over time creating a more efficient and effective way of evaluating creditworthiness.
In these early stages, the company is working with Mastercard's open banking platform to provide businesses with deeper, richer insights to manage their financial health, including alerting businesses when they need short-term capital and give real time business advice — like a CFO in your pocket.
"Everyone has the right and freedom to create something, to watch it grow, and to add to our economy ."
Gumbs saw a sweet spot for businesses in the $250,000-$1,000,000 annual revenue range. While these small businesses have room to scale above $1 million, financial institutions that want to help have traditionally found it hard to do so and end up gravitating towards larger companies, she says. By using an open API framework, Gumbs has set out to build solutions so that these types of business owners, their banks and financial providers, lenders and strategic partners such as Mastercard, can help accelerate growth and sustainability.
Survey have shown that 67% of small businesses want their primary financial institutions to work with fintechs to create solutions for them, she says. "This isn't a winner take all bucket. We all have a part to play in the health, longevity and sustainability of small businesses around the world."
Last year, as the company was building its first product, GenEQTY joined Mastercard's Start Path program for early-stage startups led by founders from communities underrepresented in the fintech space.
"We challenged ourselves to act like a big company like Mastercard, in order to make sure that we are constantly maintaining a certain level of professionalism and scrutiny to what we're doing," she says, such as properly assessing risk, performing due diligence and seeking solutions to problems she identified later on the company's product roadmap.
She also wants to move the conversation around access to generational wealth forward. While acknowledging that more women be part of the funding decision process, she believes more women of color also need to have an active voice in building financial solutions themselves.
"We need people with different kinds of experiences speaking about technology solutions for financial services, for fintech," Gumbs says. "Many of us have amassed a wealth of traditional knowledge and expertise in financial markets and needs.
"By nature of how we must navigate the world, we are nimble, possessing the talent and skill to take that institutional/enterprise/big company training and apply it in unique ways to solve problems beyond our own lived experience. We are an accelerant, and we need a shot."