Innovation
Phone, keys … face? Why biometrics may make your wallet obsolete
September 26, 2022 | By Vicki Hyman

Ibirapuera Park is a haven for fitness junkies, a nearly 400-acre oasis in the middle of São Paulo's concrete jungle, with thousands of people flocking there each day. Some of them stop at a nearby St. Marche, an upscale neighborhood supermarket chain, on Alameda Jauaperi for water or a snack after their workout. That meant juggling their wallets, phones and their new purchases — until recently.
Now they pop in, grab what they need, flash a grin at the checkout counter and are on their way, says store manager Adriana Souza. A million-dollar smile? Nope — the store is part of a pilot program to test biometric checkout, where shoppers can pay for their purchases simply by presenting their face to a camera at the register.
It's the latest evolution of the touch-free checkout experience fueled by biometrics, the authentication technology once the province of science fiction but now used for everyday tasks, from unlocking our smartphones to accessing buildings. The market for biometric technology is expected to reach $18.6 billion by 2026, with growing use at airports and border control and in financial services, health care, automotive and other industries.
Biometric authentication, combined with data encryption, can help people protect and control their data, says Ajay Bhalla, president of Mastercard's Cyber & Intelligence business. His team launched the pilot with Payface, the Brazil-based biometric tech company. 
"Biometrics — using physical identifiers to prove you are who you say you are — are key to creating, managing and verifying our identities in a rapidly digitizing world," Bhalla says. 
With biometric checkout, shoppers no longer need to tap or dip a card or use their mobile wallet — all they need is their face, their palm or their iris.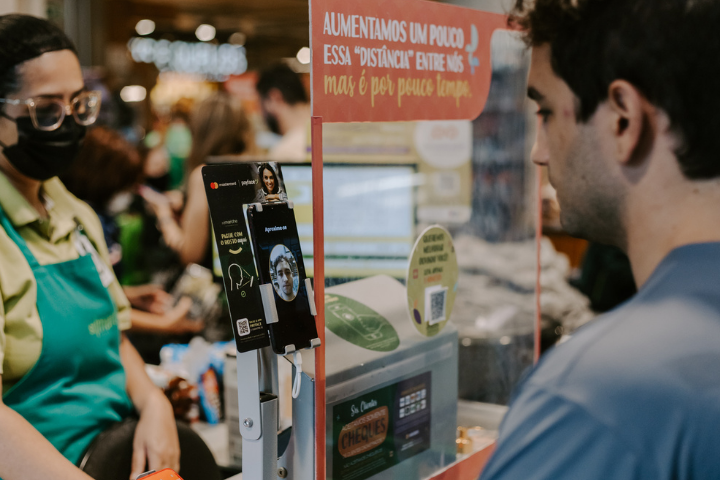 Mastercard developed the standards and guidelines that banks, merchants and technology providers like Payface must follow to make the experience fast, safe and secure and to ensure privacy. Mastercard is working with partners around the globe to bring the experience to retailers, with pilots planned for the Middle East, the U.S. and Asia in the near future.
In Brazil, biometric checkout launched this summer at five St. Marche locations around São Paulo, where the CEO Bernardo Ouro Preto says  the technology is speeding up lines and improving the shopping experience.
The waiting is the hardest part 
A long line was, in fact, what led to the creation of Payface. Co-founders Eládio Isoppo and Ricardo Fritsche met at university in Florianópolis in southern Brazil, but Fritsche left before completing his computer science degree to found a successful edtech company. Fast-forward a few years: Fritsche returned to university to complete his degree, and, stuck in line one day at the cafeteria checkout, thought about applying biometrics to payments.
He met for coffee with Isoppo, a serial entrepreneur with lots of contacts with Brazilian banks and payment service providers. The two launched Payface in 2018 and worked together to refine the technology and bring it to retailers.
As plans for the pilot began, Payface also joined Mastercard Start Path, the company's startup engagement program, to make new connections and get advice on scaling the technology. "Being part of the Start Path program has helped us realize the potential of our technology and how we can work together with Mastercard to transform the payments industry," Isoppo says.
The results from the pilot so far have been promising: Nearly 1,000 people registered and used their biometrics to check out — three times more than expected — with an average of nearly six transactions over the course of the three-month pilot. A Mastercard survey of nearly 100 shoppers who set up and enrolled in the PayFace pilot showed that 90% were comfortable doing so, and 76% would strongly recommend biometric payments to a friend.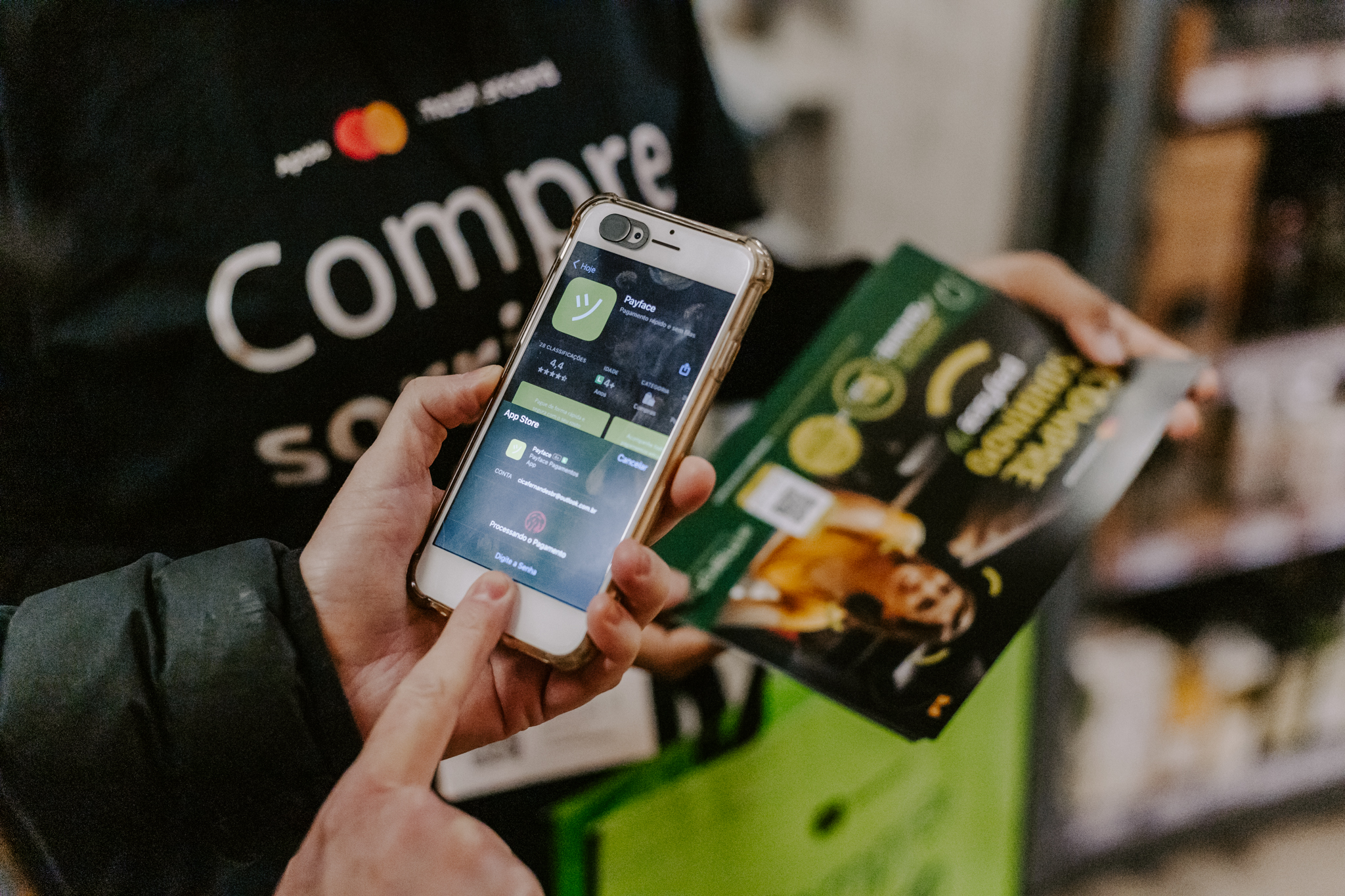 To get started, shoppers must first enroll their payment credentials and biometrics — in this case, by taking a photo of their face — either in the store or at home via the Payface app. To protect user privacy, the photo is converted into a digital template, a series of ones and zeros, and then encrypted. When it's time to pay at the store, customers smile at a screen, which the Payface Cloud software matches against enrolled users' digital templates to confirm their identity, and then the tokenized payment credentials are processed as a normal authorization request.
Biometric checkout does require new hardware, but in many cases, stores can use generic and relatively low-cast tablets. As an added benefit, these biometric screens can also give retailers the opportunity to embed loyalty offers and other personalized services at checkout.
The biometrics boom
The use of biometrics for identity authentication dates back centuries, perhaps as early the reign of Hammurabi in Babylon nearly 4,000 years ago, when fingerprints were used to seal contracts. The unique patterns of finger ridges had been used for authentication through the ages in China, Japan and Persia. By the end of the 19th century, fingerprints were being used in criminal investigations — a particularly brutal double murder in Buenos Aires in 1892 is considered the first to be solved by matching fingerprints at the crime scene to the suspected killer.
In the 1930s, an ophthalmologist first proposed the use of the pattern of the iris as a recognition tool, but technology didn't catch up until sixty years later. And the forerunner of today's split-second facial recognition technology dates to the 1960s, when artificial intelligence pioneer Woody Bledsoe and his colleagues used a computer to calculate, store and recognize the distances between coordinates of human faces from photographs.
While law enforcement agencies have been harnessing fingerprints since the Industrial Revolution, it wasn't until this century that biometrics broke through with the public, notably with the rise of smartphone fingerprint scanners. Mastercard's 2022 New Payment Index shows that more than six out of 10 consumers globally believe biometrics are more secure than a PIN, password or other forms of identification, including two-factor authentication.
And new kinds of physical biometrics are emerging — from voice recognition to blood vessel patterns. Combined with the growth of behavioral biometrics — the study of how we walk, the angle at which we hold our phone, how fast we type — the use of biometrics will continue to expand as more of our lives go online.
Mastercard has been investing in biometric innovation for years, introducing biometric-enabled authentication for digital purchases in 2015 and launching a  biometric card for additional security for in-store purchases the following year. Mastercard spent years developing standards to allow shoppers to use their biometrics across retailers and technology vendors, wherever they are in the world.
Interoperability, Bhalla says, is critical to realizing the technology's potential; biometrics can already be used not just for buying a bottle of water at your local market, but for accessing and sharing your medical records or verifying your identity for online exams or age-controlled purchases: "Biometrics brings ease and security in equal measure, and it's our responsibility to instill trust wherever people interact with the digital ecosystem, from the checkout counter to online shopping to the metaverse."
Romeu Alves da Costa is a St. Marche shopper who enrolled in the biometric checkout program and would feel comfortable leaving his wallet at home.
"I love technology, everything that is innovation and the practicality of paying with just your face," he says after making a purchase at the Jauaperi store. "I can imagine paying with my face in the future at gas stations, on public transport, at the cinema, everywhere."