Small Business
Out of grief, a garden grows. Now this woman's urban farm feeds a community
July 12, 2022 | By Jodi Helmer

Briann Battle never planned to become an urban farmer.  
Battle started growing a few pots of vegetables in the yard behind her San Pedro, California, apartment as a form of therapy after losing her son Brycen to sudden infant death syndrome in 2014. Digging in the dirt, listening to the birds chirping and tasting the fruits (and vegetables) of her labor sparked a hunger to continue growing food. 
Soon, she says, "I started getting calls, texts, emails from people in my neighborhood who knew I was growing food and wanted to buy it."  
In 2016, Battle expanded from a few plants in her backyard to a full-fledged urban farm in nearby Gardena. Her farm Here We Grow Gardens produces organic fruits, vegetables and herbs, along with products like lemonade, salsa, sauces and aloe vera gel, all of which Battle sells through local farmers' markets.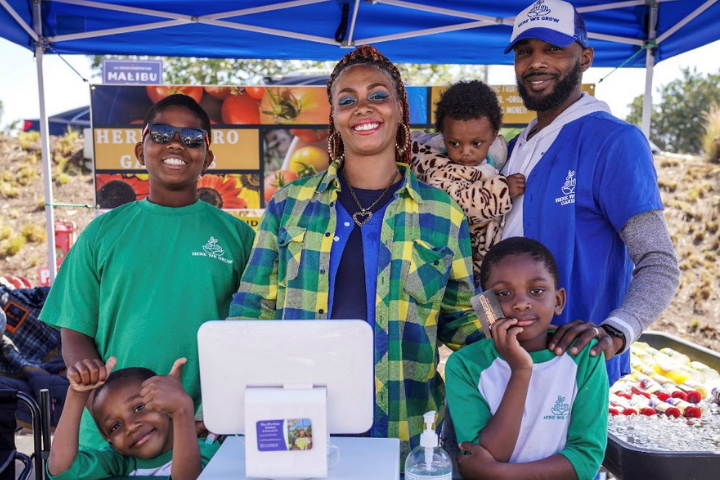 Briann Battle, center, with husband Raylion Sr., and their four children, clockwise from bottom left, Ryian, Raylion Jr., Bryant and Da'Ray. (Photo courtesy of Briann Battle)

The produce isn't just nutritious and delicious; the harvests also help address food insecurity in her South Los Angeles community. "There aren't a lot of stores around here selling fresh fruit at affordable prices," she says. "It made me look into other things I could grow and other ways I could serve my community."  
An estimated 19 million people in the U.S. live in "food deserts," meaning there's limited access to affordable fresh foods. In South Los Angeles, where liquor stores outnumber supermarkets, there are just 91 grocers and five farmers' markets serving more than 820,000 residents.  
Unsurprisingly, farms are also scarce in densely populated Los Angeles County. In 2020, there were just 105 farms with direct-to-consumer sales in the county — 50% fewer than 2017 — and Black farmers like Battle make up just 1.4% of the 3.4 million farmers nationwide. 
Battle, a descendant of sharecroppers, wanted to make her mark. She started selling her produce through Prosperity Market, a mobile farmers' market selling fresh foods from Black farmers, food producers and chefs in neighborhoods where access to fresh foods was scarce. "Black farmers," she says, "are here and thriving." 
Although Battle knew plenty about growing great food, she also knew she needed to sharpen her business skills to make the most of her crop. So in 2021, she joined a six-week Business Builder program through the grassroots community-development nonprofit Thinkwatts Foundation.  
Rapper, record producer and Thinkwatts founder Brandon "Stix" Salaam-Bailey partnered with companies including Mastercard to launch the inaugural cohort of the Business Builder Program, which incorporates Mastercard's Digital Doors curriculum, in February 2022. The program teaches entrepreneurs — most of whom are people of color — about bookkeeping, credit building, website development, business analytics, cybersecurity and boosting their creditworthiness.  
Only 2.2% of businesses in the U.S. are Black-owned, according to a 2020 Brookings Institution report, and more than half of Black entrepreneurs are denied bank loans, offered lower loan amounts or charged higher interest rates than their white peers. The Business Builder program with Thinkwatts is one of several community-based partnerships Mastercard has launched and is continuing to support as part of its In Solidarity commitment to reduce racial wealth and opportunity gaps and increase opportunities for Black families and businesses in the U.S.  


"Being around people that believed in me, saw the potential I had and gave me the tools to succeed was what I needed."
"A lot of individuals in low-income communities don't have the resources to know how to start and scale a business," Salaam-Bailey says. "We have the ambition to sell things and we want to channel that passion, but we need someone to teach us how to do it. In order to truly scale a business, you need access to capital and credit. And you need proper accounting and management practices to get it." 
Battle also benefits from better digital tools. For instance, the Business Builder program provided her with an updated Square mobile system to make itemizing sales and tracking transactions easier. With the mobile digital-payment technology, Battle was able to increase sales 78%. Digital Doors helps small business owners learn how to accept digital payments, protect themselves from cybercriminals, move their storefronts online and more.  
"In the first year of entrepreneurship, I didn't have many resources," Battle recalls. "Being around people that believed in me, saw the potential I had and gave me the tools to succeed was what I needed."  
Expanding her farming skills, customer base, business knowledge and access to digital payment tools has encouraged Battle to keep growing. Her five-year plan includes expanding to a 20-acre farm and creating an educational nonprofit to continue expanding fresh food access in California food deserts. 
"My dad always told me that my garden would take me places," she says. "I have countless opportunities to keep growing and make a difference in my community." 

Top banner: Briann Battle, center, with Prosperity Markets founders Kara Still, left, and Carmen Diane, right. (Photo courtesy of Briann Battle)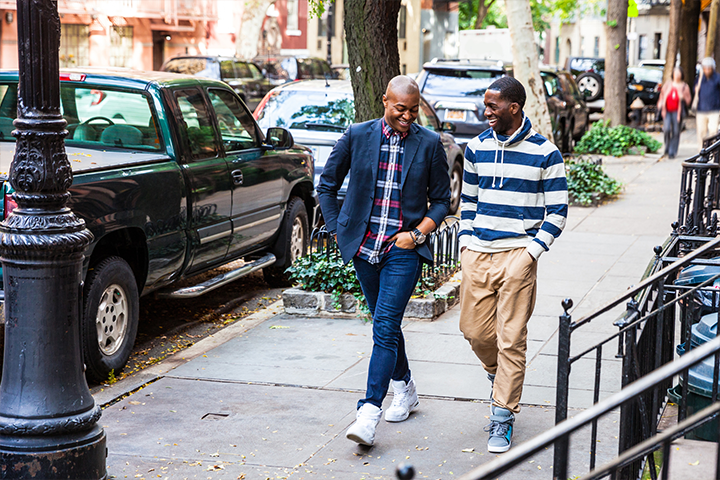 inclusion
Solidarity in action
Mastercard has committed $500 million to address systemic inequalities and opportunities gaps across the U.S. through its In Solidarity initiative. That includes delivering impact through city-based programs, starting with Los Angeles, St. Louis, New York City, Atlanta, New Orleans, Birmingham and Dayton, building inclusive financial tools, services and access to economic opportunities, and expanding access to capital and resources for Black-owned businesses. 
Learn more