Inclusion
This startup helps college athletes score endorsement deals
February 14, 2022 | By Deborah Lynn Blumberg

As an undergrad at Michigan State University, Ashton Keys got a job teaching football and basketball players how to build their brands as public figures at the university. He saw up close how hard they worked to juggle their athletic commitments and their education — and how much the school benefited from their efforts.

But those playing college sports — a multibillion-dollar industry — couldn't profit from their talent and popularity. Policies issued by states and the NCAA deemed them amateurs, barring them from endorsement deals. With fewer than 2% of student athletes turning pro, college would be a key time for them to benefit from their playing time. The policies left many student athletes with little money for essentials like food and internet access. Some, Keys later learned, even sold used game gear like sneakers to make ends meet.
"When we're cheering for a team, we really don't think about what's going on behind closed doors," says Keys, the co-founder of Athlytic, a startup that helps student athletes land paid endorsement deals. Since its launch in 2020, the company has connected hundreds of athletes to top brands.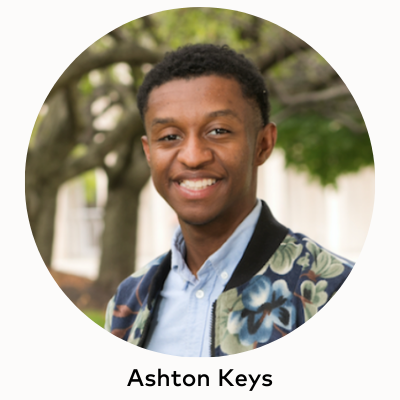 Keys, a Detroit native and self-professed sports fanatic, believes NCAA rules put Black athletes — who make up about half of all Division I men's basketball and football players — at a particular disadvantage. A still widely cited 2011 study of the NCCA's elite Football Bowl Subdivision found that 85% of players with full athletic scholarships were living beneath the federal poverty line.
Athlytic, he says, helps student athletes build financial security, giving them the freedom to pursue both their academic and athletic careers.
As a Black startup founder, Keys can relate to this struggle for equity. While venture capital funding for Black founders quadrupled in 2021, they still received only 1.2% of the record $147 billion in venture capital invested in American startups from January to July 2021.
In December, Athlytic joined Mastercard Start Path startup engagement program as part of the latest class of early-stage startups led by founders from underrepresented communities. The program is designed to help them access the expertise and resources they need to grow. It can also help Athlytic build the relationships with financial institutions that will in turn support the company's goal to help student athletes — often first-time banking customers — achieve financial security.


"Lots of athletes from low-income backgrounds have been able to change their financial situation — for themselves and their communities."
Keys spotted the opportunity for what would become Athlytic when California Gov. Gavin Newsom signed a law in 2019 allowing student athletes to ink endorsement deals. Other states followed, and the NCAA — which initially opposed such legislation — suspended its long-standing rule last year.
Athletes can create a profile on Athlytic's platform, which integrates their public social media accounts. Subscribing companies can search for students compatible with their marketing goals and send endorsement opportunities through the platform. Students accept, deny or negotiate endorsement deals, which consist mainly of posting images of themselves on social media using a company's products. (Some have worked on commercials, too.)      
If the student accepts, the platform sends the opportunity to the athlete's university compliance department for approval. Payment is held in an escrow system until the athlete completes the deal. Athlytic gets a commission on each transaction and charges the brands a subscription fee for access to the platform.
As Keys quickly discovered, there are plenty of students eager to use the platform. One student he interviewed needed to help his mother pay rent but didn't have the time for a part-time job. Another had to stay on campus during the pandemic, when other students returned home, because his family couldn't afford Wi-Fi.
The students on the platform have told Keys they are helping their families with the money they earn, they have extra cash for emergencies, and some have even used their earnings to start a business.
Now Athlytic is gaining traction in the sports world. The platform has connected Moneyball Sportswear with athletes including Alabama Crimson Tide linebacker Chris Braswell and Baylor University's track-and-field star Morgan Stewart.      
"Lots of athletes from low-income backgrounds have been able to change their financial situation — for themselves and their communities," Keys says. "They're grateful for the opportunities and want more of them. This has been life-changing for a lot of people."