Inclusion
Women's rugby is surging. Its next chapter will be even bigger
October 11, 2021 | By Raja Rajamannar
"Who will marry you?" asked Sweta Shahi's uncle when he learned about her ambition to play professional rugby, a full-contact sport celebrated for its thunderous team action and fearless players. With no coaching except from her father and tips picked up from YouTube, she has gone on to represent India on the women's national team.
Shahi is one of the "unstoppables" — a group of women players that World Rugby named to represent the sport. They've excelled at this game traditionally dominated by men, breaking barriers with every step onto the pitch.
Women's rugby is now one of the fastest growing team sports in the world. In total, more than 2.7 million women and girls play in professional leagues, at the Olympics, at universities and even in grade school. But they still don't receive the same recognition and support as men in rugby.
But that is changing. In June, Mastercard became the founding global partner of World Rugby's Women in Rugby program, focusing on growing youth participation and raising the global profile of women's international competitions. Mastercard's support includes the first worldwide partnership for Rugby Cup 2021 and 2025, and the first partnership with WXV, a new, annual women's competition expected to start in 2023. Earlier this month, Maggie Alphonsi, Portia Woodman and Safi N'Diaye joined the company's lineup of global brand ambassadors, and Mastercard launched Youth Unstoppables content series to inspire the women's rugby stars of the future.
It's part of our longstanding commitment to women's sports — spanning players, teams and competitions — because we believe that when we create meaningful connections, inspire acceptance and cultivate a culture where everyone can be their best selves, we are building a better world.
I recently sat down with Katie Sadleir, general manager of women's rugby for World Rugby, to talk about the sport's phenomenal growth — and potential.
Rajamannar: Before the pandemic, interest and participation in women's rugby surged. Why has the women's game experienced such growth in recent years? How can it sustain the momentum?
Sadleir: The Rio de Janeiro Olympics in 2016 were a huge boost — the first time women's rugby has ever been played in the Olympics. That was a huge investment to actually get the sport moving. It's kind of a sport that, prior to the Olympics, you didn't see as much. You definitely didn't see women playing the game.
It was my job to harness the energy and enthusiasm around the world to create an aspirational strategy that says, okay, we want to normalize women's involvement, and when people think about rugby, we want them to think about a sport that is played by men and played by women — not just "Really? Do women do that?"
Rajamannar: Why is it important to bring more women into the sport? How does it benefit women, and how does it benefit rugby?
Sadleir: I was a synchronized swimmer and competed in the 1984 Olympics in Los Angeles. I don't think that there was ever any kind of problem with me as a female choosing that sport. When I think about rugby and the physical demands of it, the perception in some countries can be very different. It can be quite challenging for some young girls to tell their parents, "I want to play rugby."
It is very varied depending on where you live, but what we're about is making sure people start talking about those challenges, facing them straight on, creating opportunities to break them down.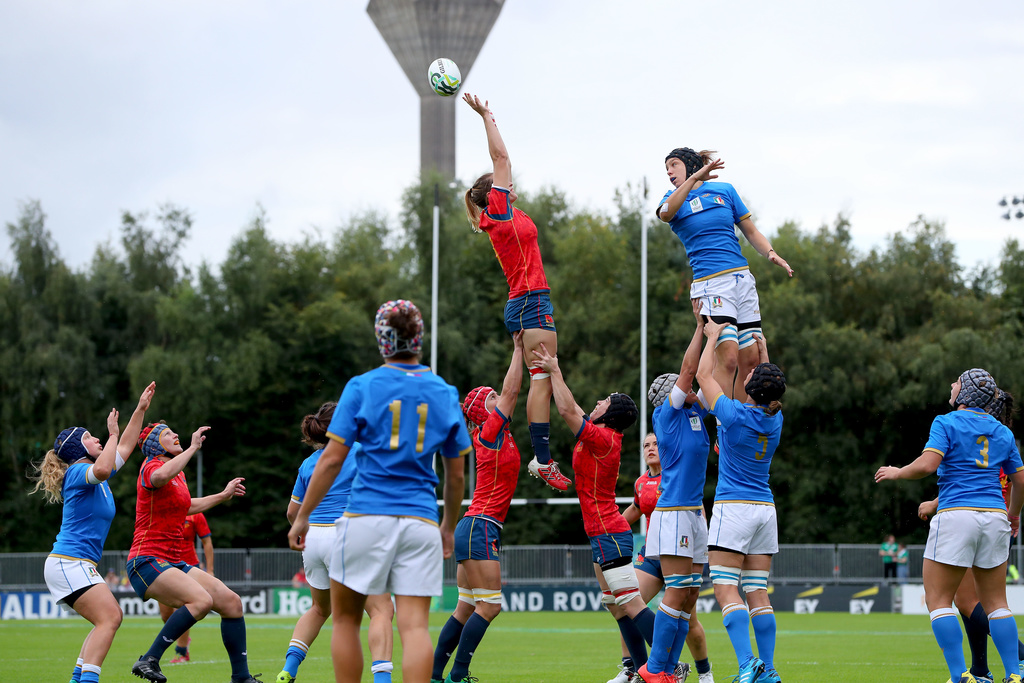 Rajamannar: We believe sports is a universal passion, and we're working to increase equity in areas that are still male-dominated. How is World Rugby working to expand representation, and what more can be done?
Sadleir: I started at World Rugby in 2017, and we've gone through a massive transformation in this period. The council was governed by 30 men even though 27% of the population playing the game was women. I was brought on to develop a strategy to transform the sport. We added 17 female directors to our World Rugby Council. That was a big commitment to drive change around the globe.
One of the things that I've learned in this job is that what's right, or what is a challenge, for a young girl in Laos or Cambodia might be different elsewhere.
For example, we work in partnership with a charity called Child Fund. With them we have a program called Pass It Back in villages in Laos and Cambodia where we use rugby as a way to build independence in young women. We've put programs in place in villages to encourage more girls to get involved in rugby. It's such a powerful, empowering game for women.
Rajamannar: Our world is full of brilliant possibilities, but they're not always open to everyone. What are some exciting changes you've seen in women's rugby in emerging nations?
Sadleir: In Mongolia, they play snow rugby! There have been so many exciting examples of how women are embracing rugby in non-traditional markets at a much faster rate. When I look at the programs and the growth in India, the last time I looked at it, it was something like 46% of all rugby players in India are women and girls. They have some amazing role models, which has helped. Iran went from just three and a half thousand women playing to more than 10,000 women after our Try and Stop Us campaign. The pictures from Iran are amazing. I like to think that rugby is part of that journey in empowering women.
Rajamannar: Too much of our world was designed without women in mind — and without women involved. We're trying to tackle this head-on in our business and through our sponsorships, including this one with Women's Rugby. How critical are these sponsorships to the expansion of the sport?
Sadleir: Mastercard is our founding, first rugby partner, and that is so important to us starting to shift the agenda and the discussion. We can then create diversified investments that underpin the game. We're at a stage where the sport really needs investment, but it's not just about cash. It's actually about partners that are aligned to what you're trying to achieve. This sponsorship will help us lift the profile of the sport by hosting aspirational events around the world that get more women on the pitch.
There are people that doubt whether corporates are interested in women's sports. You get people saying, "You don't bring enough money into the game, so why do you think you have the right to have money invested in you?" It's great being involved with a partner that absolutely believes in the potential of this sport and the potential of women in rugby.
---
This story was originally published June 9, 2021. It was updated to include new details about the company's commitment to Women's Rugby. 
Top banner: The New Zealand national women's rugby team powers past the U.S. team in the semifinals of Rugby World Cup 2017.  (Photo courtesy of World Rugby)