Innovation
Why we still need face-to-face time
October 22, 2021 | By Ed McLaughlin

When I speak to colleagues these days, they marvel at how much they've been able to accomplish without commuting. But in the next breath, they acknowledge how isolating, even lonely, working from home has been. "I miss seeing people," is the most common refrain.
What these conversations tell me is that there is no single vision of a "future of work" because there is no singular type of work — not even within the same job. Some days demand hunkering down to write code or create a presentation. Others require convening with teammates, listening to their ideas and building upon each other's thoughts. Those communal moments flow more naturally when we are all sitting in the same room.
As our offices are reopening, I've been splitting my time between our St. Louis Tech Hub and our new Tech Hub in the heart of New York City's Flatiron District — so I'm all too aware of the challenges of a commute. But working from home comes with many of its own challenges, too. Zoom fatigue is real. We all know how tiring it can be to spend a too-long day zipping from one videoconference to the next, feeling as though little was accomplished and few meaningful connections made.
By contrast, when people share a space, a whiteboard or even a meal, they build a sense of common purpose and community. There's a magic in that dynamic. Just recently, my team had a series of videoconferences wrestling with a thorny problem. It was frustrating, and we were not able to come up with a solution. Then I ran into a few of them in the office — and we figured something out in less than hour. Sometimes you just can't digitize serendipity.
I've also noticed it's much harder to meet and help new folks in a virtual workplace. When I walk into a room for a meeting, I usually spot the new hires or younger employees right away and intentionally strike up a conversation, learn about their experience, and hopefully give them more confidence to speak up when we get to the business at hand. But on a Zoom or Teams call with 20 people, I may not even know they are there.
The pandemic has stripped away many preconceived notions about the nature of work, and we want to make the most of what we've learned about remote working. We also understand more than ever the need for flexibility, so employees can more easily manage their work and personal lives, especially during the transition back to in-person work. At global companies like Mastercard, virtual collaboration will always be essential, because we're constantly working on projects across Tech Hubs and time zones.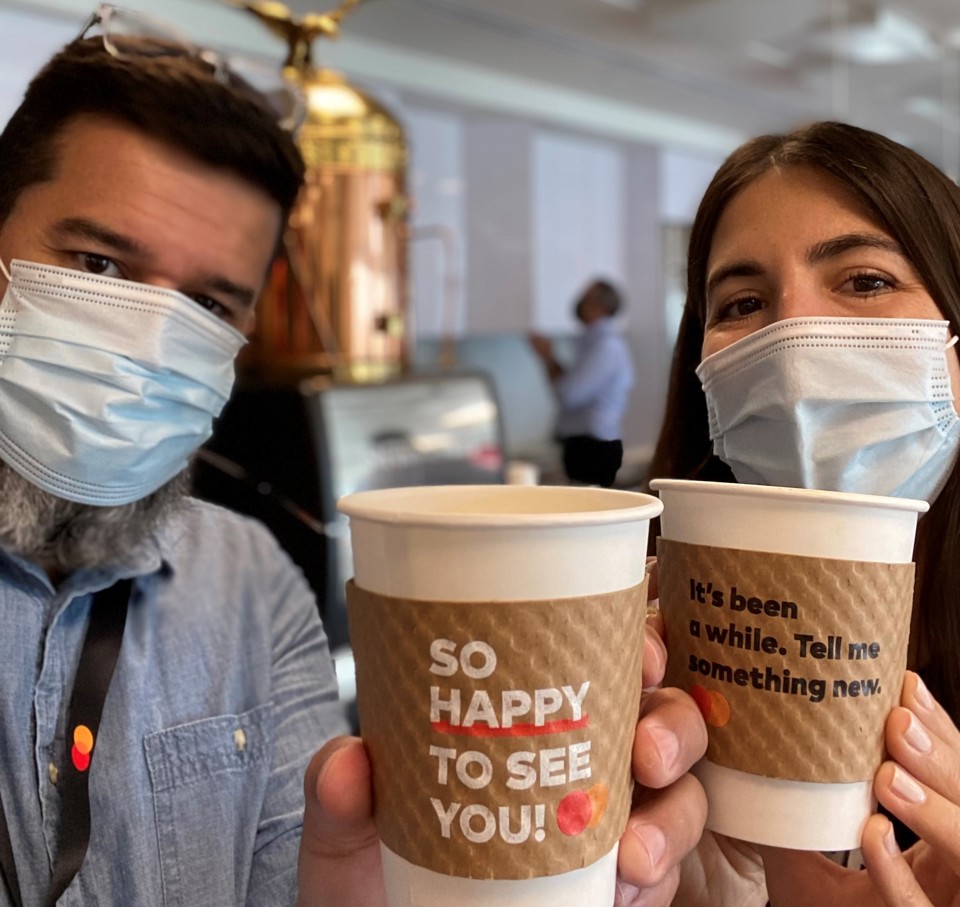 Mastercard employees returned to the office in North America this week, with celebrations in Purchase, N.Y., New York City,  Arlington, Va., San Francisco, Miami and St. Louis. Marcus Carmo, left, a consumer marketing director, and Michelle Muslera, a communications director, at the Miami headquarters for the Latin America and the Caribbean region.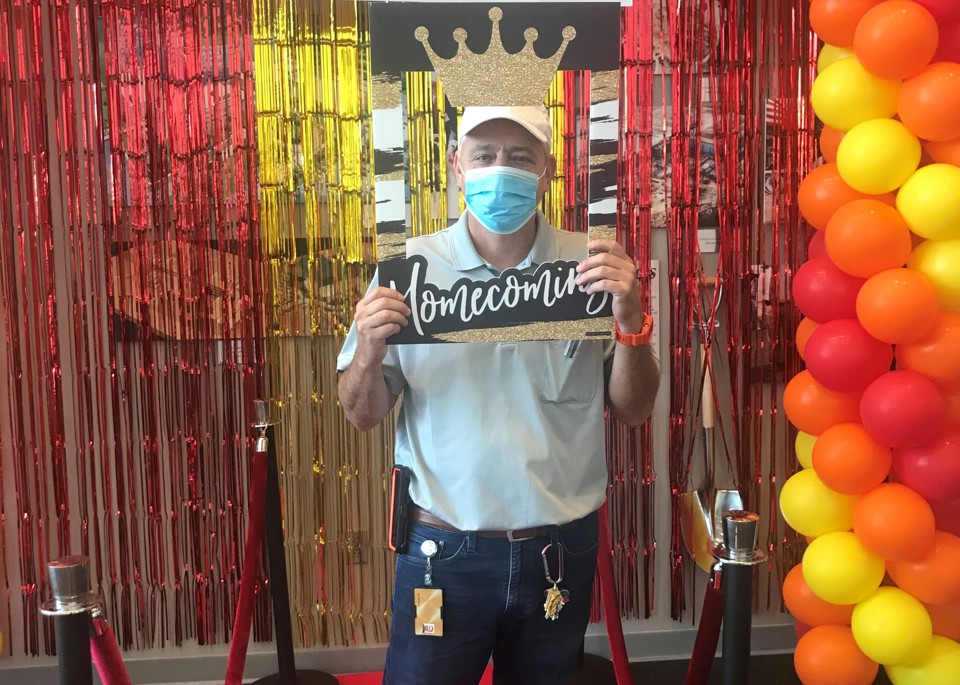 It's no surprise Jon Brickner won the Homecoming King crown — as a building engineer at the St. Louis Tech Hub, he helped institute the changes to bring back employees safely.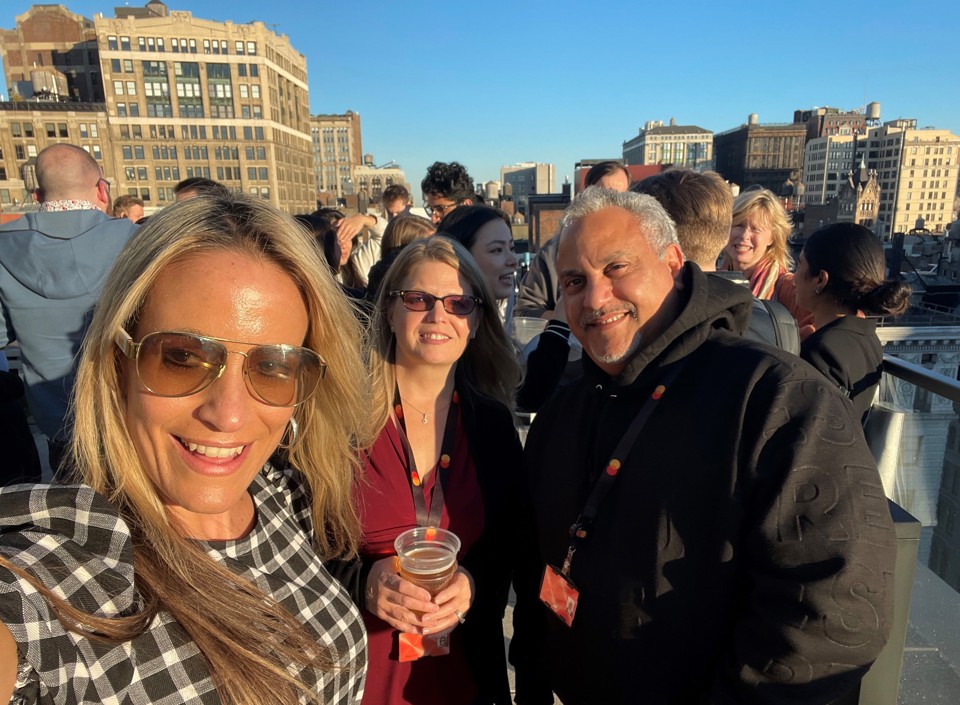 From left, lead systems support engineer Maria Russo, and lead network engineers Eileen Lewis and Franklin Lopez on the rooftop at the NYC Tech Hub. 
Enjoying an Oktoberfest Happy Hour at the Purchase headquarters, from left, Megan Harris, a senior analyst in learning and development, Siobhan Stewart, a communications specialist, and Adrienne Kim, a communications senior specialist.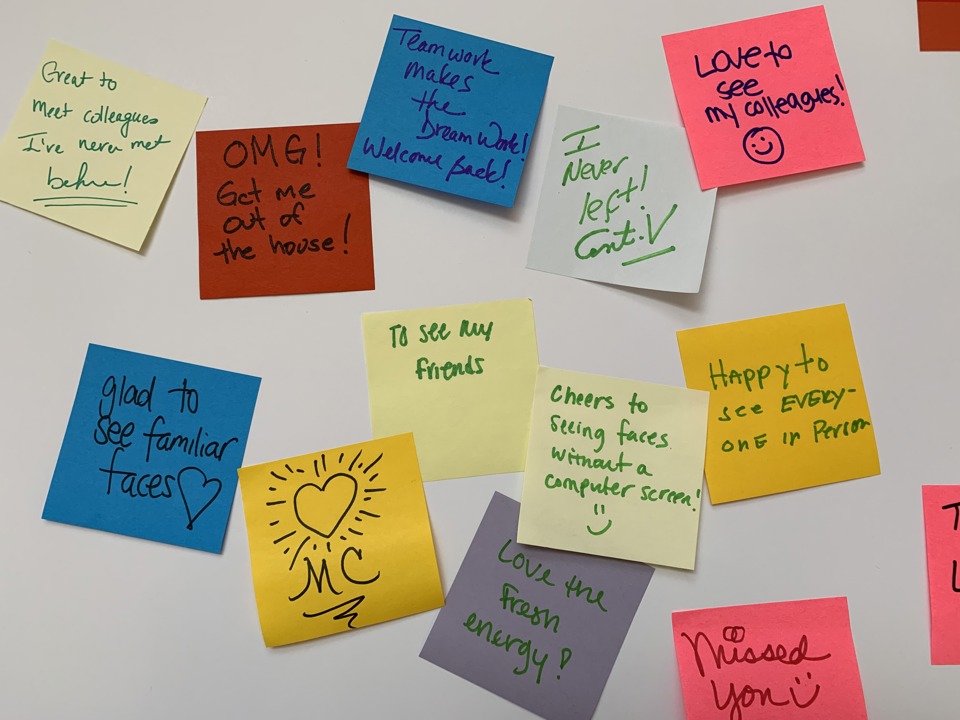 Employees in the Purchase headquarters share why they're excited to come back to the office.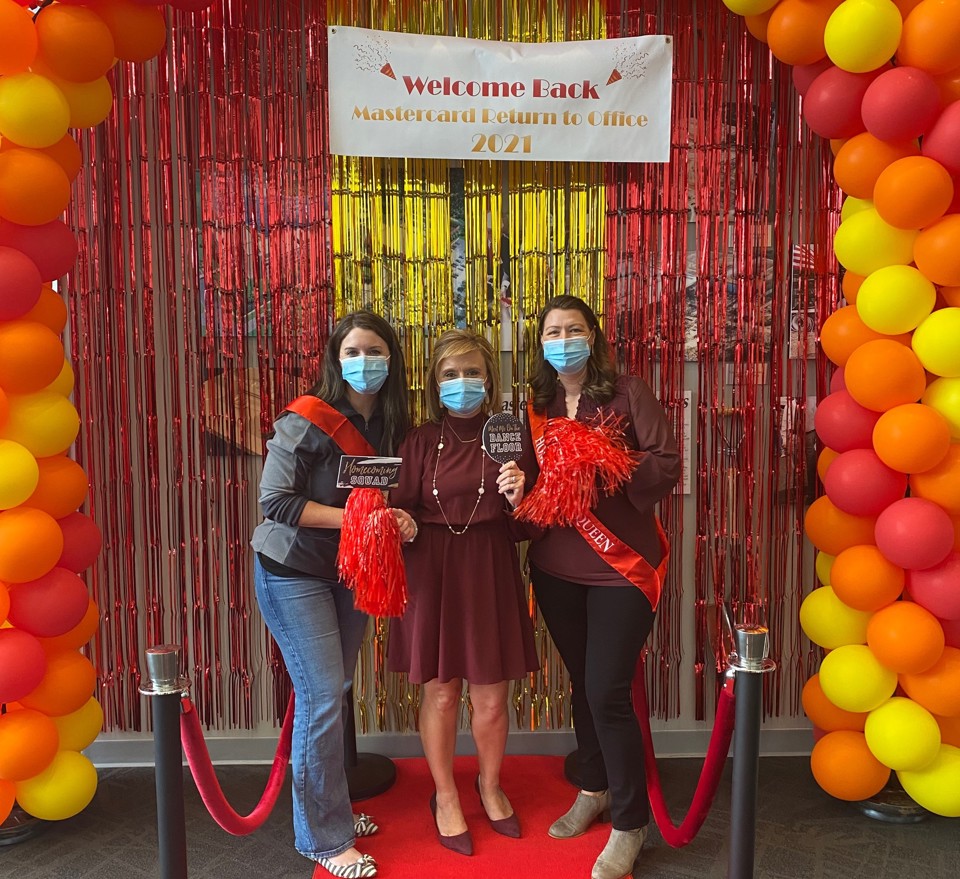 From left, Michele Ball, a director in software engineering, Jenna Hutton, a director in product management, and Deann Donohue, a vice president for the company's Technology Hubs, step out on the 'Homecoming'-themed welcome back red carpet at the St. Louis Tech Hub.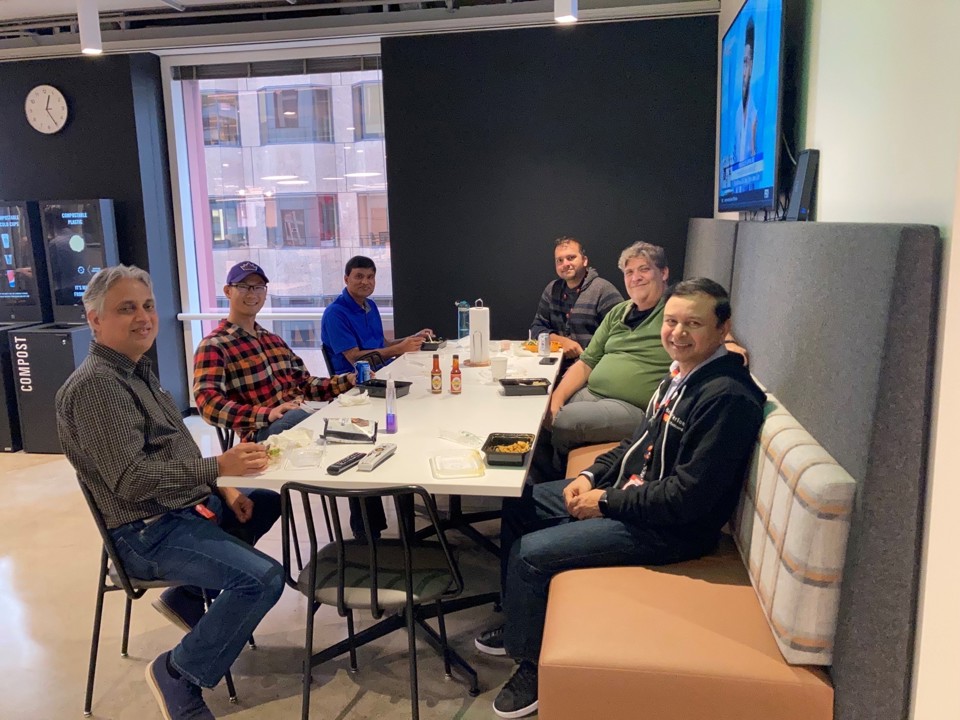 In San Francisco, colleagues reunited at a return-to-office lunch. From left, Sudhir Jha, Brighterion head; senior data scientist Bill Chan; lead database engineer Subrahmanyam Duggirala; Srish Sriram, a senior analyst in market delivery; principal software engineer Dave Rogers; and Brighterion chief technology officer Manu Thapar.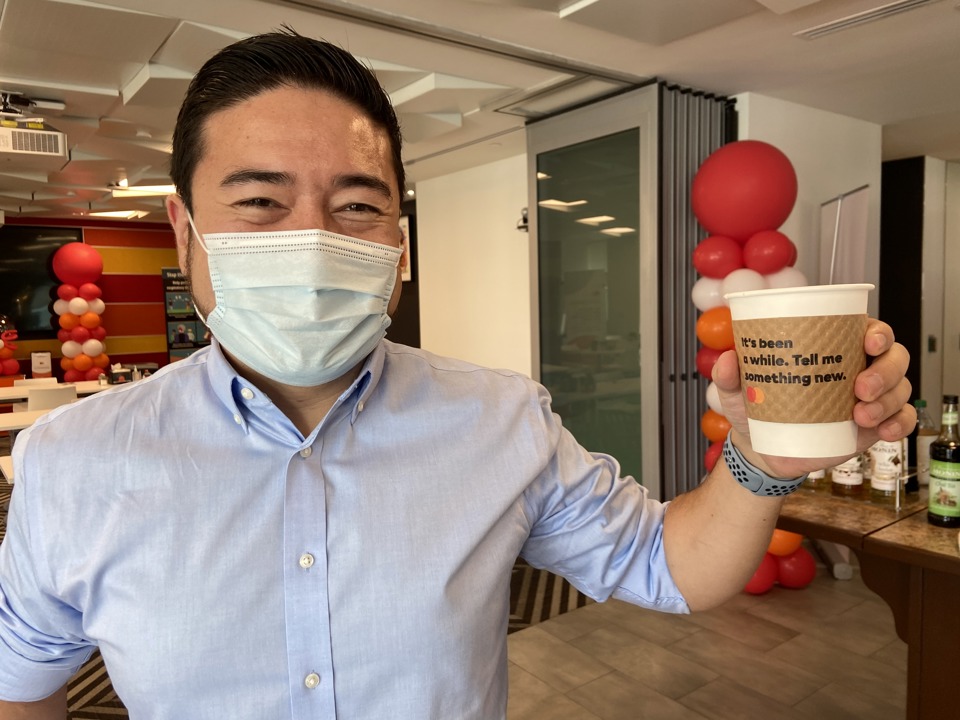 Tiago Lee, a director in merchant marketing, enjoys his coffee at the Miami return to office celebration.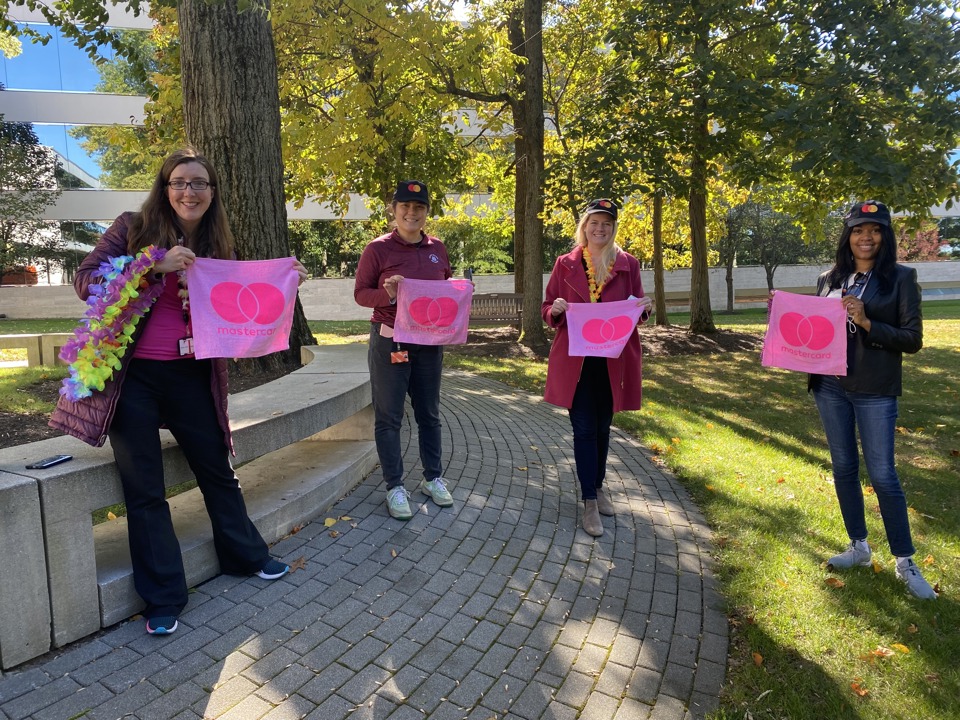 From left, Dana Duman, a vice president in Digital Solutions, June Chin and Stephanie Baranovic, both directors in Product & Engineering, and Inga Watkins, a senior business assistant in Product & Engineering, took part in a campus-wide Making Strides Against Breast Cancer Walk at the Purchase  headquarters. 
Paul Nisco, a director in learning and development, gets into the Oktoberfest spirit in his Tyrolean hat at the Purchase return to office celebration.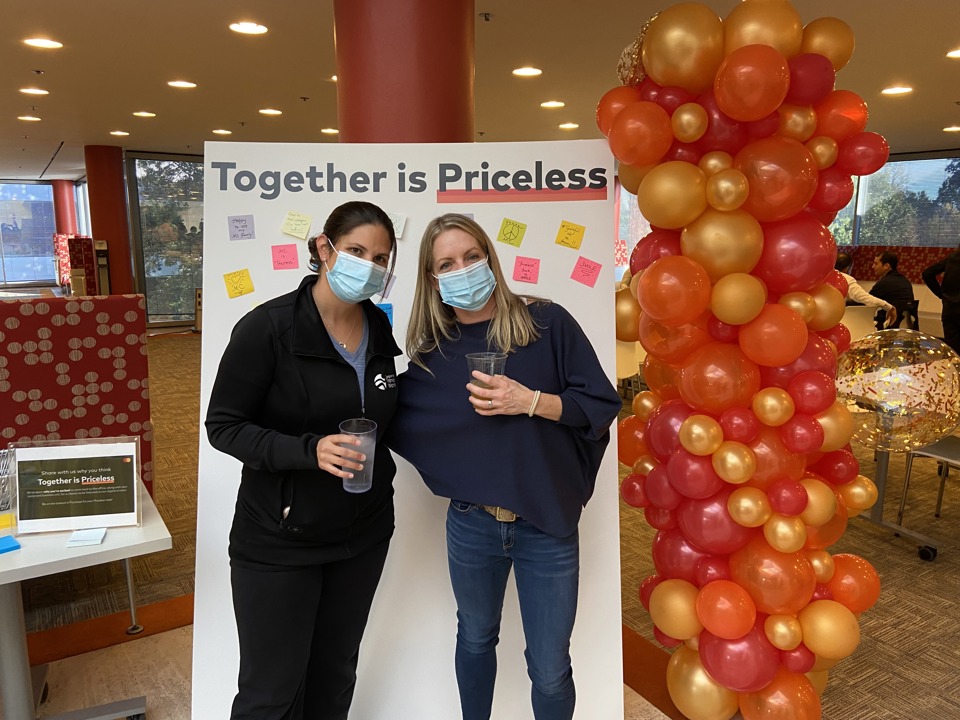 Kim Passudetti, left, who runs the Purchase headquarters' fitness center, and Robyn Tompkins, a vice president in Cyber & Intelligence, enjoying a 'Together is Priceless' moment on the opening day celebration.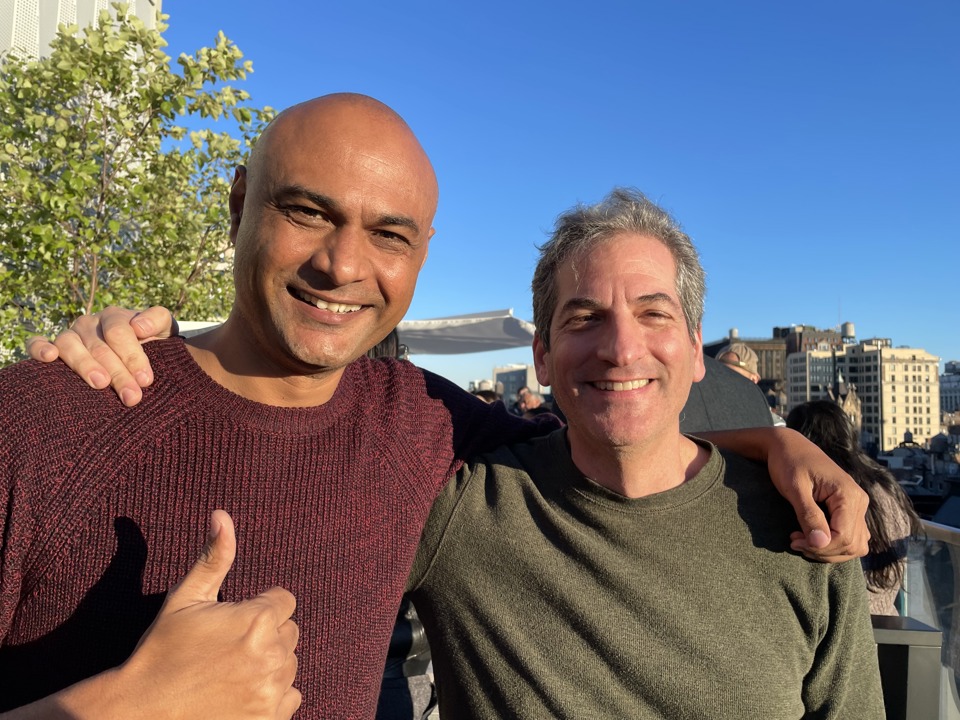 Chintan Oza, left, a vice president in software engineering, and David Grossman, a vice president in technical program management, on the NYC Tech Hub rooftop.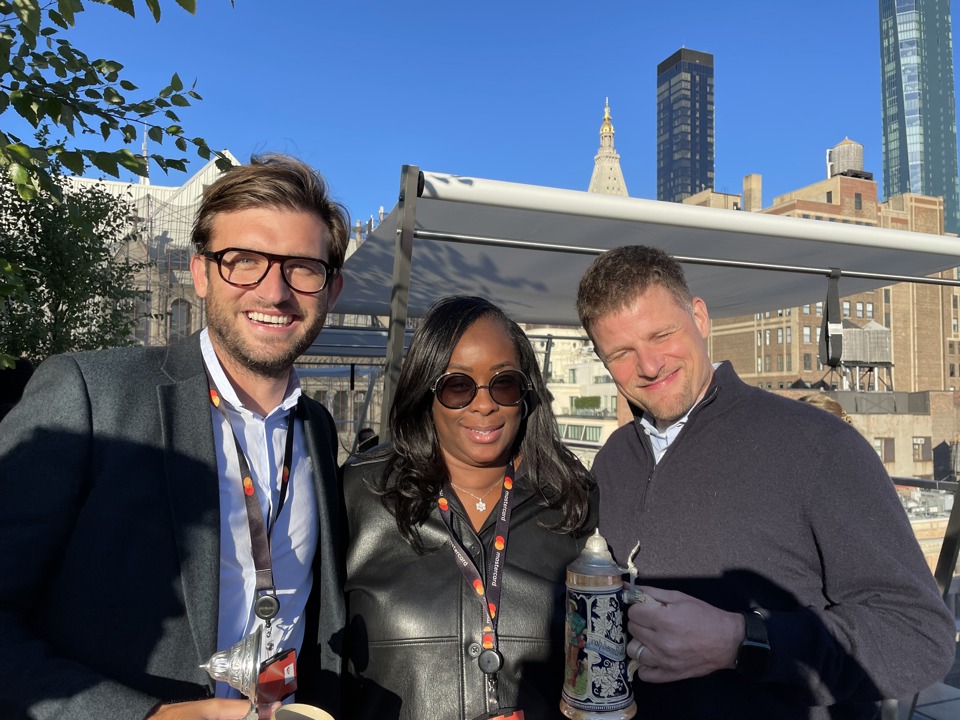 At the New York City Tech Hub, from left, Tomas Thire, head of technology strategy and transformation, Nicole Turner, a senior vice president for Mastercard's Technology Hubs, and Norman Buck, a program manager principal. 
Despite a plethora of collaboration tools, there's no replacement for convening in person. It's a balance between the freedom and flexibility of remote work and the joy and certainty of being together. Some of us need the consistency and structure of a purposeful work environment, designed so we can all do our best work. That's why I do not buy into the theory that we are all simply free-range workers, electronically linked. Independent thinkers have always sought out community for inspiration. Look at an art collective, a TV show writers' room, a study group or even a tech incubator.
These were the dynamics we kept in mind over the last year, as we designed Mastercard's new Tech Hub building in New York City, which will house 700-plus employees. We were outgrowing our previous Flatiron offices long before the pandemic, and the lockdown gave us an opportunity to rethink how we work.
When doors to our Tech Hub opened this summer, our employees discovered video collaboration rooms, outfitted with technology to give remote workers as immersive an experience as possible. Video screens capture employees at eye level — so everyone, everywhere, feels like they have a seat at the table.
There are also "hackable spaces" — rooms where furniture on wheels can be reconfigured at a moment's notice for whatever the situation requires. Our multimedia Mastercard Experience Center brings our products and services to life for our customers, including spaces where they can meet directly with our developers. Through our new partnership with Verizon, there will be a 5G-powered R&D space designed to inspire experimentation. To keep our teams safe, we're avoiding overcrowding with a smartphone app that allows employees to see which desks and rooms are available.


"These connections are what makes us a community, and a community is what drives us forward."
Our new Boston office, which opened in May, is similarly designed for flexibility, where employees are seated in "neighborhoods" that align not necessarily with their teams, but with whom they're collaborating that day.
In other words, we're providing a workplace for people to achieve their fullest potential — where technology helps enable human connections that are the foundation for trust and collaboration.
And, perhaps most importantly, we are reclaiming our role as members of a community — a role that's central to Mastercard's unshakable belief that connections make the world stronger. By placing our new Tech Hub in the vibrant Flatiron neighborhood, we are throwing ourselves back into the New York City mix. Employees can frequent local delis and coffee shops once more, familiarizing themselves with neighbors on every corner along their way to work.
We even plan to invite our neighbors to join us. Our new building includes a 115-person auditorium where we'll offer lectures and other events to the public. Our intention is to provide another space for New Yorkers to appreciate the best of their city — together. These connections are what makes us a community, and a community is what drives us forward. On our own, we imagine the future. But together, we can build it.
---
This story was originally published Sept. 7, 2021. It was updated to include photographs from Mastercard's first formal week back in the office in North America, starting October 18. 
Top banner: Employees at Mastercard's NYC Tech Hub on the roof deck in July following the first in-person meeting with customers since early 2020.