Innovation
Q&A with Bank of America: How small businesses are changing
July 30, 2021 | By Anthony Venutolo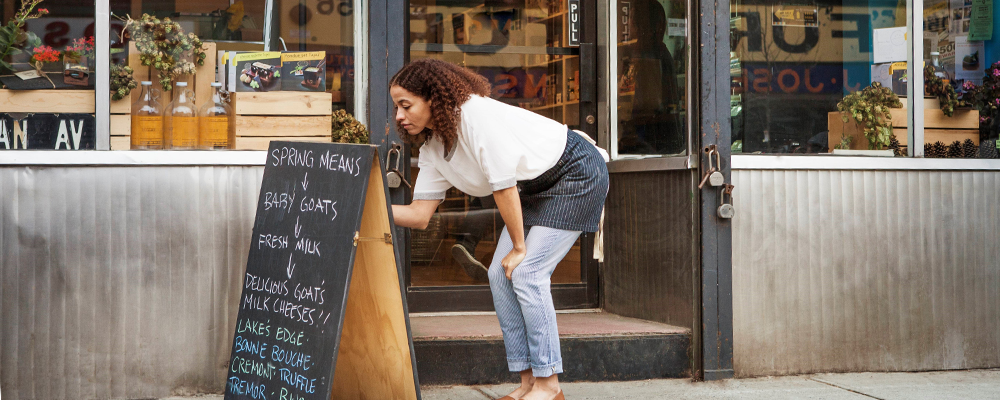 As masses flock to big-box stores for their crates of designer water, must-have gadgets and an endless supply of K cups (priorities, right?), have no illusions: Main Street is still the lifeblood of the economy. After all, small businesses are where many of us begin and end our weekdays. We depend on these businesses for a quick lunch, a haircut, dry-cleaning, the list goes on.
Most important, small businesses have shown resilience in the face of COVID-19 and will continue to play a pivotal role to jumpstart economies as countries come out of the pandemic. The Small Business Impact Awards*, sponsored by Mastercard and Bank of America, aims to reward businesses that have left an impact on their communities.
Four U.S. businesses will win $10,000* each, with submissions for the award closing on Thursday, Aug. 5. Winners will be announced in October.  For any small business interested in applying – or if you know someone who may be interested – check out the application page to learn more.
The Mastercard Newsroom interviewed Sharon Miller, who heads up small business at Bank of America, about minority and women-owned businesses, digitization amid the pandemic and some of the inspiring stories she's seen in the past 18 months:

What's the most important advice you can give to an entrepreneur just starting out?
Miller: Throughout my career, I've made it a priority to surround myself with a strong, diverse network. I would encourage aspiring entrepreneurs to do the same. The ability to tap into a network provides an opportunity to share different perspectives and experiences, which can provide valuable lessons and is immensely helpful to those looking to get their feet off the ground. A strong network can unlock access to resources, expertise and unexpected opportunities. During challenging times a network provides ideas and guidance to keep business owners grounded and focused. During the good times, a network is there to celebrate wins and help to keep the positive momentum going. 


Bank of America and Mastercard will be showcasing some of the most innovative small business owners through this new contest. What are some inspiring stories you've seen come out of the pandemic?
Miller: If I had to name them all, I'd be here all day! Entrepreneurs faced the challenges of the past year head-on. Small business owners showed resiliency and determination as they adjusted and retooled their operations. Our latest Small Business Owner Report found that most small business owners adjusted their operations in some capacity to adapt to the pandemic. For some, this meant changing their primary revenue stream, shifting to a digital presence or adjusting operating hours. We've also seen an uptick in clients who want to do more of their banking digitally so they can remain focused on running their business while adhering to social distancing guidelines. 


One of the contest awards recognizes minority and women-owned small businesses. The pandemic has hit these communities disproportionately hard. Where do they need the most support?
Miller: Access to capital is critical. Our team at Bank of America is taking steps to directly engage with women and minority business owners to make sure they have access to the tools and resources they need. According to our latest research, most women business owners say access to capital has improved over the past decade, but more than half of women entrepreneurs do not believe they currently have equal access to capital. 
We partner with organizations like the Tory Burch Foundation and our network of community development financial institutions [CDFI] partners across the country to increase access to capital for business owners who historically have faced barriers. In fact, Bank of America is the largest investor in CDFIs in the United States, with more than $1.6 billion in loans and investments to over 250 CDFIs.


Over the past year, small businesses have had to make a lot of changes to meet the digital needs of the consumer - amping up e-commerce capabilities, instituting curbside pickup, for example. What changes are here to stay?
Miller: Last year, entrepreneurs were forced to be nimble and adapt their operations to meet changing safety standards and local protocols, particularly those small businesses that required in-person interaction. Our Small Business Owner Report found 62% of business owners say they'll continue with the operational changes they implemented in response to the pandemic. Some of the most popular changes they made were enhancing sanitation practices, shifting to a more digital sales strategy and accepting cashless payments.


What are some innovations on the horizon that they should be on the lookout for?
Miller: We are in the people business, and I'm excited to continue finding new ways to deliver for our clients and teammates. We touched on it earlier, but I think that digital capabilities are only going to continue improving and positively impacting business owners.
*NO PURCHASE NECESSARY. THIS IS A SKILL BASED CONTEST. Void where prohibited. Open only to individuals who are legal U.S. residents (including D.C.), legal age of majority or older, and the principal owner of a U.S.-based small business (as described in the Official Rules) at time and date of entry. Submission Period Ends 8/5/21. For Official Rules & complete details, click here.