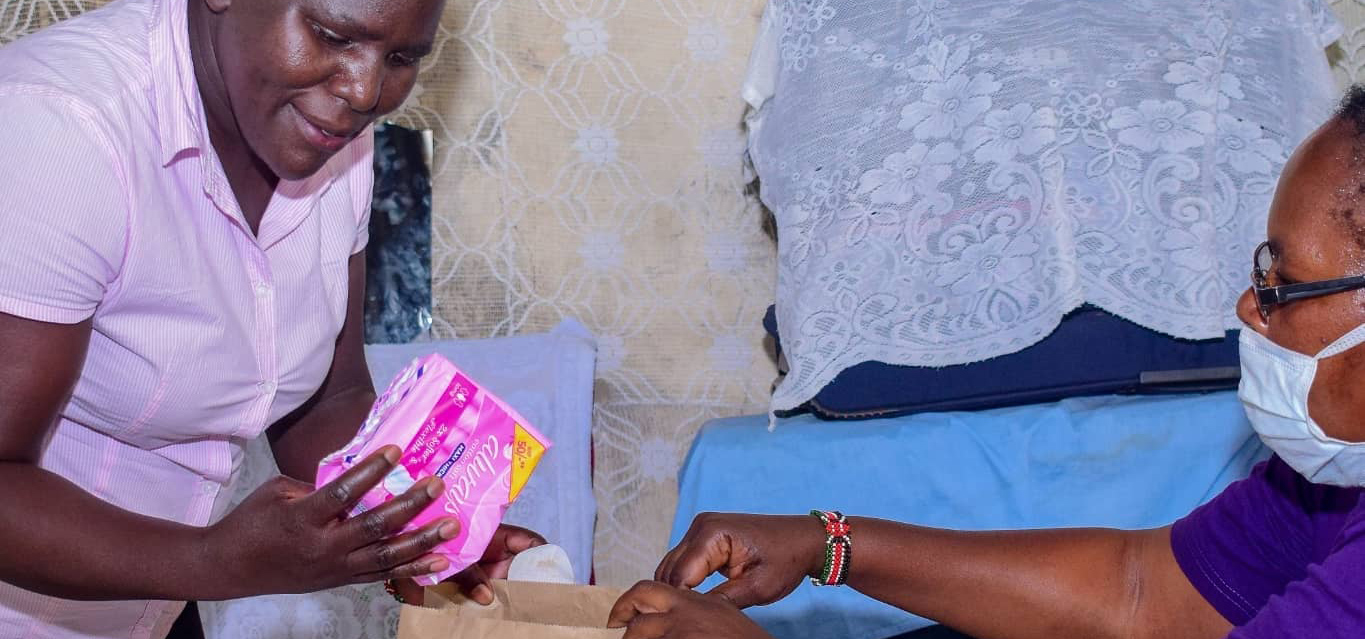 This network helps women access hygiene products. Now it's protecting against COVID too
December 15, 2020 | By Amy Kover
Throughout sub-Saharan Africa, many girls miss a few days of school every month because of their periods. Accessing sanitary pads is so stigmatized that they often can't get them, so they don't even leave their homes.
And that stigma extends to other health and personal care products for women of all ages, says entrepreneur Joanna Bichsel. More than four years ago, she founded Kasha, a digital commerce platform that delivers women's health and self-care products. The startup sends health products including contraceptives and home testing kits such as pregnancy, ovulation and rapid HIV in discreet packages to women in Kenya and Rwanda. Customers can place orders using any type of mobile phone — no internet or smartphone required — and receive their shipments anywhere, be it a remote village or an unmarked city street.
The company has built an extensive distribution network of agents around both countries and also works with government agencies and nonprofits to offer women's health education.
Kasha is part of a growing effort to focus support specifically on the special needs of women and girls in the developing world, from advocating for girls' education and leadership to  entrepreneurship programs and financial education for women to ensuring access to safe drinking water, a chore that often falls to women.
"Kasha is named after my daughter," Bichsel says, "and it stems from the belief that all mothers want their daughters to have everything they need to live their best lives." A year ago, Kasha joined Start Path, Mastercard's startup engagement program, which gives startups access to Mastercard's technology, expertise and partner network.
But as the global pandemic took hold last spring, Bichsel began to hear about the mounting financial struggles of her customers. "Many low-income jobs are not in effect anymore," she says. "We found that people were having a hard time purchasing the basic essentials, such as food, diapers, soap or other hygiene products to protect them from COVID, as well as menstrual care for the girls."  
Around that same time, she received a call from Annie Njenga, a manager in the Start Path program. Njenga's Nairobi-based colleagues at the Mastercard Lab for Financial Inclusion and Mastercard's East Africa team had pooled their personal money to provide personal protection equipment, or PPE, for Kenyan families in need. But they didn't have a plan for distributing the funds. She wanted to know if Kasha would obtain and distribute goods for them.
Bichsel enthusiastically agreed, throwing in additional funding from her startup. "This is the first time we have ever been approached by a corporation to donate products to the community," Bichsel says. "It was really exciting to do that." 
So Kasha harnessed its own network of agents to deliver for the Mastercard team. Agents are responsible for visiting customers at their homes, helping place orders and then delivering those shipments the "last mile" — to hard-to-reach locations where trucks and even motorcycles won't go. Kasha typically recruits community health volunteers, who work with the government to make wellness visits to families. "They are really able to get down to the grassroots and identify families who are struggling," Njenga says.
And, with their input, Kasha and Mastercard could get aid where it was most needed. They were able to double their donation through Mastercard Cares, the company's matching gifts program, bringing the donation to roughly $15,000.
The Nairobi team put together a "family essentials kit," which includes menstrual products, hand sanitizer and food. So far, Kasha has delivered a total of 7,744 health and hygiene packages to 990 people. Among the recipients was a mother of four named Weenie whose husband recently lost his secondhand-clothing stand to a fire. With the donations, her family received soap, toothpaste and masks.
In November, the COVID initiative won a Mastercard CEO Force for Good Award, the company's marquee volunteering award, which recognizes employees who have made significant impact with a $5,000 contribution for the charity of their choice.  
The team is now brainstorming how to use that money for a second phase that might include outfitting schools with PPE, setting up sanitation stations in Nairobi or feeding hungry families No matter what they decide, the main goal will be to help more people like Weenie, who says, "I now have a reason to smile."
video
Force for Good
James Waweru, a Nairobi-based manager in Franchise Management for Mastercard, has also been recognized by the company for his volunteer work to supply a local girls' school with hygiene products that they can't afford to buy on their own. In an interview with Mastercard, he says he was inspired by his grandfather to help girls ensure their education isn't unnecessarily interrupted: