Innovation
How a simple tap can be a shot in the arm for small business
April 30, 2020 | By Blake Rosenthal
COVID-19 has been called a great leveler, steamrolling across the globe with little regard to age, race, class or fame. Yet the financial fallout has not been evenly distributed, with small businesses and the people they employ often struggling the most in this era of social distancing and enforced isolation.

Even in flush times, when small businesses fail, 82% of the time it's due to ineffective cash flow management. So what happens when the cash stops flowing altogether? Or when consumers have turned away from paper money and are seeking out contactless methods of payments for peace of mind?

About 130 million micro and small merchants globally do not accept electronic payments, despite the benefits it offers shoppers in convenience and safety, and the value it could bring businesses in terms of higher spend, deeper insights and digital financial tools. One of the main reasons businesses cite for this lack of acceptance is the cost of point-of-sale (POS) systems, which can be expensive to purchase and maintain and time-consuming to set up, learn and navigate.

But the benefits of electronic payments are coming back into focus as people have grown increasingly careful about personal contact — notably the benefits of contactless payments, a touch-free technology that is increasingly available across the world and already ingrained in many markets. Contactless can be that great equalizer for small businesses — the technology that turns smartphones into payment devices can also turn smartphones into acceptance devices. Tap on Phone is a POS that is simple to install, as easy to navigate as a favorite app and entirely portable — and can also eliminate personal contact.

Mastercard is piloting Tap on Phone technology with our partners in more than a dozen markets on six continents, turning Android smartphones into acceptance devices for contactless cards, mobile wallets, even smartwatches — with no additional device and setup costs, separate dongles or other hardware. Merchants in every sector can download the mobile payment app and begin offering it to their customers almost immediately, creating a checkout experience that is as flexible, seamless and intuitive as digital-savvy consumers have come to expect.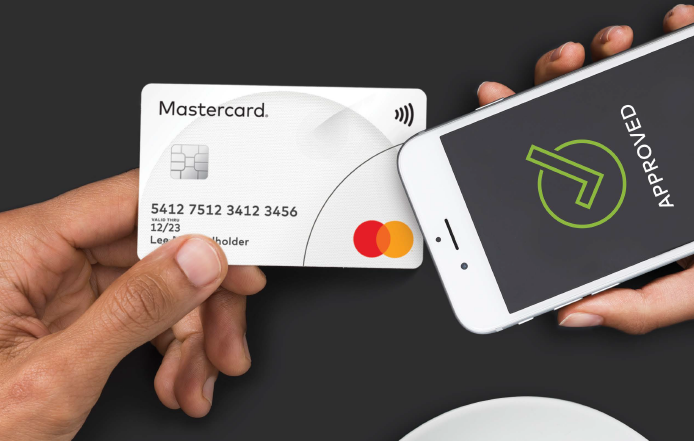 The experience is so frictionless that 70% of shoppers didn't even realize they were tapping on the business's smartphone, according to Mastercard research from its pilots programs. No paper receipt? No problem. Shoppers said they were happy receiving a receipt by text or email.

The technology is enabled by the same short-range antennae embedded in contactless cards and "internet of things" devices, which has already transformed daily commutes through tap-and-go transit. There is ample proof that contactless is not just a technology — it's a behavior that consumers have been embracing.

With the spread of the coronavirus, contactless offers not just speed and security but peace of mind, as the card or enabled device never leaves the consumers' hands. Between February and March, contactless transactions grew twice as fast as non-contactless transactions in the grocery and drugstore categories, according to Mastercard transaction data released this week.

Consumer polling by Mastercard in 19 countries earlier this month show accelerated and sustained contactless adoption, with nearly half of respondents swapping out their top-of-wallet card for one that offers contactless.

We have been at the forefront of the move to contactless for many years, and we have been championing an increase in the payment limits in markets across the globe as people look for safer ways to pay. Until recently, the threshold at which cardholders were required to provide verification, such as touch-based PIN or signature, was relatively low in most markets. To support more transactions with little or no physical contact, either with the cashier or with the payment terminal, we have committed to increasing the limits in more than 50 countries worldwide, which is likely to accelerate contactless adoption even further.

Our data models suggest that innovations like Tap on Phone that reduce the cost of accepting electronic payments can bring in an estimated 15 million additional merchants into the ecosystem in the next few years, including the small- and medium-sized businesses that drive economies who are also being hurt by the COVID-19 crisis.

For food and package delivery and curbside pickup, Tap on Phone means not needing customers to have cash on hand; for food truck owners or farmers market vendors, it's a solution as mobile as they are. It means faster lines — contactless payments are nearly 10 times faster than most face-to-face transactions — and a better experience on both sides of the virtual till.

Through our partnerships with fintechs and mobile phone manufacturers, we're supporting innovators around the world by lowering the hurdles, costs and time it takes to develop and certify a Tap on Phone solution. We've been acting as an ambassador, supporting the development of standards, guiding vendors through the development, certification and go-to-market process, and helping them comply with all security standards.

Our job right now is to get this powerful tool into the hands of the people and businesses that could benefit from it most, to tap into the possibility of a simpler, smarter and safer experience at the checkout today and to help fuel the recovery beyond.