Helping to birth new life — and financial possibilities — for families in Indonesia
October 27, 2020 | By Allison Kahn
Midwives have been in the business of helping birth parents safely bring new life into the world for centuries, and many countries around the world still rely heavily on these trained health professionals during labor and delivery, as well as after the birth of babies.
In Indonesia, for example, 800,000 registered midwives serve 3.24 million clients annually, accounting for nearly six in 10 births in the country. For some midwives, the majority of their income comes from private practice, which means they are running their own business.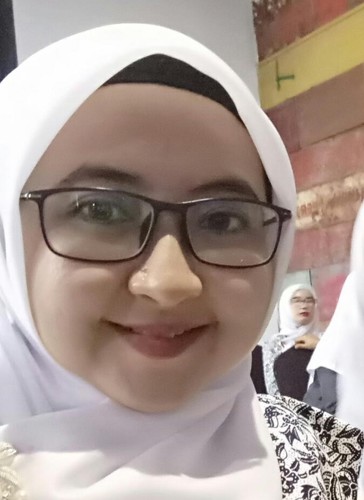 Hanifatul, right, a midwife from Banten, at the western end of the island of Java, dreams of  one day opening a bigger and better private  clinic to serve her patients and their many needs. But because she can't predict how many women in her community will get pregnant, she can't rely on patients as her sole means of expanding her clinic or buying new equipment — she needs to diversify her services. Midwives are caregivers, and they want to provide services that add value to their patients and make sense in a clinic. 
Midwives like Hanifatul are already trusted members of communities when it comes to all things health and well-being for pregnant and new parents. Now through a new financial and digital education partnership called Midwives & Mothers, they can learn how to serve as guides, providing financial and digital advice to help new and growing families increase their monetary health.
Hanifatul, one of the participants, is inspired to teach and organize pregnant patients to save money in preparation for childbirth because she notes that not all expenses are covered by the country's universal healthcare, BPJS. "In addition to helping the community in the health sector, midwives can organize public finances in financial education," she says.
Woman-to-woman programs like Midwives & Mothers help close the global gender gap in financial and digital inclusion. For many women, especially those living in an archipelago nation like Indonesia, the geographic distance from their village to the nearest bank branch can be prohibitive. Having a trusted member in the community provide convenient banking services creates a pathway for women to access formal financial services in her own names. Additionally, this approach respectfully addresses social norms that discourage women from giving their mobile number to a male banking agent.
The program, the brainchild of a coalition of tech startups and financial nonprofits and supported by the Mastercard Center for Inclusive Growth, has trained hundreds of midwives since its inception in Indonesia in December. The program has become so popular so quickly, in fact, that nearly 2,000 midwives have expressed interest, more than can be accommodated right now.
As an agent, midwives will help create savings accounts for their patients in the women's names. Mothers deposit savings and access their money when they visit the clinic. The savings can be used to pay for labor and other services available at the midwife's clinic, and other treatment costs that may not be covered by universal insurance. Once the woman delivers the baby, she can continue using the savings account and associated mobile money wallet to conveniently transact. The midwife clinic remains a cash-in/cash-out point in the community, and the clinic earns a commission from the bank to provide this service.
Women's World Banking, which provides strategic support and technical assistance to microfinance institutions and banks that support women entrepreneurs, is leading the program, along with the Indonesia Midwives Association; the fintech DigiAsia, which focuses on democratizing technology and innovation; and Sehati, an Indonesian medical startup that supports midwives.
For midwives, becoming a digital banking agent can translate into revenue growth for their clinics, diversifying their services and increasing relevance among their current and former patients by expanding their roles as trusted advisers. Women's World Banking is supporting DigiAsia and Sehati to tailor services to the needs of midwives and their patients. In addition to the dedicated training on how to qualify and successfully be a banking agent, the midwives will also have continued access to educational resources and tools available through Sehati.
The estimated additional earning potential for midwives who add digital banking as a service is IDR 500,000-2 million per month, or roughly 12% or more revenue. In addition to creating new revenue opportunities for clinics, these invaluable members of society are empowering new parents to increase their financial stability and creating new possibilities for everyone.