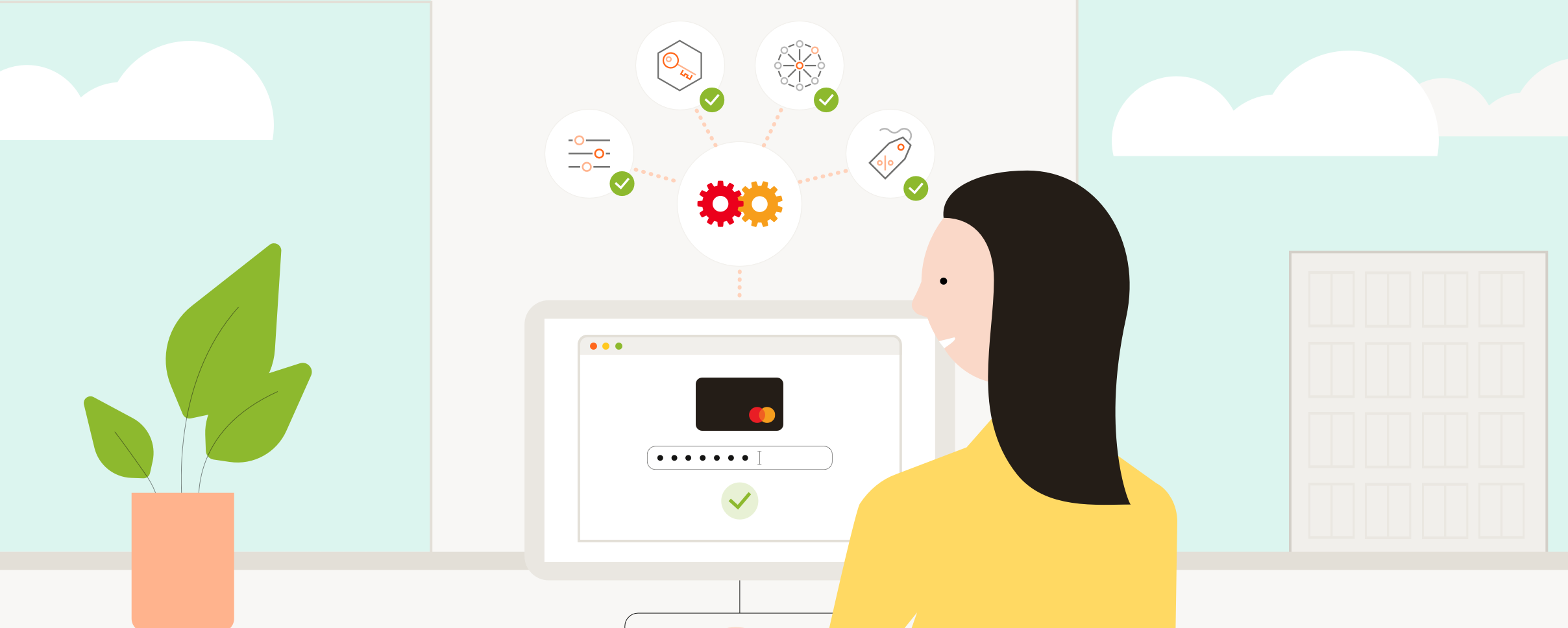 Innovation
Accelerating fintech innovation through open APIs
August 12, 2020 | By Oran Cummins
The very first payment cards issued were made of cardboard. They had no magnetic stripe or computer chip – no way to validate ownership without looking for identification from the shopper, and a phone call to your bank was required to check credit.
That was decades ago, and card payment technology has been continuously evolving. Banks played a large role in developing modern card payments, but scaling to the ubiquity consumers enjoy today required collaboration with others to specialize across different areas — networks, computer chips, processors, point of sale terminals, internet gateways. Fast forward to today, and many participants are working together to deliver simple and safe experiences, from getting a card instantly issued to your mobile phone to click-to-pay online checkout to tapping your smartwatch to pay your transit fare.
And it's not just about paying — technology now enables people to get paid instantly, from the rideshare driver who gets immediate access to his earnings to the pensioner who receives her monthly entitlement on her prepaid card. All this innovation is only possible through collaboration.
Payments permeate every industry, and each use case can bring with it a slightly different set of challenges where multiple stakeholders need to work together to deliver a trusted and seamless experience. This brings increased complexity to manage how we all work together, especially as our ecosystem continues to expand with smart young fintechs seeking to scale their innovation.
I like to think of this as the third evolution of payments. First came the "offline" card, followed by a connected world grounded in standards and hardware at the physical checkout counter. Now we've entered the stage of massive digital acceleration, with increasing expectations for seamless, real-time experiences.
APIs, short for application programming interfaces, power these connections, enabling organizations' digital infrastructures to talk to each other in a systematic and scalable way. Mastercard was one of the first large financial services companies to make our APIs externally available through a dedicated developer portal, Mastercard Developers. Through easy sign-up, thorough documentation, adherence to strong API industry standards and self-service tools like sandbox access, tutorials and online chat, we are open for business and ready to collaborate with every player in the ecosystem, including the fintechs seeking to rise to the next level.
It's not surprising given the rate of digital acceleration that fintechs, including many of our Start Path startup engagement participants, have shown interest in APIs such as In Control for Commercial Payments, which creates virtual card numbers for commercial card payments, making invoice tracking and reconciliation between buyers and suppliers more seamless.
To accelerate innovation, we must accelerate this kind of collaboration. APIs are essential because they enable anyone, from large financial institutions to the scrappiest startups, to easily plug into digital solutions to create better experiences for consumers. But to maximize that potential, we look to deliver "open" APIs.
This is an emerging trend in financial services where open banking regulations, such as PSD2 in Europe,  allow secure access to banking information, with consumers' permission, to deliver more innovative products and services. These are APIs that are available to even the smallest fintech that dreams big. Payments are built on trust, so as Mastercard open APIs fuel even faster innovation, this must be done in a secure, controlled way that adheres to our principles on data access.
Each evolution of payments technology has presented greater opportunity to secure, simplify and deliver more value before, during and after the payment. Add to that the growth in connected devices and faster connectivity through 5G, and we see potential, through our partnerships, to embed intelligent payment capability in ways never possible before, and in ways we can only barely imagine today.