Mastercard partners with Fertagus and Finaro to bring Tap & Ride to Lisbon for the first time
September 22, 2022 | Lisbon
The partnership enables passengers to pay for a journey using a contactless bank card – instead of buying a ticket – enabling a more convenient travel experience
The project – announced at European Mobility Week – will launch in the Lisbon area in November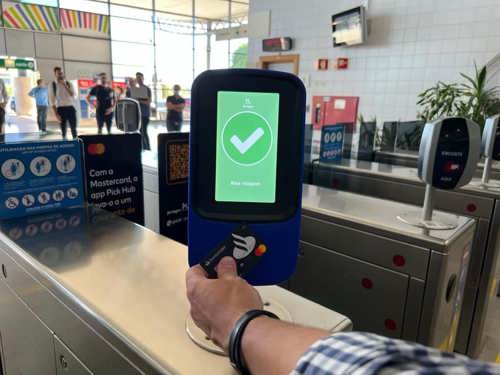 Mastercard has partnered with rail operator Fertagus and payment service provider Finaro to bring Tap & Ride – the ability to pay for a rail ticket with contactless payment – to Lisbon for the first time. The new project was announced at European Mobility Week 2022, of which Mastercard is a leading partner.
The new initiative – which is currently being piloted with a view to being rolled out across the whole Fertagus network in November – will enable passengers to use their contactless bank card to travel on trains, without needing to purchase a ticket.
This service aims to create a more convenient and enjoyable experience for more than 90,000 passengers who use the suburban trains between Lisbon and the south bank every day.
This project represents one pillar of Mastercard's partnership with Barraquiero Group – announced in February this year – which aims to transform the urban mobility sector in Portugal innovative digital and technological solutions – including payments and ticketing.
Maria Antónia Saldanha, Country Manager of Mastercard Portugal said: "The adoption of solutions, such as this with Fertagus, that make transport easier to pay for represents a giant step for both users and operators. At Mastercard, we have witnessed the impact this can have through similar projects we've been part of in other cities. Portugal still has a long way to go in digitising its urban mobility system, but our partnership with Barraqueiro Group and Finaro can drive the necessary digitalisation of payments that modern public transport systems require."
Clara Esquível, manager at Fertagus added: "Innovative solutions like this improve the ease of use and quality of the public transport service we provide to our passengers. Fertagus has been a pioneer in Portugal for multiple innovative projects, including the use of mobile and contactless payments to travel. We want it to be easy for everyone to travel by train – even if it's their first time –  and contactless bank cards are a great enabler in reaching this goal. The environmental benefits of reducing paper ticket usage should also be mentioned." 
The enrolment of this initiative would not have been possible without Finaro, a global bank that develops technological solutions for payments. Finaro's international experience and in-house capacity for certification and delivery of solutions has played a key role as the project's bank "enabler", enabling it to create a complete solution with reduced layers of complexity – both for Fertagus and the end users.
Other partners include Axians, a Vinci Group company, and Ubirider, a Portuguese start-up. The combined efforts of all made it possible to deliver the project in industry record time.
David Jofre Tejada, Vice President Business Development and Sales, Iberia at Finaro, commented: "The end-to-end solution we have developed covers the operators' every need and simplifies the public transport payment system. We are very proud to bring this innovation to the Lisbon region in partnership with Fertagus and Mastercard. We believe in innovation and technological progress as means to improve the lives of all people."
The transport revolution is already underway
The roll-out of Tap & Ride technology across the Fertagus network represents the next step of Mastercard's ambition to contribute to the improvement of urban mobility across Europe.
While this technology improves the travel experience for the passenger – removing the need to queue at train stations or worry about losing a paper ticket – it also provides significant benefits to the operators.
This can be best seen in London, where the local public transport operator obtained a 35% reduction in costs, worth in excess of €100 million. Since the launch of contactless payment solutions in London in September 2014, the city's transport network (including buses, trains and underground services) has recorded three times as many trips, with 19 million contactless bank cards being used from over 100 different countries. 
Sobre a Fertagus
Fertagus is a Portuguese company of the Barraqueiro Group, which operates the suburban passenger rail service of the Portuguese State. Its network runs between the Roma-Areeiro station in Lisbon and the Setúbal station over a length of 54 km. This service uses parts of the Cintura Line, the Southern Line and the Sado Line, and crosses the 25 de Abril Bridge using 18 double-deck carriages. Since Fertagus began its operations, its contribution towards improving the quality of life of citizens is undeniable: 35% of customers today consider that they have more free time, 44% experience less stress on the journey, and 46% enjoy greater flexibility. Fertagus' Global Customer Satisfaction Index now scores 4.5 on a scale of 1 to 5.
About Finaro
Finaro is a fully licensed bank and global payment solutions specialist that drives international trade through brilliantly simple payments. Its exceptional team and technological resources, as well as product innovation and a customer-centric approach, allow it to simplify complexity and create multidimensional solutions that generate growth and provide customers with peace of mind. To learn more, visit www.finaro.com.
About Mastercard (NYSE: MA)
Mastercard is a global technology company in the payments industry. Our mission is to connect and power an inclusive, digital economy that benefits everyone, everywhere by making transactions safe, simple, smart and accessible. Using secure data and networks, partnerships and passion, our innovations and solutions help individuals, financial institutions, governments and businesses realize their greatest potential. With connections across more than 210 countries and territories, we are building a sustainable world that unlocks priceless possibilities for all.  
Follow us on Twitter @MastercardEU and @MastercardNews, read more about our global impact in Perspectives, and subscribe for the latest news from the Mastercard Newsroom.