Redeem miles everywhere: Miles & More and Mastercard offer special everyday convenience with MilesPay
August 2, 2021 | By Juliane Schmitz-Engels
With the new programme feature, Miles & More Credit Card holders can now redeem award miles for purchases at all 70 million Mastercard acceptance points worldwide
Frankfurt am Main, 2 August 2021 - Europe's leading frequent flyer and awards programme and the technology company Mastercard are expanding their cooperation to include a special joint service: With MilesPay, holders of German Miles & More Credit Cards can now redeem award miles for their purchases wherever Mastercard payments are possible. This means, at more than 70 million acceptance points worldwide, in online shops and in stationary retail. With this, Miles & More not only offers significant added value for the entire German Miles & More Credit Card portfolio. By allowing almost unlimited miles to be redeemed in everyday life via the new feature, MilesPay increases the attractiveness of the entire Miles & More programme. The feature, created by Miles & More, is based on technology by Mastercard.
"With MilesPay, we now offer even more opportunities to redeem award miles outside of aviation," says Sebastian Riedle, Managing Director at Miles & More GmbH. "From going out to a restaurant with friends, to shopping in your favourite boutique, to buying a ticket to a long-awaited concert: we support our members in fulfilling their small wishes or even reaching distant goals."
Two clicks away from the award of your choice
In order to use MilesPay, Miles & More members register their credit card once in the Miles & More app. Before making the desired award purchase, they select an individual maximum mileage value to be credited against the payment amount in the following credit card transaction. After that, they simply pay by credit card as usual and flexibly redeem their award miles for the product - either in full or in part. This can be decided anew and individually before each payment transaction. At the end of the process, the customer is informed in real time about the miles redeemed.
"We are very pleased to further expand our partnership with Miles & More with this innovative solution, which benefits both merchants and consumers. Redeeming miles can be integrated very conveniently into cardholders' everyday digital lives and the Miles & More app can be used seamlessly to pay at 70 million Mastercard acceptance points worldwide," says Peter Bakenecker, Division President for Germany and Switzerland at Mastercard.
Long-term expansion planned
The aim is to establish MilesPay as a supplement to the existing Miles & More redemption channels. The new feature is initially available to about 600,000 credit card holders in Germany. In the long term, it should be made possible to extend the service to all Miles & More members with other German credit card products. A rollout to other markets is also conceivable with the aim of making the Miles & More programme even more attractive internationally.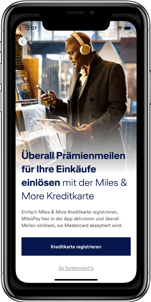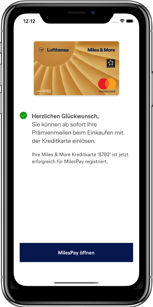 Caption: With the new MilesPay programme feature, Miles & More Credit Card holders can redeem miles for purchases at all Mastercard acceptance points worldwide. © Miles & More GmbH
Further information on the MilesPay programme feature is available at https://www.mastercard.com/news/europe/en/newsroom/press-releases/en/2021/august/redeem-miles-everywhere-miles-more-and-mastercard-offer-special-everyday-convenience-with-milespay/ 
END
Media Contacts
Juliane Schmitz-Engels, Masteracrd
Miles & More Press Office, Miles & More
About Miles & More
Miles & More is Europe's leading frequent flyer and awards programme. More than 25 years of experience and cooperation with over 200 partner companies worldwide make Miles & More GmbH, which operates the programme from its headquarter in Frankfurt am Main, an expert in successful customer targeting and retention. Particularly in the core markets of Germany, Austria and Switzerland, partners of the programme benefit from access to a sophisticated target group. The company was launched in Germany in 1993 with seven programme partners and has been an independent company since September 2014 as a 100% subsidiary of Deutsche Lufthansa AG. The managing directors are Sebastian Riedle and Dr. Oliver Schmitt. The company has developed into a strong brand in a variety of areas - such as the award business and programme operations, status management, the offers and services in retail & sales, and finance.
The linchpin: earning and redeeming award miles. Since the programme was launched, members have earned a total of more than 1.6 trillion award miles in a wide variety of areas of life - from flying to finance to shopping.
Partners from the finance and insurance industry include Amundi, Deutsche Kreditbank AG and Ergo. In addition, fintech and insurtech companies are partners of Miles & More, including Clark, LIQID, Weltsparen and Exporo. In cooperation with various banks, Miles & More has also issued over 1.4 million credit cards worldwide. 
 Find out more at www.miles-and-more.com and www.miles-and-more.com/presse


About Mastercard (NYSE: MA)
Mastercard is a global technology company in the payments industry. Our mission is to connect and power an inclusive, digital economy that benefits everyone, everywhere by making transactions safe, simple, smart and accessible. Using secure data and networks, partnerships and passion, our innovations and solutions help individuals, financial institutions, governments and businesses realize their greatest potential. With connections across more than 210 countries and territories, we are building a sustainable world that unlocks priceless possibilities for all.  
Follow us on Twitter @MastercardEU and @MastercardNews, read more about our global impact in Perspectives, and subscribe for the latest news from the Mastercard Newsroom.