Inclusion
Mastercard launches new podcast series 'The Pride Side'
July 7, 2023 | Amsterdam, NL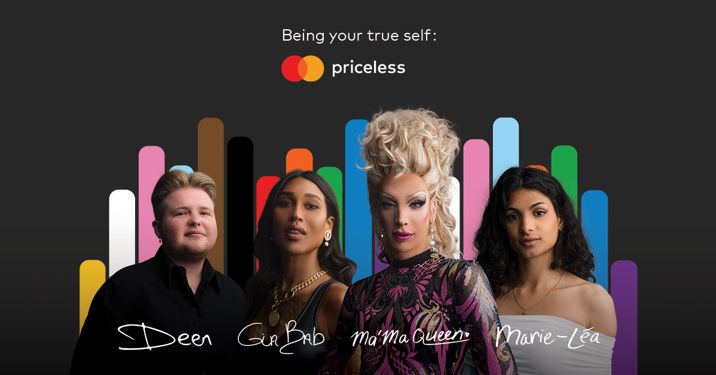 Today Mastercard launches the podcast 'The Pride Side' ahead of Pride Amsterdam. In his podcast debut, Fred van Leer speaks with four people from the queer community about the 'Pride Side': the motivations and obstacles in (queer) life and what makes them happy.
The four-part podcast series stars drag queen Ma'MaQueen, activist Deen Groothuizen, actress and dancer Marie-Léa and international top model Gia Bab: four role models from the queer community who tell their personal story.
The podcast is a collection of stories that revolve around the themes of being able to be yourself and being seen and appreciated for who you are.
In the first episode, Ma'MaQueen discusses the origins and acceptance of drag. In episode 2, Deen gives his views on masculinity and the importance of having a role model. The third episode revolves around Marie-Léa, who talks about the stereotyping she faces. The final episode is with Gia Bab, in which she talks about her international modeling career as a transgender woman and the obstacles and misperceptions she has experienced.
"Everyone deserves the freedom to be who they are. I am proud that we can share these inspiring stories that we can all learn from. After all, there is still a long way to go in terms of acceptance" says Jan-Willem, Country Manager at Mastercard Netherlands. "As a long-time ally of the LGBTQIA+ community, we have the opportunity to affect change. In part through this podcast, we want to contribute to acceptance of your true self by providing insight into the personal lives of people in this community."
Research from Mastercard shows that 5.3% of Gen Z identify themselves as non-binary.* For many people in the LGBTQIA+ community, the name on their credit or debit card does not reflect their true identity. Together with partners, Mastercard offers the possibility to put a chosen name on the card instead of a birth name. This alleviates a major pain point for transgender and non-binary people.
Watch the videos here
*Based on True Name research conducted in 2022 by research firm Motivaction on behalf of Mastercard. Learn more: https://www.mastercard.com/news/europe/nl-nl/perspectieven/nl-nl/2022/dit-is-wie-ik-werkelijk-ben/
About Mastercard (NYSE: MA)
Mastercard is a global technology company in the payments industry. Our mission is to connect and power an inclusive, digital economy that benefits everyone, everywhere by making transactions safe, simple, smart and accessible. Using secure data and networks, partnerships and passion, our innovations and solutions help individuals, financial institutions, governments and businesses realize their greatest potential. With connections across more than 210 countries and territories, we are building a sustainable world that unlocks priceless possibilities for all.  
Follow us on X (formerly Twitter) @MastercardEU and @MastercardNews, read more about our global impact in Perspectives, and subscribe for the latest news from the Mastercard Newsroom.