Mastercard's Priceless Planet Coalition Accelerates Restoration of 100M Trees, Calls on More Companies to Join Sustainability Efforts
April 20, 2022 | Singapore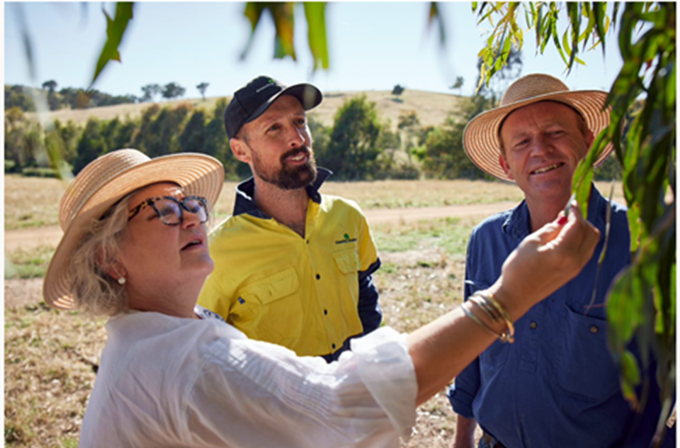 Mastercard puts its global network to work by managing a rapidly growing Coalition of 100+ partners to tackle forest restoration, while its Carbon Calculator helps consumers to reduce their carbon footprint

Ahead of Earth Day on April 22, Mastercard's Priceless Planet Coalition, which now includes more than 100 global banks, fintechs and merchants, is announcing the expansion of its reforestation work to include 15 new sites around the world. In Asia Pacific, new projects are being launched in Cambodia, China, India, and the Philippines while planting continues in Australia. To reduce carbon emissions, the Coalition is working towards restoring 100 million trees globally by 2025, while Mastercard is also undertaking sustainability initiatives such as the rollout of its Carbon Calculator.

A 2022 report from the Intergovernmental Panel on Climate Change (IPCC) sounded the alarm about the urgency of taking immediate action to mitigate climate change. The UN report stated that removing carbon dioxide from the atmosphere, in tandem with reducing emissions, will play a central role in mitigating the effects of climate change; reforestation is widely acknowledged as one of the most impactful and cost-effective ways to do this. And while a UN Global Compact study found that 81 percent of CEOs are already developing sustainable products and services, research from Bain revealed that nearly half of these sustainability initiatives fail to achieve their stated aims. This is often due to the significant investments required to hire talent and build new capabilities, external factors, and long program durations measured in decades rather than years or months. Uniting in action with partners and experts can help address these challenges and lead to better outcomes.

"Tackling environmental issues is a whole-of-society task, but efforts are often undertaken in isolation or without coordination," said Sandeep Malhotra, Executive Vice President, Products & Innovation, Asia Pacific, Mastercard. "Given the urgency of the IPCC's latest findings, now is the time to pull together to combat this challenge that affects every one of us on this planet. At the core of Mastercard's business is a global network that spans banks, governments, merchants, and consumers. It is this connectivity that makes the Priceless Planet Coalition different and more effective. By pooling resources, it's possible to rapidly scale forest restoration work and environmental initiatives, while providing businesses with pre-existing infrastructure that easily – and cost effectively – allows them to have a tangible impact."

The Priceless Planet Coalition works by uniting companies, communities and consumers in collective, coordinated climate action. Guided by its restoration partners, Conservation International and World Resources Institute, the Coalition employs science-based best practices to identify new project sites, select the appropriate tree species and ensure long-term forest health through ongoing monitoring, while also providing economic opportunities for local communities.

In addition to funding the restoration efforts, partners also work to engage consumers by encouraging people to take climate-friendly actions or make personal contributions through a donation platform. Organizations that have joined the Coalition in Asia Pacific include 1derful and Archa in Australia, as well as multiple banks in Taiwan such as The Shanghai Commercial & Savings Bank, DBS, Mega International Commercial Bank, Taiwan Cooperative Bank, Taiwan Shin Kong Commercial Bank, and KGI Bank.

Carbon Calculator: ESG fintech solution enables banks to support eco-friendly spending
To help consumers understand the environmental impact of their spending, the company developed the Mastercard Carbon Calculator in collaboration with Swedish fintech Doconomy. The easily implemented API enables banks and fintechs to embed carbon tracking within their own digital products so that their customers can view the estimated carbon footprint of all their purchases. A user's carbon footprint is tracked month by month across a variety of spending categories so they can better understand where they are having the greatest impact and make small modifications that can result in real change.

In March 2022, Taiwan's O-Bank was the first bank in the Asia Pacific region to implement the Carbon Calculator. Soon after, Priceless Planet Coalition partner, Taiwan Shin Kong Commercial Bank, announced that it will soon be offering the Carbon Calculator to its customers as well. 

Building a sustainable digital economy
Mastercard is committed to building a more inclusive and sustainable world with a digital economy that works for everyone, everywhere. The company accelerated its net zero timeline
to 2040 and recently expanded its

compensation model for all employees

, linking it to three priorities across Environmental, Social and Governance (ESG). Through its Global Sustainability Innovation Lab, Mastercard is developing products to enable more sustainable commerce, as well as

services to help its customers bring more eco-conscious solutions to consumers around the world. 

To join or learn more about the Priceless Planet Coalition, visit PricelessPlanet.org.
APPENDIX I: Reforestation work in Asia Pacific
Country

Locations

Objectives

Trees to be Planted

Australia

 

 

New South Wales, Victoria

Support ecological community and habitat areas for local birds and other animals; assist in creating seed supply for vulnerable flora species

430,000

Cambodia

Pursat, Kampong Thom provinces, Tonle Sap

Restore flooded gallery forest within the boundaries of community fishery areas to provide vital habitat for fish and wild animals, while enhancing the livelihood options of local communities

219,980

 

China

Hainan province

Increase forest cover, help protect biodiversity, safeguard ecosystem services, and increase climate resilience for nature and local communities

460,000

India

Dalma-Similipal elephant corridor

Planning in progress

Planning in progress

Philippines

Mt. Mantalingahan and Peñablanca, Quirino and Mindoro

Provide economic benefits to local communities, protect wildlife and local ecosystems, boost tourism

417,500
Video

: Spotlight on restoration work in Australia (Watch

here

)

Photo Essay: Australia: How regenerative agriculture can battle climate change (View here)

APPENDIX II: Reforestation work in other regions
In addition to the Asia Pacific locations cited above, the project portfolio of the Priceless Planet Coalition also includes diverse geographical representation in the following regions: Latin America (Brazil, Colombia, Guatemala); Europe (France, Portugal, Spain, Scotland); Middle East & Africa (Madagascar, Democratic Republic of Congo, Kenya, Malawi, United Arab Emirates); and North America (Mexico, United States). The expansion builds on the Coalition's existing planting progress underway in Australia, Kenya and the Amazon in Brazil.
Blog: By Conservation International & World Resources Institute (Read here)
About Mastercard (NYSE: MA)
Mastercard is a global technology company in the payments industry. Our mission is to connect and power an inclusive, digital economy that benefits everyone, everywhere by making transactions safe, simple, smart and accessible. Using secure data and networks, partnerships and passion, our innovations and solutions help individuals, financial institutions, governments and businesses realize their greatest potential. Our decency quotient, or DQ, drives our culture and everything we do inside and outside of our company. With connections across more than 210 countries and territories, we are building a sustainable world that unlocks priceless possibilities for all.