FINANCIAL INCLUSION
CAF, the Development Bank of Latin America, and Mastercard Join to Bring More of the Region's People into the Digital Economy
September 20, 2022 | Miami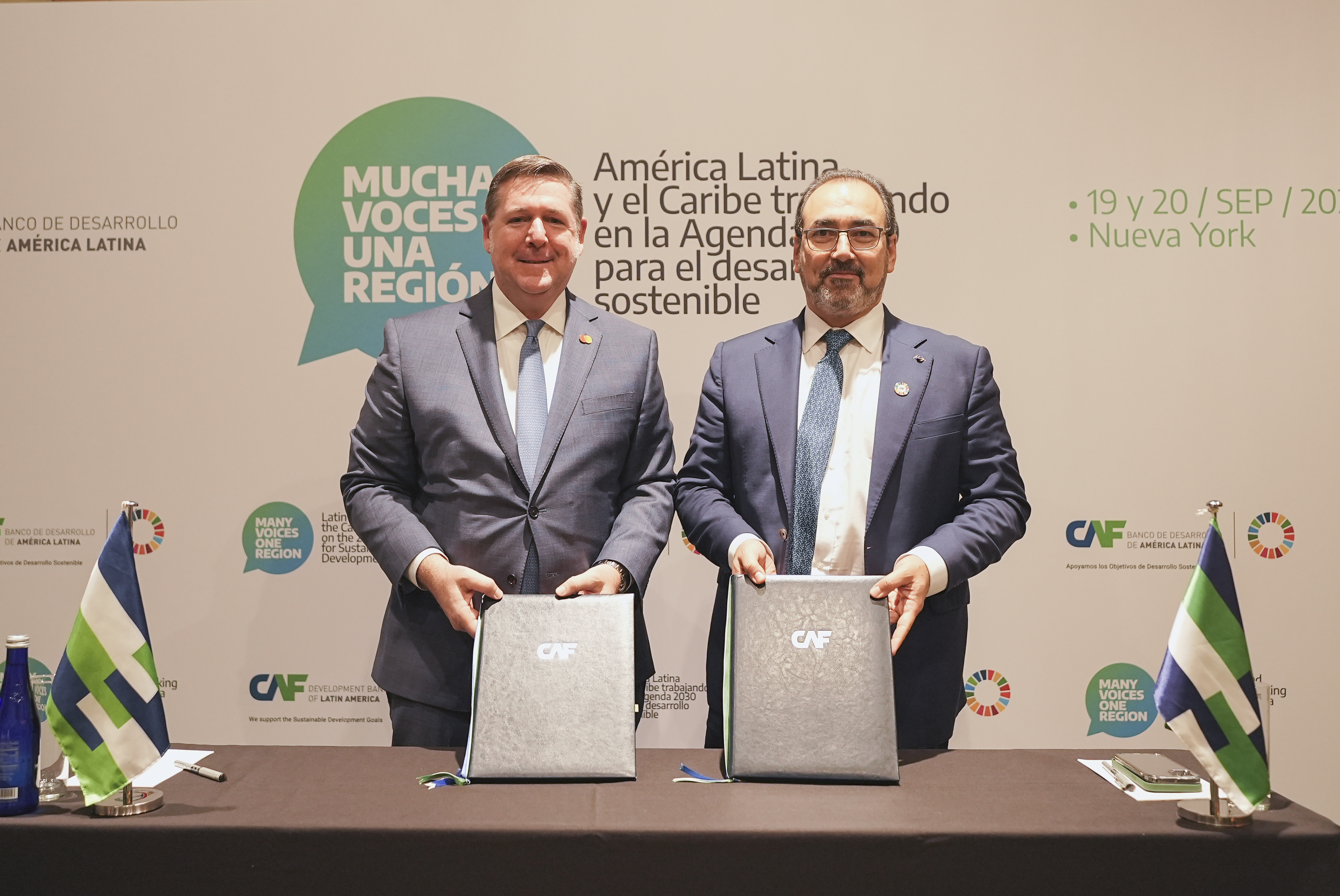 MIAMI – September 20, 2022 - As world leaders convene for the 77th United Nations General Assembly, CAF, the Development Bank of Latin America, and Mastercard brought together their respective commitments to further accelerate digital transformation in Latin America.
Under the terms of the Memorandum of Understanding (MoU), the regional collaboration agreement will deliver a range of projects to bring more people into the digital economy across the 18 CAF member countries in Latin America and the Caribbean. The efforts will be rooted in CAF's capital increase of USD 7 billion and Mastercard's global commitment to bring 1 billion people and 50 million micro and small businesses into the digital economy by 2025.
"We see important opportunities in the field of digital transformation in the region, such as the promotion of virtual education, remote access to work, the development of electronic commerce and internet-based services. Still, we are very clear that there is still much to be done to promote a better quality of life for millions of Latin Americans and Caribbeans, especially those in need. The joint work with Mastercard is a space for action to promote digitalization for the benefit of the region," said Sergio Díaz-Granados, Executive President of CAF.
Initial activities will focus on four areas – financial and digital inclusion, GovTech and cybersecurity, tourism and transit – each of which contribute to the UN Sustainable Development Goals (SDGs) agenda.
For us, it's about moving beyond words to demonstrable impact. And, as committed as we are to these efforts and ensuring technology delivers an economy where everyone can prosper, it only happens when we can pool our strengths with partners. We look forward to working with the CAF team on initiatives that accelerate digitization and positive change in the lives of those living throughout Latin America.
CAF and Mastercard will collaborate to drive the digital economy and financial inclusion through a wide range of initiatives to promote actions in areas including digital government, digital economy and digital society.
The MoU also aims to promote financial inclusion, transparency and innovation, and solutions designed to boost the adoption and usage of digital payments in Latin America and its impact on the financial health of people and SMEs; support economic reactivation by providing tools for SME digitization, financial education, and expanding access to credit in different sectors such as tourism, and agriculture, among others.
Media Contacts
Andrea Denadai, Mastercard
About CAF
CAF, the Development Bank of Latin America, has the mission to promote sustainable development and regional integration by financing projects in the public and private sectors, and provide technical cooperation and other specialized services. Established in 1970 currently with 20 member countries -18 in Latin America and the Caribbean with Spain and Portugal - and 13 private banks, CAF is one of the main sources of multilateral financing and an important generator of knowledge for the region.
About Mastercard (NYSE: MA)
Mastercard is a global technology company in the payments industry. Our mission is to connect and power an inclusive, digital economy that benefits everyone, everywhere by making transactions safe, simple, smart and accessible. Using secure data and networks, partnerships and passion, our innovations and solutions help individuals, financial institutions, governments and businesses realize their greatest potential. With connections across more than 210 countries and territories, we are building a sustainable world that unlocks priceless possibilities for all.  
Follow us on Twitter @MastercardEU and @MastercardNews, read more about our global impact in Perspectives, and subscribe for the latest news from the Mastercard Newsroom.