Inclusion
The power of cross-collaboration in driving female entrepreneurship
June 27, 2022 | By Kelly Devine
The levelling up agenda has never been more important than it is today. Still reeling from the aftershocks of the pandemic, we now face one of the toughest economic outlooks in decades. Unlocking growth to support economic recovery is a core focus for both the public and private sector in the UK, and female entrepreneurship has a critical role to play.
The Rose Review of Female Entrepreneurship found that encouraging women who want to build their own business could give the economy a £250 billion boost. At any moment in time this is a huge opportunity but, when considering the economic context in which we find ourselves today, it is unmissable.
We recently hosted 'Enabling Entrepreneurship' – an event that brought together the female entrepreneurship ecosystem, including Alison Rose, CEO of NatWest Group, and Dame Caroline Dinenage MP, Member, Women and Equalities Select Committee, to discuss how the private and public sector can work together to address barriers for female entrepreneurs and support the UK's economic recovery.
With only one in three UK entrepreneurs a woman - a gender gap equivalent to 1.1 million missing businesses – discussions focused on the barriers women are facing when it comes to starting their own businesses, and how we can unite to tackle them.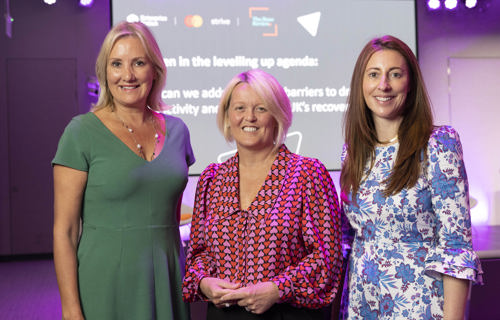 Investment
Only 11% of female founded businesses are accessing angel investment. This needs to change. Women need to know that this is a pathway that's open to them. Only by making it feel more accessible and achievable – through role models, education, awareness, and guidance – will we make progress in levelling up this inequality and ensuring the funding journey ends in success, not defeat for many women.
Digitisation
We know that the most successful businesses are the ones that use technology, be that social media, tools for employee training or platforms to manage cash flow. When used correctly, the right technology saves entrepreneurs time and money, while giving them the headspace to focus on building their business.
But it is expensive to get wrong and can be difficult to know which technology to choose, then how to embed it in the organisation. This is why programmes like Strive UK, which supports small businesses to build financial resilience and improve growth prospects, are so important. Female business owners must be empowered with the right tools they need to thrive in the digital economy through free guidance, helpful tools and one-to-one mentoring.
Cross-sector collaboration
Private and public sector perspectives are vital in achieving lasting change. If we're to achieve a truly inclusive economy then understanding why the disparities in our economy and society exist is a necessary first step. We – the industry – and Government must then all work together to effectively address them.
Let's arm female entrepreneurs with the digital tools and technology they need to thrive. Let's educate and inspire young women about the opportunities open to them. Let's change the face of funding, making it easier to understand and more accessible for women.
And most importantly, let's work together to drive real, positive change for female entrepreneurs and unlock much needed economic growth and stability.