Lufthansa Group and Miles & More enter into new partnership with Deutsche Bank and Mastercard
July 10, 2023 | Frankfurt, Germany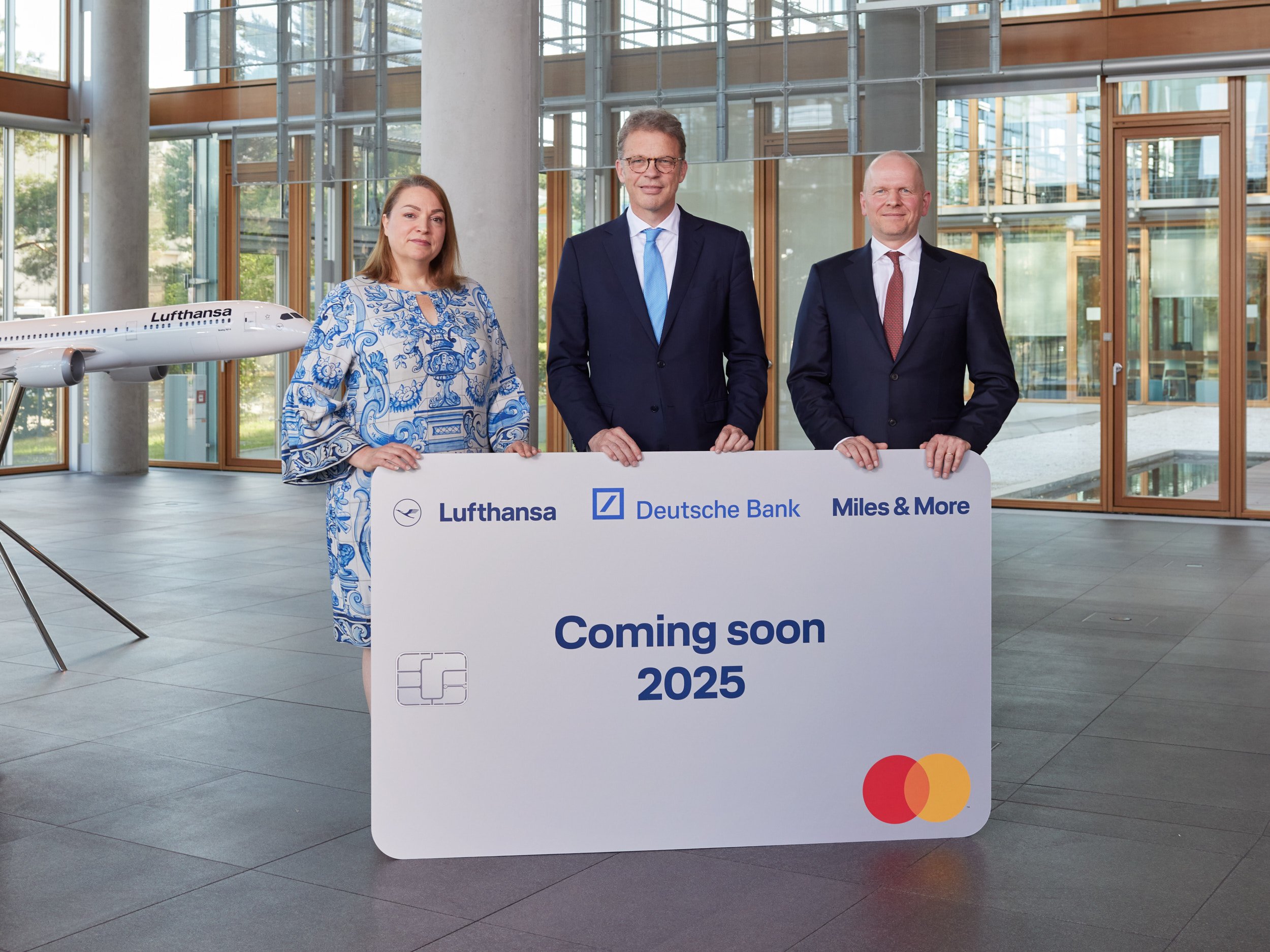 From left, Christina Foerster, member of the Executive Board of Deutsche Lufthansa AG, Christian Sewing, CEO of Deutsche Bank and chairman of the Management Board, and Mastercard CEO Michael Miebach
Europe's leading loyalty program for people with mobile lifestyle remains on growth track with new partnership. Following a global review, Deutsche Bank will become the new issuing partner for the Lufthansa Miles & More Credit Card and Mastercard will remain the network partner for the credit card portfolio in Germany. The switch will take place in mid-2025.
"I am looking forward to working with strong partners to offer our customers even better and more innovative services," says Christina Foerster, member of the Executive Board of Deutsche Lufthansa AG.  "Within the Lufthansa Group, we are continuously expanding our premium offering - far beyond the flight itself. Long-term and trusting customer relationships are fundamental to this. Together, we will continue to develop Europe's leading loyalty program for our customers around the world."
"Miles & More has one of the leading credit card portfolios in Germany and Europe," says Christian Sewing, CEO of Deutsche Bank and chairman of the Management Board. "We are delighted that Lufthansa is relying on Deutsche Bank's payment expertise and reach for this growth product. We have a strong credit card business in Germany. Through Miles & More, we will further advance the payment business, which is important to us, as part of our growth strategy as a Global House Bank."
"Mastercard has long-standing, meaningful partnerships with Deutsche Bank, Lufthansa Group and Miles & More," says Mastercard CEO Michael Miebach. "Together, we will create a more sustainable, more technology-driven future of travel. And we will keep building on our momentum to do even more for Miles & More participants."
Customers benefit from attractive offers and services
The common goal is to redefine loyalty. Customers will benefit from even more personalized offers and innovative digital applications. In addition, existing card services will be expanded, with additional insurance services and offers that support sustainable consumption decisions.
Johann-Philipp Bruns, Managing Director of Miles & More GmbH, adds: "Miles & More has over 30 years of experience in the field of loyalty, which we want to bring to bear in the interests of our customers. With Deutsche Bank and Mastercard, we have two partners at our side who will enable us to tap into new growth potential." 
Strong development of a successful product
The switch to Deutsche Bank as the issuing institution will take place in the summer of 2025. Those who already have a Lufthansa Miles & More Credit Card do not need to take any action at this time, as all existing cards will remain valid until the switch. Cardholders will be informed in good time about the transition date. Existing benefits will also remain in place with Deutsche Bank as the new partner. These include, for example, earning award miles on credit card sales, unlimited validity of award miles and the premium insurance package. 
A representative survey conducted by GfK on behalf of Mastercard shows that reward, loyalty, and bonus programs are becoming increasingly popular. In all, 90% of the Germans surveyed use these programs, and the majority of consumers do so several times a week (66%). In fact, 62% of those surveyed said they would pay more often with their debit or credit card when making purchases if they automatically collected miles, points, or similar rewards with it.
The Miles & More Credit Card is seen as the ideal everyday companion, as bonus miles are collected for every transaction, which can then be redeemed for award flights or upgrades. With the card's MilesPay feature, people can also use their miles to make purchases at more than 100 million Mastercard acceptance points worldwide.
Miles & More Credit Cards were introduced in Germany in February 1999 and are now used in 20 other countries.