New debit card and app launches to help those living with dementia to safely manage spending
March 22, 2023 | London, UK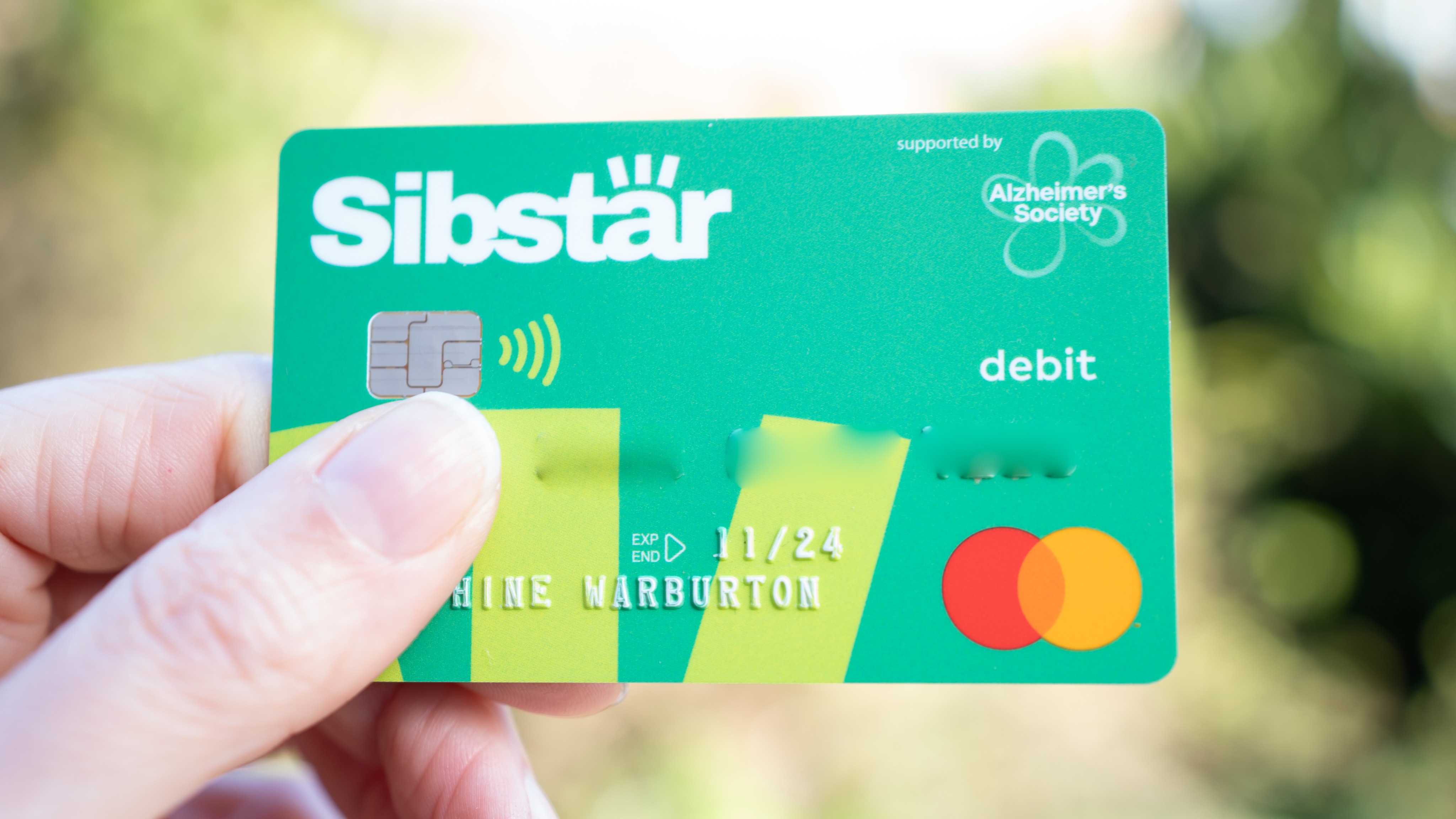 Sibstar partners with Alzheimer's Society and Mastercard to launch its new debit card and app specifically designed for people with dementia.
Nine in ten people living with dementia report experiencing difficulties with managing money day-to-day according to research
Launch comes as data projects the number of people living with dementia in the UK will rise to 1.6 million by 2040.


Sibstar is the UK's first debit card and app designed to help people living with dementia and their families to safely manage everyday spending.
The launch comes as research shows that nine in ten (89%) of those affected by dementia experience difficulties with managing their money day-to-day, and nearly half (45%) find money difficulties a major cause of stress and worry. Sibstar has been set up to combat this and offers an innovative way for people with dementia to access and manage their day-to-day money and empower those living with dementia to live financially independently for longer in a safe, supported way.
The Mastercard debit card is pre-loaded with funds, then how and where the money is spent can be managed through the Sibstar app, which is available on iPhone and Android.  Each element of Sibstar's functionality can be instantly switched on or off, delivering a flexible solution which can be scaled as the needs of individual customers change. The app's money management controls include spend limits, ATM, online, phone switch on/off, instant freeze, auto top up, and real time notifications which can be changed instantly and remotely.
There are currently around 900,000 people with dementia in the UK, and this number is projected to rise to 1.6 million by 2040. In addition to the physical symptoms, many people can lose their ability to deal with their daily finances - as confusion increases, so too does vulnerability to being scammed, losing cash or cards, giving money away inappropriately, or over-buying, and as a result, hard earned savings can disappear.
Although there have been some improvements in making the financial sector more accessible, current banking services are yet to offer the necessary security and management functionality required by people with dementia and their families. Two in three respondents felt there is not enough being done to help people living with dementia to manage their money safely. In the absence of a suitable solution, often the only choice for those living with dementia is to limit or remove access to their finances, which severely limits their independence and ability to enjoy everyday activities. 
It's these issues which Sibstar addresses head on and is the brainchild of Jayne Sibley. Over the last nine months, the product has been piloted by 65 people in the UK who are affected by dementia and their families.
One customer said: "Sibstar will be a solution to keep my Dad's dignity, but enable the control we as a family need to help him. He has asked many times that we find a way to help him and I've been searching for a while. I wish I had found Sibstar sooner."
Jayne Sibley, co-founder of Sibstar and whose parents are both living with dementia commented, "As my Mum's dementia progressed her ability to manage her everyday money declined.  One of the hardest challenges we faced as a family was finding a way for Mum to remain financially independent whilst keeping her money safe. Mum is capable in so many ways, but needs access to her own money in order to live her life the way she wants to. That's why we developed Sibstar.  How we choose to spend our money is a big part of who we are, that doesn't need to change because you have dementia. We believe Sibstar provides a way for people living with dementia to manage and access their own money more safely, reducing their financially vulnerability, which means they can remain independent and live life the way they choose."
Colin Capper, Associate Director of Evidence and Involvement at Alzheimer's Society said: "Too many people living with dementia face barriers in using financial services, leaving them with a loss of independence and vulnerable to scams. Alzheimer's Society is working to make the financial sector more dementia-friendly, as well as raise awareness of the challenges involved. We are delighted to have supported Sibstar through our Accelerator Programme, which funds innovations and inventions that we believe can change the lives of people affected by dementia."
Kelly Devine, Divisional President, Mastercard UK & Ireland added "At Mastercard we believe everyone should have access to financial services in a way that works for them, whatever their needs may be. Innovations in technology are making it more and more possible to build tailored products and tools for specific needs, and Sibstar is evidence of this. We are delighted to be working with Jayne and the team at Sibstar on this much needed solution to make financial independence a reality for those living with dementia."
See the full Sibstar story on the website or get started with Sibstar by downloading the Sibstar app from the App Store or Google Play.
Media Contacts
Lauren Jefferys, Mastercard
About The Alzheimer's Society
The Alzheimer's Society Accelerator Programme funds innovations and inventions that the charity believes can change the lives of people affected by dementia. Through the programme Alzheimer's Society partners with innovators, engineers, entrepreneurs and others, to bring life changing products and services to people affected by dementia face, fast.  Accelerator partners receive bespoke business support and investment up to a value of £100,000, along with a 12-month partnership with Alzheimer's Society Innovation team.
Anyone who is concerned about their finances or looking for guidance on managing money safely can access help and support via Alzheimer's Society's website www.alzheimers.org.uk or support line, 0333 150 3456.
Get involved and support their work by contacting 0330 333 0804, or visit alzheimers.org.uk
Follow on Twitter and Instagram @Alzheimerssoc.
Alzheimer's Society YouTube channel www.youtube.com/AlzheimersSociety
Download the dementia-friendly guide for tips on best practice to make sure dementia is accurately and fairly reported in the media: alzheimers.org.uk/mediaguide
About Mastercard (NYSE: MA)
Mastercard is a global technology company in the payments industry. Our mission is to connect and power an inclusive, digital economy that benefits everyone, everywhere by making transactions safe, simple, smart and accessible. Using secure data and networks, partnerships and passion, our innovations and solutions help individuals, financial institutions, governments and businesses realize their greatest potential. Our decency quotient, or DQ, drives our culture and everything we do inside and outside of our company. With connections across more than 210 countries and territories, we are building a sustainable world that unlocks priceless possibilities for all.
Follow us on Twitter @MastercardEU and @MastercardNews, read more about our global impact in Perspectives, and subscribe for the latest news from the Mastercard Newsroom.