Mastercard launches awareness campaign on diversity in film for Berlinale
February 15, 2023 | Berlin, Germany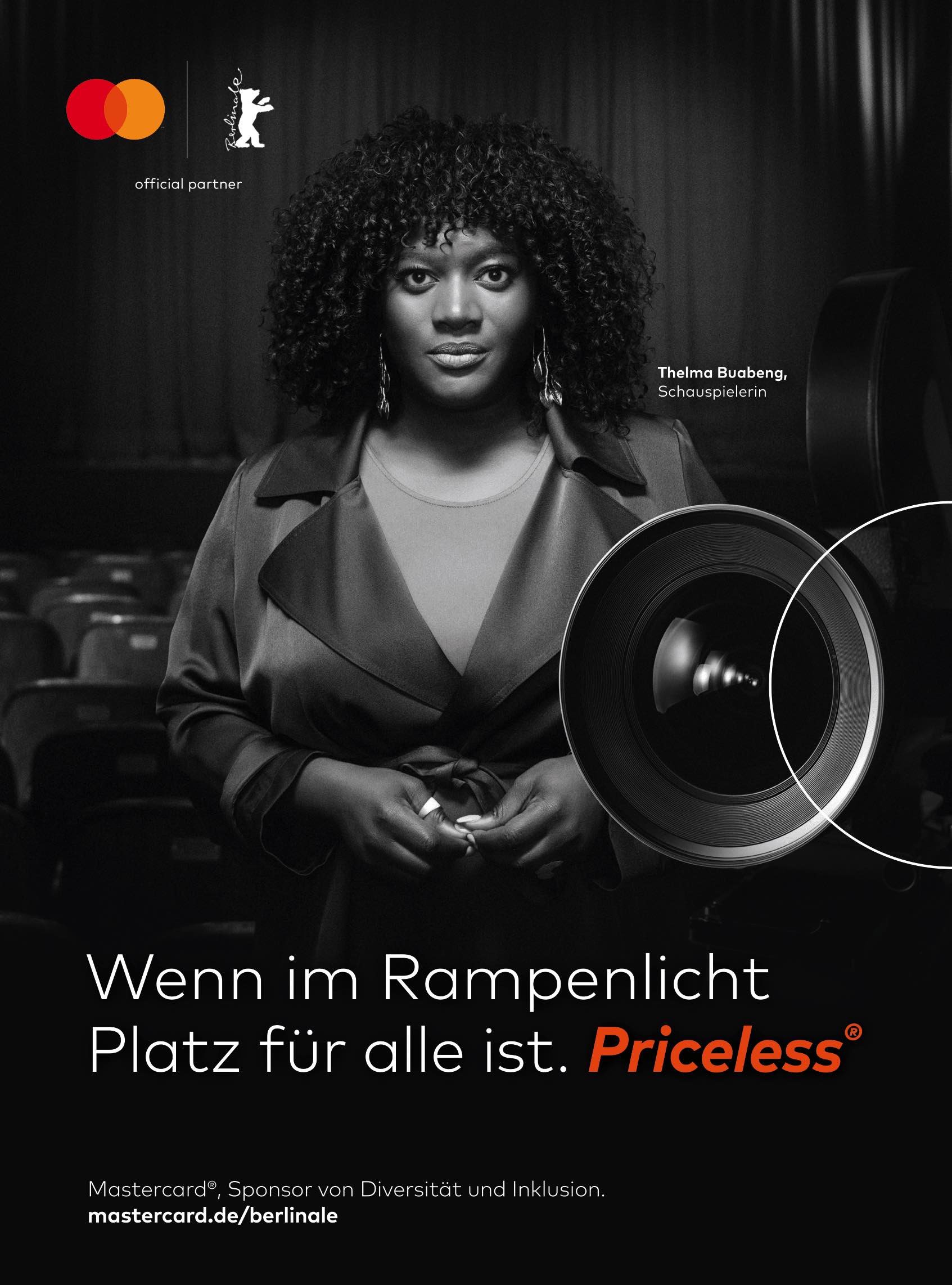 New campaign bolsters Mastercard's commitment to highlight diversity and inclusion in the film industry as the 73rd Berlin International Film Festival kicks off.
Mastercard has today announced a new campaign "Wenn im Rampenlicht Platz für alle ist. Priceless" (When there's room for everyone in the spotlight. Priceless) designed to highlight diversity on the big screen, as the 73rd Berlin International Film Festival is set to open on February 16th.
The initiative will kick-off with a panel discussion moderated by Annabelle Mandeng on "Diversity in Film – Reality and Perspective" as part of the Berlinale.
The interactive discussion will host actress, comedian and committed activist Thelma Buabeng, together with other committed actors such as Brix Schaumburg, director Sheri Hagen, and other filmmakers in Berlin's Soho House who will discuss what still needs to happen for diversity in film to become the norm in the future.
"The Berlinale is one of the most important film festivals worldwide and offers the ideal set-up for a campaign that reflects our values and anchors us again in people's minds as a 'Brand with Purpose'. As a long-standing partner of the festival, we value the Berlinale as a strong platform for critical discourse on important social issues and want to give diversity in film a stage," says Marene Arnold, vice President Marketing & Communications for the DACH region at Mastercard and responsible for the campaign.
As a partner of the talent development initiative Berlinale Talents, Mastercard will also run "Talents Footprints – Mastercard Enablement Programme" for the third time this year. Through this Programme, creative professionals from the film industry can apply for a scholarship to receive financial support, mentoring and public awareness for their film-related initiatives, networks or platforms contributing to their local communities in an inclusive and impactful way.
According to the major industry survey "Diversity in Film" (2021), 51% of filmmakers have already experienced discrimination in the work context. The study "Diversity and Visibility" (2021) by the MaLisa Foundation also shows that people with a migration background, for example, are underrepresented in film. They represent only eleven per cent of all protagonists on television - compared to their share in the population of over 26%.
The broader awareness campaign for the Berlinale will be rolled out in (D)OOH, print, digital, social media, and point of sale.
To further deliver on the needs of the community, Mastercard will launch a donation program from the 13th to 26th February 2023, in which one euro will be donated to the associated organisations for every transaction (ticket purchases in the Berlinale online shop, snacks & drinks in Kino International and Zoo-Palast) made with Mastercard.
About Mastercard (NYSE: MA)
Mastercard is a global technology company in the payments industry. Our mission is to connect and power an inclusive, digital economy that benefits everyone, everywhere by making transactions safe, simple, smart and accessible. Using secure data and networks, partnerships and passion, our innovations and solutions help individuals, financial institutions, governments and businesses realize their greatest potential. With connections across more than 210 countries and territories, we are building a sustainable world that unlocks priceless possibilities for all.  
Follow us on Twitter @MastercardEU and @MastercardNews, read more about our global impact in Perspectives, and subscribe for the latest news from the Mastercard Newsroom.