Lionel Messi unveils Mastercard's new UEFA Champions League mascot kit
February 13, 2023 | Europe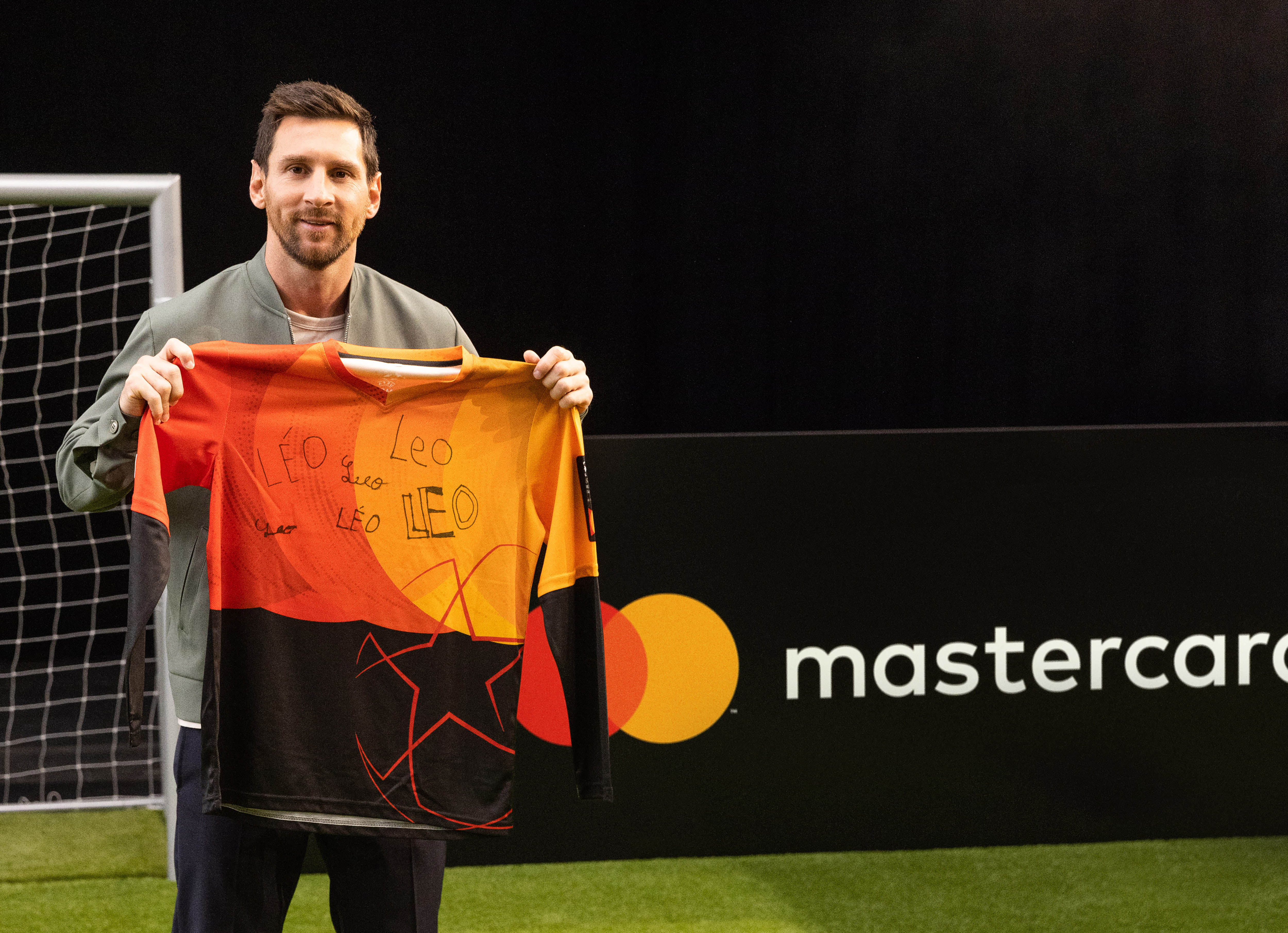 Opportunity to win priceless experience to 'Walk Out with Messi' launches across Europe
Lionel Messi today unveiled Mastercard's new player mascot kit which will be worn by young fans in this season's UEFA Champions League Knock out Stage, which kicks off on 14th February.
To celebrate the launch, and in further proof that love for 'Leo' extends far beyond the pitch, new research from Mastercard reveals a rise in the popularity of the name 'Leo' since Lionel Messi made his professional debut in 2004, across Europe. Mastercard analysed two decades of baby name data to assess the off-the-field impact of Lionel Messi.
The name is so popular, that one 'Leo' is born every three hours in Spain, every two hours in the UK, every hour in France and Italy and every 22 minutes in Germany. Parents surveyed said they would consider naming a future child after the footballing icon in recognition of his recent achievements.
"Nothing inspires a life-long passion for football quite like a standout experience" said Jeannette Liendo, Senior Vice President Marketing and Communications at Mastercard Europe, "whether that's watching your team win a nail-biting final, witnessing your favourite player score a worldy, or meeting a footballing hero. That's why Mastercard is a proud sponsor of the UEFA Champions League player mascots, and why we're offering one young fan a chance to walk onto the pitch in our new player mascot kit, hand in hand with the most inspirational player of all time."
The Mastercard player mascot uniform will be worn in all of the remaining UEFA Champions League matches, with a shirt and shorts made exclusively from recycled fabrics, using 90 per cent less water and 70 per cent less energy than virgin polyester, and having a 65 per cent smaller carbon footprint.
The bold new design, conceived by VISION OF SUPER, was selected through a Mastercard partnership with Camera Nazionale della Moda Italiana (CNMI), captures the passion, energy and optimism found in young football fans, as they join their heroes on the pitch.
Lionel Messi commented: "Walking onto the pitch before a UEFA Champions League match is a unique experience. No matter how many times I do it, it never gets old. I am always so happy to share that feeling with the young mascots, and only hope that the experience gives them the belief, in themselves, in the beautiful game, and in the power of chasing their dreams."
Research across Europe found that parents wanted the name they gave their child to be a source of inspiration for them while growing up. With many suggesting they're more likely to name their child after a celebrity than a family member, and saying they'd be likely to name them after a sporting figure.
With most kids pretending to be Messi out of any other footballer when playing, Mastercard is launching a sweepstake today to give one lucky fan (from the UK, Germany or France) a chance to walk onto the pitch alongside Lionel Messi at the FC Bayern München vs. Paris Saint-Germain F.C. tie's return leg on Wednesday 8th March in Munich.
To enter the 'Walk Out with Messi' and other UEFA Champion League sweepstakes, fans can visit https://www.priceless.com.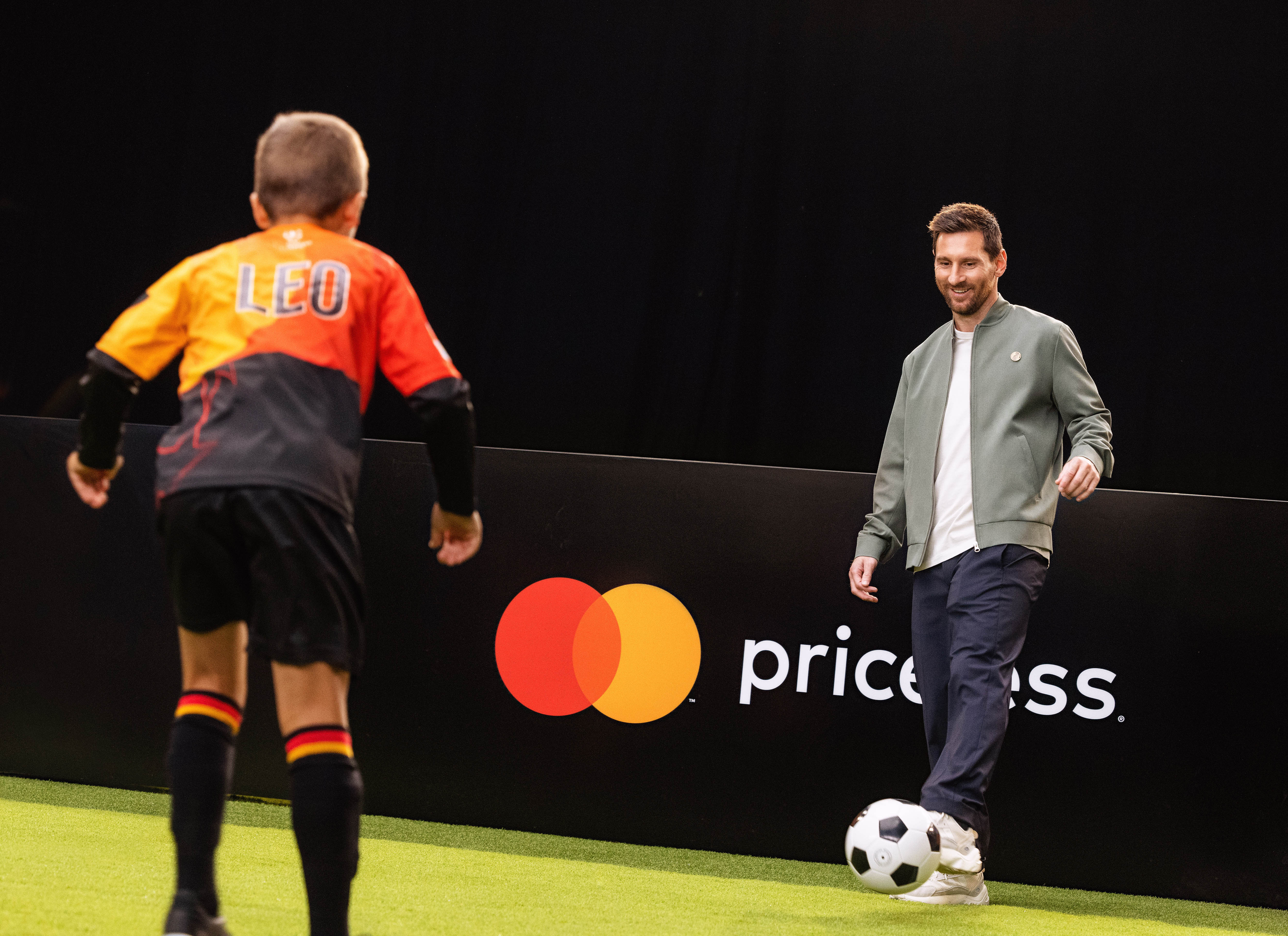 'Walk out With Messi' sweepstake
Entrants will need to log-in/sign-up, click through an entry page found at Priceless.com for a chance for their child to be a mascot and walk out with Lionel Messi at the Round of 16 UEFA Champion's League match between FC Bayern München vs. Paris Saint-Germain F.C. on the 8th March 2023 in Germany.
The Promotion is open to Mastercard holders aged 18 or over, who are residents of UK, France and Germany, and the parent or guardian of a child aged between 7 and 9 and between 1.05m and 1.35m tall on the day of the match.
Full terms and conditions can be found at Priceless.com.
About Mastercard (NYSE: MA)
Mastercard is a global technology company in the payments industry. Our mission is to connect and power an inclusive, digital economy that benefits everyone, everywhere by making transactions safe, simple, smart and accessible. Using secure data and networks, partnerships and passion, our innovations and solutions help individuals, financial institutions, governments and businesses realize their greatest potential. With connections across more than 210 countries and territories, we are building a sustainable world that unlocks priceless possibilities for all.  
Follow us on Twitter @MastercardEU and @MastercardNews, read more about our global impact in Perspectives, and subscribe for the latest news from the Mastercard Newsroom.