Impact Foundation and Mastercard Center for Inclusive Growth continue to expand support for entrepreneurial women from Ukraine
March 9, 2023 | Warsaw, Poland
In February 2022 Russia invaded Ukraine and forced millions of the country's citizens to flee their homeland – most decided to cross the border into neighboring Poland. Since military service is mandatory for Ukrainian men between the ages of 18-60 these refuges were mostly women and children.
 In July of 2022 the Impact Foundation and Mastercard Center for Inclusive Growth launched "Rebuilding Ukrainian Businesses" – a program designed to help entrepreneurial women from Ukraine get settled and start doing business in Poland.
The Impact Foundation and Mastercard Center for Inclusive Growth have today opened a new "Rebuilding Ukrainian Businesses" co-working space as part of their continued support for entrepreneurial women from Ukraine.
Located in Warsaw, it will be open to entrepreneurial women and other displaced Ukrainian participating in the "Rebuilding Ukrainian Businesses" program. Its mission – to provide the best possible place to work, with opportunities for networking where they can share ideas and experiences, but also focus 100% of their attention on the things that need to be done to make their business dreams come true.
It will also be a space to receive expert business advice, to participate in a variety of activities designed to improve their professional skills, as well as make them feel more comfortable on a personal level.
"We are happy. We have the opportunity to meet and share our progress, daily lives, and the simple feeling of belonging somewhere. It helps to improve our daily lives significantly," says Olena, one of the program participants.
Additionally, the co-working space offers a daycare service, empowering Ukrainian entrepreneurs to concentrate with the peace of mind of knowing that their children are well cared for and involved in a wide range of engaging activities.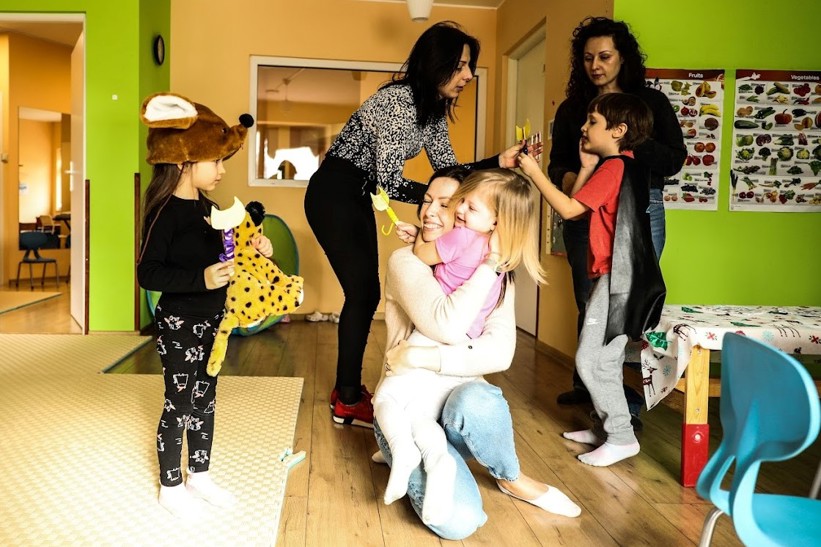 Rebuilding Ukrainian Businesses: Rebuilding confidence by providing knowledge, tools and so much more
"Rebuilding Ukrainian Businesses is a program designed to put Ukrainian women in Poland back on the road to personal and professional success. Those who participate in the program have a chance to reestablish economic livelihoods by getting technical assistance from leading specialists in Poland, child care support and financing," says Payal Dalal, Senior Vice President from the Mastercard Center for Inclusive Growth. 
"The program, however, has a lot more to offer than skilling and financing. It's about building a community of Ukrainian entrepreneurs who can learn from each other and coach each other. It's about making them comfortable and safe in their new environment – giving them not only a place where they can work on their new business ideas, but also the peace of mind to know that their kids are well cared for when they do it." 
To date 80 entrepreneurial women from Ukraine have been chosen to be part of "Rebuilding Ukrainian Businesses." They are currently in the process of launching their own business in Poland and adding diversity and impact to Poland's economy.
"I would love to say thank you. Today I received the sewing machines that I bought thanks to the grant voucher. This is unbelievable, I am so happy.  When I opened the parcel, I was crying. My dream of starting a business in Poland is about to come true," says Tetiana, one of the 80 entrepreneurial women that were chosen and received support to open a sewing business in Poland.
Webinars: An opportunity to learn from the best
Participants of "Rebuilding Ukrainian Businesses" can also interact with the best e-commerce and e-business specialists in Poland. As part of the program, they can sign up for and take part in a monthly series of webinars. The topics discussed during each of these online meetings focus on a specific aspect of successfully doing business.
"We believe the power of this program is based on the perfect combination of personal and on-line meetings with the leading experts in our market," explains Michał Kamiński from the Impact Foundation CE. "We are going to focus on topics like online sales, marketing or digital financial services."
The first webinar in the series, which took place on February 20th, 2023, was focused on issues related to managing customer relations. It was hosted by Monika Żukowska – an experienced practitioner and professional mentor with a focus on everything involved in the sales process. For more information visit: https://ukrainianbusiness.impactcee.com/szkolenia/
About Mastercard (NYSE: MA)
Mastercard is a global technology company in the payments industry. Our mission is to connect and power an inclusive, digital economy that benefits everyone, everywhere by making transactions safe, simple, smart and accessible. Using secure data and networks, partnerships and passion, our innovations and solutions help individuals, financial institutions, governments and businesses realize their greatest potential. With connections across more than 210 countries and territories, we are building a sustainable world that unlocks priceless possibilities for all.  
Follow us on Twitter @MastercardEU and @MastercardNews, read more about our global impact in Perspectives, and subscribe for the latest news from the Mastercard Newsroom.