Europe's family-run businesses at odds over digital future
July 12, 2023 | Waterloo, Belgium
Family dynamics and a lack of digital skills are barriers to modernisation, Mastercard survey reveals.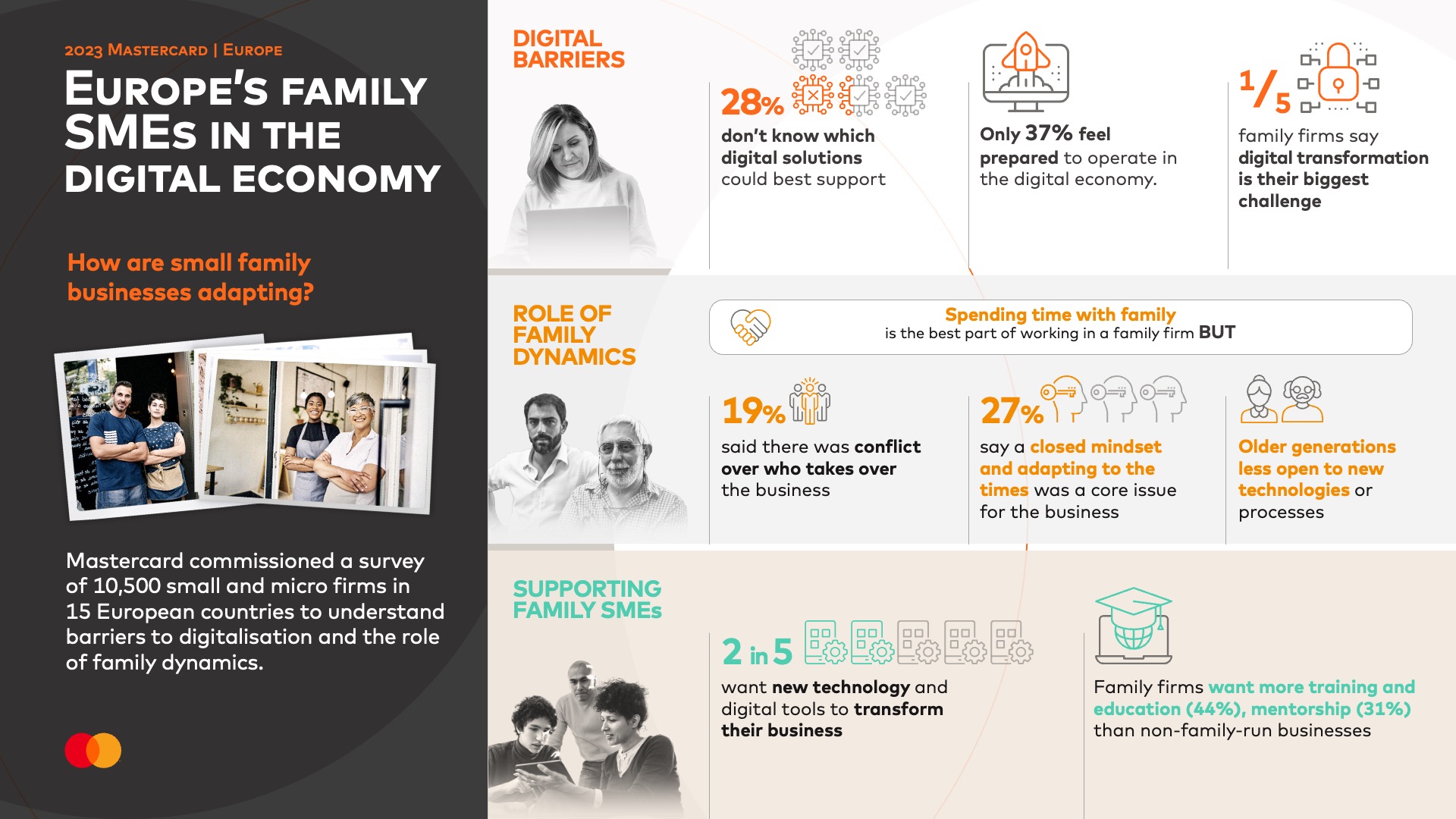 Europe's small family businesses could be at risk of falling behind competitors as the economy becomes more digital, new research from Mastercard has found. Convincing family members to modernise and finding the right digital solutions are key challenges faced by small family firms.  
SMEs as a collective account for 99% of all European enterprises.1 The majority are family-run, according to the European Parliament,2 particularly micro businesses with less than 10 employees.3 
Despite their huge presence, just 37% of family-run SMEs feel very prepared to operate in a digital economy according to the study.  
Mastercard is a key enabler in the digitalisation of Europe's SMEs, serving four out five small businesses or approximately 18 million small enterprises. It carried out the research in 15 countries to understand how small businesses are responding to Europe's increasingly digital economy and society. The study polled 10,500 respondents from both family- and non-family-run SMEs, demonstrating that new strategies are needed to better help smaller family firms. 
Barriers to digital adoption  
Family businesses have rapidly adapted to the digital-first world ushered in by the pandemic, with nearly half (47%) increasing their use of digital payments. However, the research reveals that family firms are still uncertain about which digital resources and technology would work best for them.  
More than two-fifths (41%) said they wanted new digital tools to modernise their businesses, but a significant number (28%) were unsure of which solution would best support them.  
Other factors holding them back were concerns around privacy and security, which was less of a concern for non-family-run firms suggesting they may have better guardrails in place and therefore feel more reassured.  
Surprisingly, close to a third (30%) of family businesses said relying on an internet connection was a barrier preventing new digital solutions that could support their commercial activities.  
"Keeping up with rapidly changing technology and digital marketing strategies proved to be a continuous challenge."-
Event security company employee, Ireland
The role of family dynamics  
Being family-run presents distinct challenges for running a business that may also make modernising more complicated. One issue uncovered was resistance to change, with some employees thinking their family firm had a closed mindset to adapting with the times and trying new things (27%), with older generations seen as less likely to want to do so.  
Navigating relations between family members is also a unique factor at family businesses, with a fifth saying that personal relations with their relatives was the biggest hurdle to overcome at work. Interestingly, succession-planning was a key flashpoint for some, with a fifth reporting there was conflict over who would take over the business in the future.   
"It can be challenging to introduce new ideas or implement changes in a family business."-
Small business employee, Spain
On the whole, respondents were positive about working with their relatives and family firms were more optimistic they would grow in the coming year than non-family run businesses. However, the uncertainty of if and how to modernise, coupled with family dynamics, could increase the risk of some small family businesses eventually being outpaced by more adaptable competitors.  
"For me personally it means pride and fulfilment, as I know I am working with my own family for a better future."
-
Fishermen and fishmonger employee, France
Supporting family-run businesses  
There was a strong desire amongst family-run firms to have more education, training and mentorship to help their businesses grow. More than two-fifths wanted to modernise the business through the better use of digital tools. This demonstrates that small family businesses have an appetite to upskill and move with the times, but need more help in order to do so, presenting a clear opportunity for support. 
"Small businesses are the driving force of Europe's economy, employing 82 million  people and have shown remarkable resilience in tough times.  However, many SMEs, especially those that are family-run, need additional support to thrive in a changing world," said Mark Barnett, president of Mastercard Europe.
"Without assistance, we run the risk of our beloved small local businesses being unable to meet fresh consumer demands and remain competitive. Mastercard already supports four in five small businesses in Europe and is committed to helping them keep pace with the shifting digital landscape through our range of solutions, resources and digital tools." 
Mastercard has identified three main growth barriers faced by small businesses in Europe; the ability to receive and make payments, access to funding to support long-term growth, and access to tools that help businesses join the digital ecosystem. To tackle these, Mastercard is leveraging its infrastructure, technology and partnerships to support the needs of SMEs.  
Notable programmes that have recently been implemented in Europe including the Strive initiative in Czechia and the UK, empowering micro and small enterprises to succeed in the digital economy by unlocking access to capital and providing free guidance, tools and mentoring. 
In addition, the award-winning Start Path programme is helping startups and small businesses raise capital, connect to the wider payment environment and create a more inclusive economy.  
For more information on the Mastercard tools and benefits that help SMEs grow, visit the Mastercard website or to see the offers available to Mastercard's small business cardholders visit www.mastercard.com/businessbonus/en/home 
1 European Commission, 2019, 'Annual Report on European SMEs 2019/2020'. 
2 European Parliament. SME focus – Long-term strategy for the European Industrial future. April 2020. Available at: https://www.europarl.europa.eu/RegData/etudes/STUD/2020/648776/IPOL_STU(2020)648776_EN.pdf. Accessed July 2023.
3 Kerstin Siakas, Marja Naaranoja, Sotiris Vlachakis, Errikos Siakas, Family Businesses in the New Economy: How to Survive and Develop in Times of Financial Crisis, Procedia, Economics and Finance, Volume 9, 2014, Pages 331-341, ISSN 2212-5671.
Media Contacts
Alexia Morris, Mastercard
About Mastercard (NYSE: MA)
Mastercard is a global technology company in the payments industry. Our mission is to connect and power an inclusive, digital economy that benefits everyone, everywhere by making transactions safe, simple, smart and accessible. Using secure data and networks, partnerships and passion, our innovations and solutions help individuals, financial institutions, governments and businesses realize their greatest potential. With connections across more than 210 countries and territories, we are building a sustainable world that unlocks priceless possibilities for all.  
Follow us on Twitter @MastercardEU and @MastercardNews, read more about our global impact in Perspectives, and subscribe for the latest news from the Mastercard Newsroom.