European passion for sport burns bright as gyms, stadiums, and technology thrive
January 19, 2023 | Waterloo, Belgium
Europe's famous passion for sport remains as buoyant and resilient as ever, with fans racing back to gyms and stadiums over the past 12 months. That is according to the Mastercard Sport Economy Index 2023, published today.
The survey of over 11,000 Europeans – published for the second year running – reveals that more people attended live sporting events (+12pp) and regularly exercised (+10pp) in 2022 than they did in 2021, as sport remains a powerful heartbeat of society across the region. 
The region's enthusiasm for sport also translated into a significant increase in consumer spending across the sector. Analysis by the Mastercard Economics Institute shows that consumer card spending on sporting goods, services and experiences was up 37% in 2022 compared to 2021.
The Mastercard Sport Economy Index 2023 is published ahead of a bumper year of European sport, which includes the UEFA Champions League, Rugby World Cup 2023, The Open, Roland Garros, and League of Legends European Championship – all sponsored by Mastercard.
Technology powering sports entertainment
Over the past 12 months, the digital footprint of sport continued to rise, with more than six in ten (61%) Europeans stating that technology was a major lifeline in how they enjoyed their favourite events, teams, and competitors.
The top five ways in which Europeans used technology to enjoy sport in 2022 were: to follow events remotely on social media, to watch multiple matches at once, to experience a sporting event via VR, to watch esports competitions via streaming platforms, and to listen to sporting podcasts.
The prominence of tech in sport looks set to rise further in 2023. More than half (56%) of fans believe tech holds the key to a more inclusive, profitable future for sport – with VR ready to play a key role in this next step.
Over a quarter of European sports fans have already experienced sport via VR, with half of all respondents hoping to do so in the next year. VR also looks set to form a key part of the stadium of the future, with 21% fans hoping to experience immersive technology that demonstrates what it feels like to be an athlete on matchday.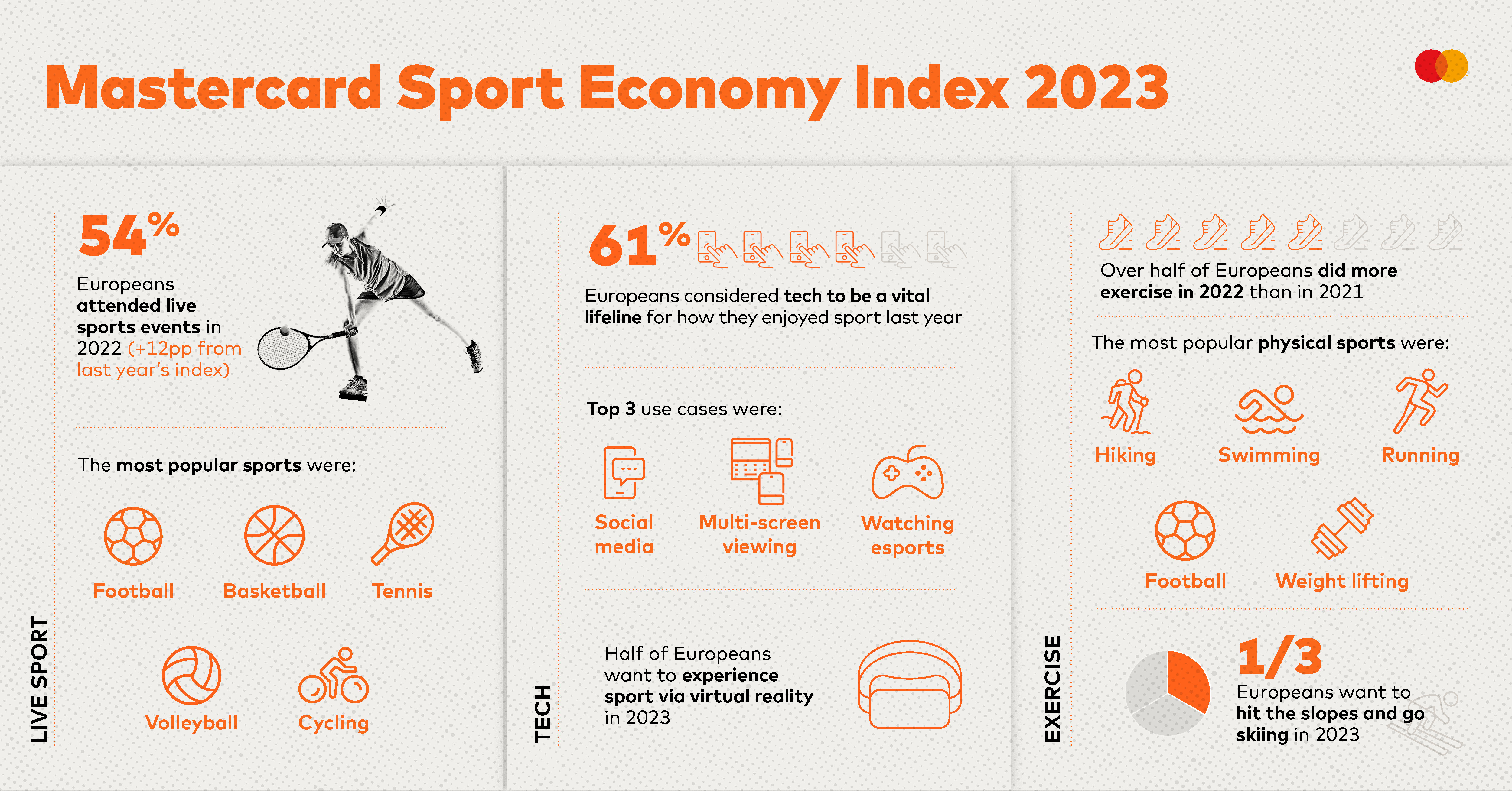 Live sport is alive and kicking
While tech powers at-home and on-the-go entertainment, the magic of live sport continue to entice fans back to stadiums across the continent.
Over half (54%) of Europeans attended live events in 2022 – a 12pt increase from 2021 – with football, basketball, tennis, volleyball, and cycling the most popular sporting attractions.
The return of full stadiums and venues has had a significant positive impact on fan satisfaction, with six in ten fans saying that their experience attending events in 2022 was better than it was in 2021.
As always, however, there was room for improvement. When asked which features should form the 'matchday of the future', Europe's top ten answers were:
1. Live music at breaks/half-time
2. Better facilities for disabled fans
3. Earpieces to hear live manager/player communication
4. VR experiences to show 'player's view'
5. In-game supporter engagement (player of the match voting or kiss-cam)
6. Retail outlets for matchday shopping
7. Bottomless brunch before the match
8. TV screens on back of seats to watch other entertainment
9. Spa facilities with a pitch view
10. Themed fancy dress match days for fans in the crowd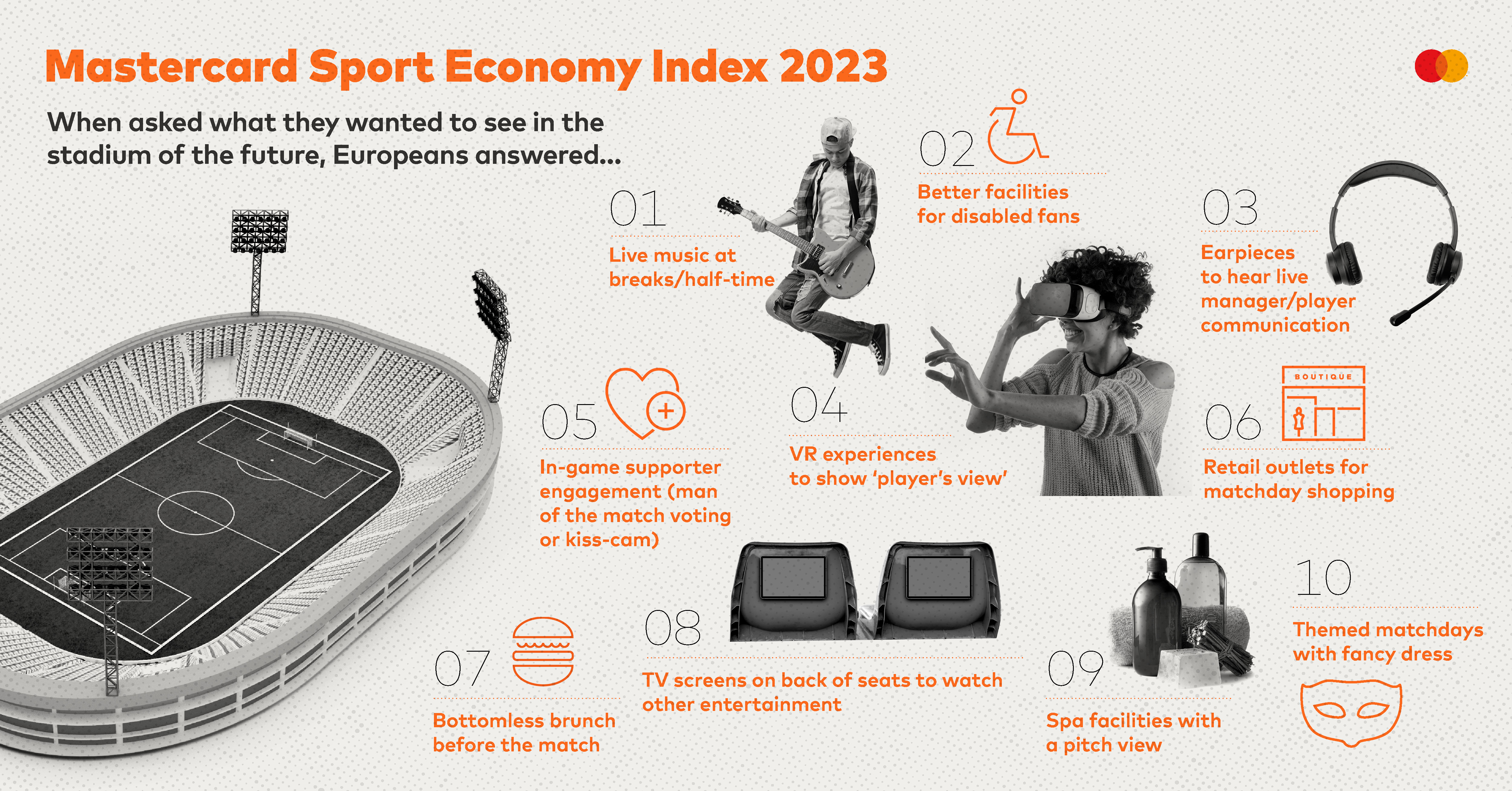 Exercise economy is thriving
On top of enjoying sporting entertainment, Europe's craze for exercising – and gaming – continues going from strength to strength.
Over half (54%) of Europeans did more exercise in 2022 than they did in 2021 – an increase of 10pts vs. the same metric last year – with hiking, swimming, running, football, and weightlifting the most popular physical activities. Videogaming also thrived last year, with 52% Europeans picking up a controller in the past 12 months.
2022 also signalled a mass return to gyms and leisure centres. Over four in ten people (43%) were more likely to pay for a membership to exercise rather than rely on home workouts or park runs. This means the number of people preferring to workout in free-to-access environments has dropped 21pts vs. 2021 data.
Europeans continued to invest in their fitness, with sporting goods retail sales – such as golf clubs, tennis balls and bikes – rising 15% in 2022 vs 2021, according to the Mastercard Economics Institute.
"The past 12 months have seen Europe's passion for sport go from strength to strength, as fans have raced back to stadiums and gyms to enjoy their favourite pastime on their terms. Equally, the influence of technology in sport entertainment continues to rise, and the exciting potential of emerging technologies such as VR is now backed by strong consumer enthusiasm to give them a try," said Jeannette Liendo, Senior Vice President Marketing and Communications at Mastercard Europe.
"Sport is a famous, resilient component of European culture and we are proud to sponsor some of the region's most exciting sporting competitions and events – from the UEFA Champions League and the Rugby World Cup 2023 to the League of Legends European Championship – for 2023."
Europeans travelling for sport
Finally, Europe's passion for sport looks set to encourage more jet-setting in 2023. One third of people plan on travelling abroad to watch a live sporting event this year.
The live sporting calendar kicked off in style this month, with the 83rd Hahnenkamm World Cup Races in Kitzbühel, Austria, sponsored by Mastercard. This looks set to inspire 3 in 10 Europeans to hit the slopes to go skiing or snowboarding in 2023.
Footnote
This research was conducted by Ketchum Research & Analytics on behalf of Mastercard; the survey and fieldwork was conducted by Vitreous World. A total of 11,081 people, aged 18+, were surveyed across Austria, Bulgaria, France, Germany, Italy, Poland, Slovenia, Spain, Sweden, Switzerland, and the UK in November 2022.
About Mastercard (NYSE: MA)
Mastercard is a global technology company in the payments industry. Our mission is to connect and power an inclusive, digital economy that benefits everyone, everywhere by making transactions safe, simple, smart and accessible. Using secure data and networks, partnerships and passion, our innovations and solutions help individuals, financial institutions, governments and businesses realize their greatest potential. With connections across more than 210 countries and territories, we are building a sustainable world that unlocks priceless possibilities for all.  
Follow us on Twitter @MastercardEU and @MastercardNews, read more about our global impact in Perspectives, and subscribe for the latest news from the Mastercard Newsroom.