Cascais is the first Portuguese city to join Mastercard's global City Possible network
October 19, 2022 | Cascais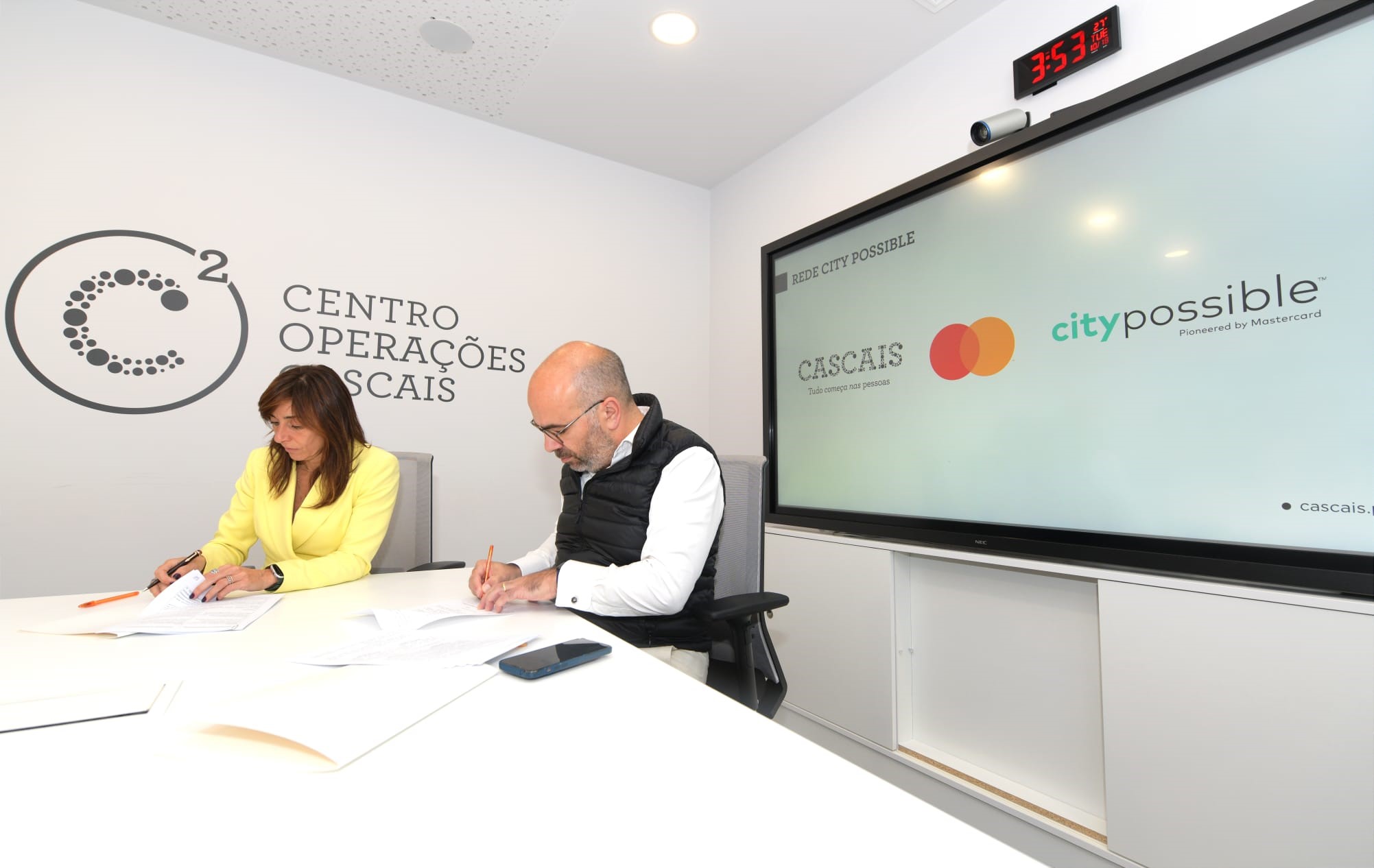 The global City Possible network is an innovative initiative by Mastercard, which brings together experts, organizations and cities to co-create solutions that promote more inclusive and sustainable urban development

The City Possible project with Cascais will be developed to generate innovative solutions and initiatives in important areas such as Mobility, Education and Digital Currency that will enable the municipality to accelerate strategic projects, responding to the real needs of the population
Cascais is the first Portuguese municipality to join Mastercard's global City Possible network, which includes over 330 cities worldwide.
The Memorandum of Understanding, signed between the Municipality of Cascais and Mastercard, aims to boost the inclusive and sustainable urban development of the city, through the use of a set of innovative technological solutions, developed in partnership between hundreds of experts, cities and organizations collaborating in this international initiative.
Through this agreement, Cascais joins the growing City Possible network, which includes Warsaw, Helsinki, London, Dublin, New York, and Los Angeles among others. Organisations such as the Singapore Tourism Board and companies such as Citi, Honeywell and AT&T are also members of the global network.
Miguel Pinto Luz, Deputy Mayor of Cascais, says that "joining the City Possible network is an opportunity to strengthen Cascais' innovative position, putting us in touch with some of the most disruptive and efficient solutions when it comes to sustainable and resilient development in urban contexts. We believe that a dynamic and diverse ecosystem is the best ally to keep Cascais on this path of development, taking risks and experimenting, with the certainty that this is the only way to move forward.
The extensive experience of this network, combined with our in-depth knowledge of Cascais' needs and capabilities, will certainly make this meeting a fruitful collaboration. We have proven ourselves in areas such as mobility, with free public transport or in the management of the territory with the Cascais Cockpit, we count on the City Possible network to go further and build an increasingly inclusive and sustainable future.    
We all know that the world has changed. That information flows faster and faster. That more and more we need to be up to date, to learn constantly and to be creative. The world has changed and lives more and more from the exchange of experiences, from contact between different visions, from sharing knowledge and synergies. In the public sector it is no different, if we want to have the answers to citizens' problems, we have to be informed, we have to know what the best solutions are and we have to be creative. We are at the forefront and we like technology, but we do not forget that the most important thing is people.
Making Cascais the best place to live for a day or a lifetime, involves ensuring the best experience for visitors, students, residents and businessmen. Looking at the territory as a whole, collecting data in real time, knowing the dynamics in order to act in time and developing predictive capacity in the management of the territory, are some of the areas where technology is a good ally. We gain efficiency, quality and time, time to live." 
Maria Antónia Saldanha, Country Manager at Mastercard, says that "the pandemic has made it even clearer that the actions taken in cities in the coming years have a decisive role in their future resilience. Technological innovation has a vital role to play in building solutions to major urban challenges, especially if it provides scale and brings together the expertise and reach of public and private organisations."
"The City Possible platform has precisely that focus. That of helping cities provide integrated urban services that create value for their local communities. We are talking about mobility, but also about access to data that results in smarter and more efficient decisions, among many other challenges such as tourism, boosting local business or financial inclusion. The implementation of scalable, sustainable and inclusive technological solutions is essential in this ecosystem of smart cities and that is what we will do in partnership with Cascais City Council," she adds.
Based on these premises, the project with the city of Cascais will be developed to generate innovative solutions and initiatives in such important areas as Mobility, Education and Digital Currency. Each pillar will take advantage of the experience of other cities in areas that have stood out as strategic, and which range from data and payment management to access to technology, necessary to implement solutions, in line with the real and increasingly pressing needs of the population.
"We are thrilled to welcome the first Portuguese city to the City Possible Global Network and look forward to partnering with Cascais to drive enhanced access to city services and thriving urban economies," said Jody Barnett, Head of Global Cities and Transit & Mobility at Mastercard. "The world is a vastly different place than it was two and a half years ago and the innovations we choose to pursue and the choices we make will have long lasting impacts on the future of cities."
More than 50 governments and municipalities already use dozens of cutting-edge analytical tools and solutions provided by Mastercard's City Insights platform to overcome crises, identify investment opportunities and make informed decisions. Mastercard has developed partnerships with cities, including London and Sydney, as part of its commitment to mobility, to simplify the purchase of transport tickets and offer a consistent form of contactless payment across all forms of public transport.
And in the realm of inclusive urbanization, Mastercard City Key™, is also an example of a digital identification and payment solution that enables citizens and businesses in cities around the world to easily and efficiently access economic, social and cultural services. More than 2.7 million people, in 60 cities, worldwide already use Mastercard City Key cards to access financial aid or city services.
A City Possible Advisory Council was established earlier this year made up of some of the most innovative cities in the world to provide guidance to the network and drive initiatives focused on solutions to the biggest challenges facing cities today. Council members include representatives from the following cities: Los Angeles, Novo Hamburgo, Curitiba, Dublin (Ireland), Hamilton (Canada), the North Texas Innovation Alliance and the Smart City Italy Association.
Media Contacts
Rosa Jiménez , Mastercard
About Mastercard (NYSE: MA)
Mastercard is a global technology company in the payments industry. Our mission is to connect and power an inclusive, digital economy that benefits everyone, everywhere by making transactions safe, simple, smart and accessible. Using secure data and networks, partnerships and passion, our innovations and solutions help individuals, financial institutions, governments and businesses realize their greatest potential. With connections across more than 210 countries and territories, we are building a sustainable world that unlocks priceless possibilities for all.  
Follow us on Twitter @MastercardEU and @MastercardNews, read more about our global impact in Perspectives, and subscribe for the latest news from the Mastercard Newsroom.