Fintech startup Econans is the winner of the prestigious partnership program Mastercard Lighthouse FINITIV
November 21, 2022
Swedish fintech company Econans is the overall program winner of the fall edition of Lighthouse FINITIV 2022, Mastercard's partnership program for scaling fintech partnerships in the Nordics and Baltics. FinanceKey stands as the winner of the Finland Class and KWOTA is the winner of the Baltic Class. Danish greentech company Klimate receives the Investor Award.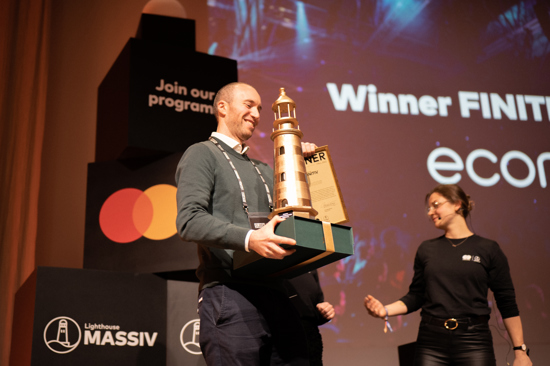 Swedish fintech company Econans, which offers digital services for simulation and automated advice on climate and financial sustainability, has been announced the overall winner of this year's fall edition of Mastercard Lighthouse FINITIV. Econans was awarded at Slush, where Lighthouse arranged the award ceremony. Econans will as a next step pitch its business idea for Mastercard's Start Path program, Mastercard's global start-up engagement program.
Mastercard's FINITIV program runs over three months and gives Nordic and Baltic fintech startups the opportunity to work with Mastercard and major Nordic banks such as SEB, Danske Bank, DNB, Swedbank and OP Financial Group. Each year, in one spring and one fall edition, a winner is selected by the program's partners, based on criteria such as ambition, product potential and progress.
Econans receives the award for tackling one of the most current issues for the everyday person, namely the energy crises causing high electricity bills. Econans helps consumers understand the potential cost, climate impact, and offers saving measures in the home. The diligent and tenacious effort from Econans team resulted in traction and great feedback among all the program partners.
"We are happy for Econans' recognition from Mastercard Lighthouse and its partners in the journey towards a more sustainable world, both environmentally and financially. With increased energy prices and tougher EU environmental laws we look forward to helping more consumers and banks around Europe", says David Klamer, Co-Founder and CEO at Econans.
"Econans has developed a diverse product portfolio with focus on customer value and shows an impressive level of professionalism in its partnership readiness. The Mastercard Lighthouse program gives an opportunity to meet quality startups like Econans and we are already looking forward to the spring batch", says Joakim Höglund, Partnerships Business Manager at Swedbank.
The winner of the Finland Class is FinanceKey, an open banking platform for corporations, helping companies tackle complicated, time-consuming internal treasury processes. KWOTA is the winner of the Baltic Class, which offers digital validation and trading of carbon emission savings.  KWOTA is awarded for its innovative way to significantly increase material reuse by introducing a business model benefiting and incentivizing producers. The people's choice award went to Olpay, which offers advanced facial recognition technology to enable small and medium businesses to accept different payments solutions.
"Mastercard is preparing for a sustainable future in the finance industry by doing our part by adapting renewable energy sources, reducing emissions, and enabling more sustainable materials for the consumers physical cards. We also support our customers to create solutions that enable them to provide sustainable products to the consumers for instance by creating an awareness of their carbon dioxide footprint on their purchases through the Carbon Calculator. We are very pleased to see so many solutions tackling the most pressing issues and the winners of this fall 2022 program reflect these values", says Mats Taraldsson, Head of Innovation, Fintech and Impact-tech Engagement at Mastercard Nordics and Baltics.
Read about Mastercard Lighthouse partnership news and growth of the alumni companies in the recently published Mastercard Lighthouse report.


About Lighthouse FINITIV
Mastercard Lighthouse is a partnership program designed to strengthen the entire financial services ecosystem. FINITIV is a free program designed to catalyze symbiotic partnerships between fintechs, Mastercard, and Tier 1 Nordic partners. Pairing the energy and innovation of fintechs with the stability and distribution at large financial service firms, FINITIV produces partnerships that strengthen the entire ecosystem. Each five-month the program hosts workshops for 15+ fintechs, and brings banks, investors, advisors and fintechs together to explore partnerships via open innovation.
Read more about Lighthouse at  www.mclighthouse.com
About Mastercard (NYSE: MA)
Mastercard is a global technology company in the payments industry. Our mission is to connect and power an inclusive, digital economy that benefits everyone, everywhere by making transactions safe, simple, smart and accessible. Using secure data and networks, partnerships and passion, our innovations and solutions help individuals, financial institutions, governments and businesses realize their greatest potential. Our decency quotient, or DQ, drives our culture and everything we do inside and outside of our company. With connections across more than 210 countries and territories, we are building a sustainable world that unlocks priceless possibilities for all.
Follow us on Twitter @MastercardEU and @MastercardNews, read more about our global impact in Perspectives, and subscribe for the latest news from the Mastercard Newsroom.