Danish impact startup EcoTree announced as the winner of Mastercard Lighthouse MASSIV
November 21, 2022
EcoTree, offering simple and financially viable solutions to becoming a tree or forest owner, is announced the program winner in the fall edition of Lighthouse MASSIV 2022, Mastercard's partnership program to find and scale tomorrow's impact unicorns. EcoTree was awarded at the Lighthouse award ceremony at Slush in Helsinki. EcoTree will now receive ongoing support from Mastercard and will pitch for Start Path, Mastercard's global start-up engagement program.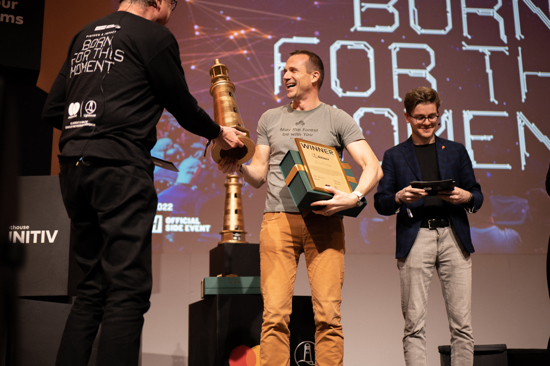 EcoTree offers an easy and accessible solution for both individuals and businesses to contribute to the reforestation and preservation of nature. EcoTree receives the award for focusing on both engaging individuals and businesses in solving climate change and increasing biodiversity, an impressive combination of social impact and sustainability. EcoTree also proved to be truly ready for partnerships with their solution.
"We are very proud to win the Mastercard Lighthouse MASSIV program. It has been very fruitful for us to discuss our solutions with top notch advisors and experts as well as with the other scale-ups. EcoTree International (and the many tree owners having invested in our forests already) is on the right track to secure a positive impact on people and the planet. With the program, we have gained a new network which will be helpful when bringing our nature-based solution to a wider audience", says Thomas Canguilhem, Co-Founder and CEO at EcoTree.

Ignitia, which provides accurate, location specific weather forecast for the tropics, is awarded the Impact Potential Award, for creating a real, positive, and tangible impact on the world.
"Ignitia's work to support low-income farmers in the tropics with weather information and advice to help increase crop quality and quantity is a clear-cut example of an enterprise that is making an incredibly tangible difference for people, every single day. As we have witnessed while working with Ignitia during the program, their diligence in working with data and measuring their impact should be able to take them far, while remaining dedicated to their mission of impacting thousands of small hold farmers across the world", says Stine Kirstein Junge, Private Sector Advisor at UNDP Nordic Office.
Over three months, five companies have participated in the MASSIV program where they have attended workshops and received support from advisors from Swedbank, Danske Bank, UNDP, VNTRS and Synch. MASSIV finalists also included Norwegian storage service company Wanda, which offers a circular logistics platform, with easy access to space and services such as maintenance, repair, purchase and sale and Danish greentech company Klimate, which offers an integrated platform for high-quality carbon removal strategy and action. Klimate was also awarded the Investors Award for attracting the most investor interest.
"Both EcoTree and Ignitia have highly impactful solutions. EcoTree contributes to biodiversity and sustainable forestry in Europe with their tree-ownership solution, and Ignitia is tackling a global challenge for farmers, touching upon both social impact and sustainability. We are proud to have worked on the scaling journey of five impact tech start-ups this fall program. With Mastercard Lighthouse MASSIV we have the vision of helping one billion people live more prosperous and secure lives by 2025. It is important to support start-ups impacting both people and planet and contribute to achieving the UN Sustainable Development Goals", says Mats Taraldsson, Head of Innovation, Fintech and Impact-tech Engagement, Mastercard Nordics and Baltics.
Read about Mastercard Lighthouse partnership news and growth of the alumni companies in the recently published Mastercard Lighthouse report.


About Lighthouse MASSIV
Mastercard Lighthouse MASSIV is a partnership program designed to make and scale social impact and achieve the UN Sustainable Development Goals with the format of long-term partnerships. By providing teams with competitive incentives and preferential access to partner resources, Mastercard Lighthouse MASSIV aims to foster partnerships that will enrich the lives of one billion people by 2025. Mastercard Lighthouse MASSIV is designed as a three-stage program. The companies meet with our advisory board, a hand-picked group of executives and partnership experts from around the world, who aim to bring a specific partnership to life. Each partnership proposal receives input from global experts in legal, design, and technology before reporting the results of their partnership endeavors back to the advisory board. The winner of the program is the team that demonstrates the potential to impact the most people via partnership.
Read more about Lighthouse MASSIV here: www.mclighthouse.com/massiv
About Mastercard (NYSE: MA)
Mastercard is a global technology company in the payments industry. Our mission is to connect and power an inclusive, digital economy that benefits everyone, everywhere by making transactions safe, simple, smart and accessible. Using secure data and networks, partnerships and passion, our innovations and solutions help individuals, financial institutions, governments and businesses realize their greatest potential. With connections across more than 210 countries and territories, we are building a sustainable world that unlocks priceless possibilities for all.  
Follow us on Twitter @MastercardEU and @MastercardNews, read more about our global impact in Perspectives, and subscribe for the latest news from the Mastercard Newsroom.