Warsaw joins the Mastercard City Possible Network
May 25, 2022 | By Anna Marciniak
Warsaw, 25 May – Mastercard and the city of Warsaw today jointly announced the that the city has joined the Mastercard City Possible network designed to strengthen cooperation in the tourism industry, improve urban planning through better use of available data and develop sustainability through innovative solutions.
Warsaw becomes the first Polish city to join for the City Possible network. Through the partnership – which will be managed by the Warsaw Office for Strategy and Analysis – the city will collaborate to develop data analysis for effective management of the refugee crisis, urban planning and development, and tourism. In the future, Warsaw's participation is expected to expand to include issues related to cybersecurity, public transport, and the efficient use of funds at the local level.
In just three years, the City Possible platform has grown from 16 founding members to an ecosystem of over 330 participating and candidate cities. Warsaw joins a network of cities that includes Athens, Belfast, Dublin, Helsinki, London, Prague, Smart City Association Italy, New York, and Los Angeles. Business partners of the initiative include major companies such as AT&T and Citi.
"Now more than ever, building more inclusive communities is important for cities development. We're facing unique challenges related to housing, tourism and urban planning; hence cities need to rethink how to adapt to create more inclusive digital world," said Bartosz Ciołkowski, general manager for Poland, Czech Republic and Slovakia, Mastercard Europe. "Technology is a tool that can support bringing more people into the digital economy, help cities in advancing inclusive and sustainable urban development. We are excited that Warsaw is joining the City Possible initiative, so that all partners as well as Mastercard can help to leverage data to support the city with refugee related challenges."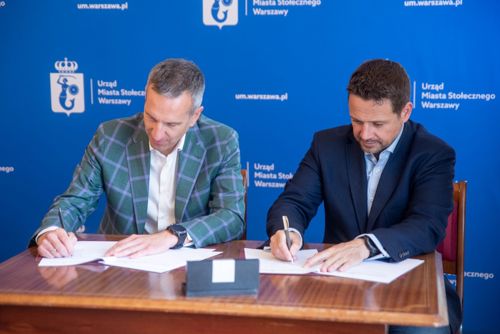 "Warsaw's participation in the City Possible program is yet another initiative that gives us access to the knowledge, information, and data necessary for modern metropolitan management," commented Rafał Trzaskowski, Mayor of Warsaw. "We want to benefit from the experience of other cities and share our own, so that together we can develop standards, solutions, and communication for residents. The most urgent areas that require our increased efforts are tackling climate change, preventing social exclusion, helping refugees, and data-driven management."
"We are proud to welcome the first Polish city to the City Possible global ecosystem. Over the course of the last few months, we've seen an acceleration of European cities and partners joining the network and we are excited to build on that momentum with the addition of Warsaw," added Miguel Gamiño, executive vice president, Enterprise Partnerships, and head of Global Cities and City Possible at Mastercard. "We look forward to partnering with the city to support its economic development efforts and drive inclusive growth together."