Mastercard joins forces with Edenred to revolutionise use of employee discount vouchers in Belgium
May 9, 2022 | By Amandine Servotte
Brussels, May 9, 2022 – Mastercard has announced that it is partnering with Edenred – the world's leading specific-purpose payment solution company – to launch a new card aimed to make it easier for people to redeem employee discount vouchers in Belgium.
From May, the new Edenred card will become an eligible method of payment in all physical, online, and mobile stores that accept Mastercard in Belgium. It means that Edenred cardholders will benefit from Mastercard's innovative payment features, including contactless and, for the first time in Belgium, mobile payment (including smartphones and smartwatches) via Google Pay.
By introducing Mastercard's network to the card, Edenred users will now be able to easily redeem employee discount vouchers – including consumption vouchers, Ticket Compliments, Ticket EcoCheque, Ticket Restaurant, and Ticket Sport & Culture – in over 100,000 physical, online, and mobile stores across Belgium, rising from 40,000.
In addition to the benefits for cardholders, the transition will be seamless for merchants. Those already part of the Edenred network will automatically be able to accept the new card. Others that currently accept Mastercard will be able to enrol to accept Edenred cards by signing a contract, without the need for any technical intervention.
The launch of the new Edenred card represents a significant sustainability feat for Belgian payment market. In alignment with the companies' green values, the card will become the first in the country to be made of recyclable materials. It will consist of 85% recycled PVC, and each card will use up to 4g of recycled European industrial waste.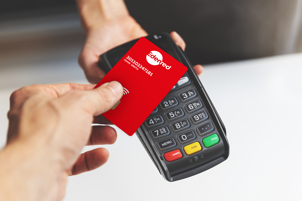 "We are very pleased to open our extensive network up to Edenred and its cardholders," said Henri Dewaerheijd, Country Manager, Belgium and Luxembourg, at Mastercard. "We connect banks, acquirers, and merchants around the world to enable fast and secure payments, and it is paramount that we facilitate innovation with partners like Edenred. This launch is the result of a long-term project built upon close collaboration between the two companies. I am extremely proud that Mastercard has contributed to this sustainable, pioneering product that represents a first for the Belgian market on multiple fronts."
"The launch of our new card, in partnership with Mastercard, signals the beginning of a new era for the specific-purpose payment voucher sector in Belgium," added Olivier Bouquet, CEO of Edenred Belgium. "The technology used will enable our cardholders to make purchases in more than 100,000 stores in physical, online, and mobile environments. We are proud to offer a future-proofed solution that meets the needs of our customers and merchants, all while abiding with our environmental commitment. To produce Belgium's first card made of recycled PVC is a special moment for us all."
The new card – which will be red – will be issued in May, when employees of Edenred customer organisations will automatically receive their new version once their existing one expires. In total, more than 1.5 million cards will be issued into the Belgian market in the coming months.
-ENDS-
Media Contacts
Amandine Servotte, Mastercard
About Edenred Group
Edenred is the digital platform for services and payments and the everyday companion for people at work, connecting over 50 million users and 2 million partner merchants in 46 countries via more than 900,000 corporate clients.
Edenred offers specific-purpose payment solutions for food (such as meal vouchers), mobility (such as multi-energy, maintenance, toll, parking and mobility solutions), incentives (such as gift cards, employee engagement platforms), and corporate payments (such as virtual cards). These solutions enhance employees' well-being and purchasing power, improve companies' attractiveness and efficiency, and revitalize the jobs market and local economy.
About Mastercard (NYSE: MA)
Mastercard is a global technology company in the payments industry. Our mission is to connect and power an inclusive, digital economy that benefits everyone, everywhere by making transactions safe, simple, smart and accessible. Using secure data and networks, partnerships and passion, our innovations and solutions help individuals, financial institutions, governments and businesses realize their greatest potential. With connections across more than 210 countries and territories, we are building a sustainable world that unlocks priceless possibilities for all.  
Follow us on Twitter @MastercardEU and @MastercardNews, read more about our global impact in Perspectives, and subscribe for the latest news from the Mastercard Newsroom.