GLS first German bank to launch "True Name" Mastercard
June 27, 2022 | By Juliane Schmitz-Engels
GLS Bank's transgender and non-binary customers can now have their preferred name printed on debit or credit cards
Bochum / Frankfurt a. M., 27th June 2022 – GLS has become the first German bank to introduce Mastercard's True Name initiative to its product portfolio. The True Name feature enables transgender people and non-binary individuals to use their chosen name on their GLS credit card, regardless of whether the name change is official or not.
GLS customers can now easily apply to change the name on their card by using the supplementary ID card from dgti e.V. The feature has already been rolled out successfully for GLS-issued girocards and, now, customers will be able to benefit with their credit cards as well.
For many in the LGBTQIA+ community, the name on their credit or debit card does not reflect their true identity. This often causes problems for individuals in the non-binary and transgender communities. To provide a solution for this issue, Mastercard first launched the True Name feature in the US in 2019. It allows everyone to put their preferred name on their payment card.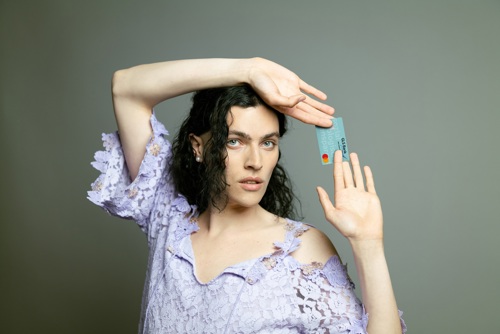 According to a recent Mastercard research[1], more people in Germany now describe themselves as non-binary – not identifying exclusively as male or female. The study revealed that 4.7% respondents define themselves as non-binary. Within the Generation Z age bracket – those born around the turn of the millennium – this figure rises to 9.5%. Of those surveyed, 12% said they were annoyed that their gender is stated on their ID card, bank card or credit card.
Dr. Peter Robejsek, Country Manager for Germany at Mastercard said: "Since the launch of True Name, we have received incredibly positive feedback from the transgender and non-binary communities. They have said that the feature has made their lives easier. For transgender individuals who feel they were born in the wrong body and want to redefine their identity, the identity printed on their cards often does not reflect who they really are. This can lead to discrimination. We are very pleased that GLS Bank is joining this initiative" This goal, he added, is to promote acceptance for all life models.  
Aysel Osmanoglu, Member of the Management Board of GLS Bank, added: "All our customers should have the option of using the name with which they identify themselves and by which they would like to be addressed on their payment card. True Name is a sign for more diversity, increased awareness of different needs of our society, and a call to recognise these needs throughout institutions and authorities."
Mastercard is already deploying the award-winning True Name feature with several partners. These include BMO, BMO Harris Bank, BMTX, bunq, CITI, FIS, Marqueta, T-Mobile Money, ONE, Republic Bank & Trust Company, among others.
For more information on how GLS Bank is using True Name, please visit www.gls.de/truename
[1] The study was conducted by Motivaction International on behalf of Mastercard in May 2022, explores the experiences of non-binary and binary LGBTQIA+ individuals across all facets of social life. A total of 15,935 people participated in the research, of which 452 identify as non-binary. The research was conducted in Austria, Belgium, the Czech Republic, France, Germany, Israel, Italy, the Netherlands, Poland, Portugal, Spain, Sweden, Slovakia, the United Kingdom as well as the United States and Canada. In each country a sample of n= 1,000 respondents was used, except for Portugal (n= 650) and Slovakia (n= 600).