Strong end to the festive retail season as Europeans returned to the shops
January 7, 2022 | By James Issokson
In-store retail sales rivalled pre-pandemic shopping in some European markets, including UK, France and Germany as consumers return to stores for holiday shopping
Clothing and Jewellery sales increased across key European markets with spend for the holidays strong in year-over-year growth
Even with last minute restrictions across Europe, it was still a resurgent festive season in retail. According to Mastercard SpendingPulse™, which measures in-store and online retail sales across all forms of payment, total retail sales (ex auto) experienced positive year-over-year growth as the season comes to a close. Uplift in sales in UK, France, Italy, Germany and Spain, year-over-year for the 1st November through 26th December period showed that even with a change in rules for many, retailers kept customers shopping.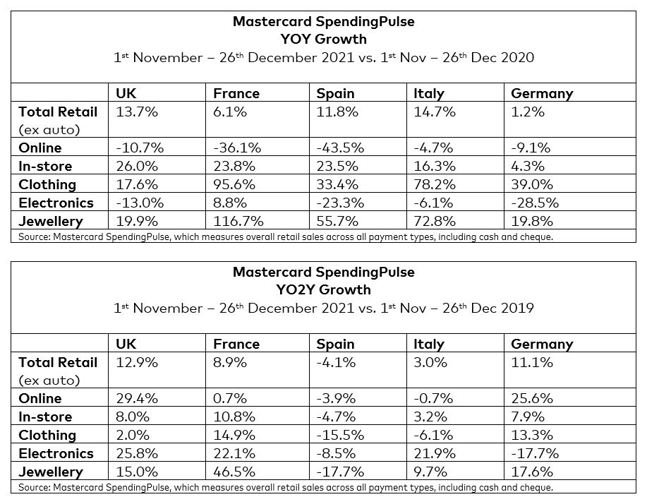 2021 saw YoY total sales increase across UK, France, Italy, Spain and Germany, and with the exception of Spain, growth Yo2Y, as Europeans embraced the festive season with renewed excitement for retail, and a return to in-store shopping. In the UK particularly, the lack of a lockdown led to late season in-person shopping, and the resurgence of in-store spend. Compared to 2020, consumers across Europe returned to physical retail stores, with double-digit growth in UK, France, Spain and Italy.
As Europeans got out of lockdowns and into the party season, this also translated to what they bought, with sales in jewellery and clothing sectors growing notably YoY, as people opened their spending to more fashion and accessories. On the other hand, electronics sales growth slowed compared to 2020, when people invested more in their home environments.  
'As we look forward to the new year ahead, it is encouraging to see such positive spending in Europe. The insights show people still got out to the stores and shopped across key gifting categories, giving the economy a much-needed boost and helping to start the year for brands and retailers alike with a flurry of optimism. We look forward to a more hopeful 2022', said Mark Barnett, President, Mastercard Europe.
Notes to editors: Total retail sales excludes automotive
About Mastercard SpendingPulse
Mastercard SpendingPulse™ reports on national retail sales across all payment types in select markets around the world. The findings are based on aggregate sales activity in the Mastercard payments network, coupled with survey-based estimates for certain other payment forms, such as cash and cheque. As such, SpendingPulse™ insights do not in any way contain, reflect or relate to actual Mastercard operational or financial performance, or specific payment-card-issuer data. 
About Mastercard (NYSE: MA)
Mastercard is a global technology company in the payments industry. Our mission is to connect and power an inclusive, digital economy that benefits everyone, everywhere by making transactions safe, simple, smart and accessible. Using secure data and networks, partnerships and passion, our innovations and solutions help individuals, financial institutions, governments and businesses realize their greatest potential. With connections across more than 210 countries and territories, we are building a sustainable world that unlocks priceless possibilities for all.  
Follow us on Twitter @MastercardEU and @MastercardNews, read more about our global impact in Perspectives, and subscribe for the latest news from the Mastercard Newsroom.