Mastercard Sport Economy Index reveals Europe set for 60% boost of new and returning fans at live events in 2022
February 2, 2022 | By Bénédicte Stievenart
This follows another year of exercise obsession for Europe, with social-distant sports like cycling, golf, and tennis experiencing a surge in spending
There are also green shoots in the sport tourism sector with a third of Europeans planning to go on a sporting holiday in 2022
Waterloo, Belgium – February 2 – Live sporting spectacles will see a 60% boost in new and returning fans this year compared to last – despite varying Covid-19 restrictions across Europe – according to a survey released as part of the Mastercard Sport Economy Index today.
A survey of over 10,000 Europeans found that over two thirds of people (67%) plan on seeing a live sporting event in 2022 – up from 42% that attended one in 2021 – with football, basketball and tennis set to be the most popular choices. Yet – with half of Europeans saying they found a new sport to follow during the pandemic – the door is open for emerging spectator sports, such as esports, to welcome new fans to live competition in the coming 12 months.   
This comes after two years of turbulent sport attendance restrictions that, for many, meant they could no longer attend live sporting events in their leisure time. Physical activity became a popular alternative and – according to a Mastercard Economics Institute analysis of aggregated and anonymized sales activity in the Mastercard network – spending on cycling, tennis, and golf equipment and services – all sports that comply with social-distancing rules – exceeded pre-pandemic spending levels.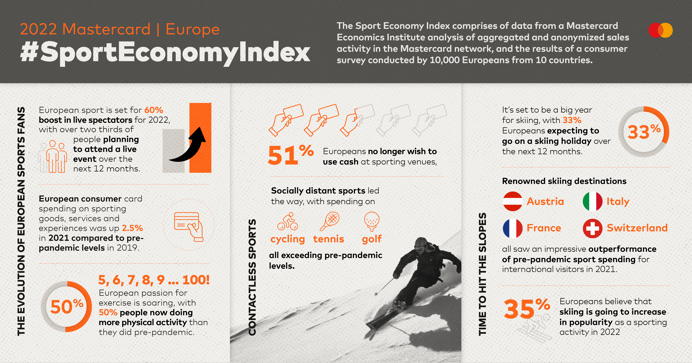 Exercise rules as Europeans get active
Overall, the Mastercard Sport Economy Index points to a hopeful year ahead for a sector battling the ongoing impact of the pandemic. The Mastercard Economics Institute analysis shows that European consumer card spending on sporting goods, services and experiences was up 2.5% in 2021 compared to pre-pandemic levels (2019), with sporting goods retail sales—such as golf clubs, tennis balls and bikes—up 14.6%.
Unsurprisingly – with over half (51%) of Europeans now doing more exercise than before the pandemic and 60% preferring to work-out at home or outdoors than in a gym or leisure centre– growth of the sporting goods sector significantly outpaced consumer spending overall in Europe.
This was driven by socially distanced sports, which saw double-digit growth once restrictions lifted in the second half of 2021. Specifically, when comparing the second half of 2021 with the same time period before the pandemic (2019), the analysis shows that cycling saw the largest spending increases (more than one-third), followed by tennis (up nearly one-third) and golf (up roughly one-fifth).
An optimistic outlook for live sport in 2022
Ahead of an exciting 12 months of sport – which kicked off last month at the Hahnenkamm Alpine Ski World Cup in Kitzbühel, Austria, sponsored by Mastercard – the future of the sector is promising as Europeans hope to return to watch their favourite teams and competitors live.
After all, for many, their passion for sport cannot be satisfied by watching on TV. Four in ten people lose interest in sport when they cannot attend matches or competitions in person – with the atmosphere and socialising topping the list for what they miss when stadiums are shut – highlighting the importance of live sporting events to European culture and society.
Europeans ready to grab their passports
There is consumer hope that the next 12 months will also bring with it more opportunities to travel, with a third of Europeans planning to go on a sporting holiday in 2022, according to the survey.
Skiing forms a cornerstone of Europe's sporting tourism sector, with 34% people preparing to hit the continent's snowy peaks this year. Last year, as ski slopes gradually re-opened in spring and autumn, Austria, France, Italy, and Switzerland all enjoyed international visitor spending on sport that exceeded pre-pandemic levels. While changing restrictions continue to influence the sector, the appetite for Europeans to hit the slopes is apparent.
"Over the next year, we believe the combination of easing restrictions and accumulated savings will open the door for European consumers to enjoy the sporting experiences that matter to them. We're thrilled to see that consumer confidence is on a positive upturn and that new and returning fans are excited to attend live sporting events in 2022," said Jeannette Liendo, Senior Vice President Marketing and Communications at Mastercard Europe. "Sport is a critical component of European culture – as both a spectator and participation activity – and we are proud to sponsor some of the region's most exciting sporting competitions and events for 2022."
Over the course of the next 12 months, Mastercard will sponsor some of Europe's most popular sporting competitions across the continent, including the UEFA Champions League, The Open, Roland Garros, Women's Rugby World Cup, and League of Legends European Championship.
Editor's note
The Mastercard Economics Institute analysis looked at aggregated and anonymized sales activity in the Mastercard network for Austria, Belgium, Croatia, Czech Republic, Finland, France, Germany, Greece, Ireland, Italy, The Netherlands, Poland, Portugal, Romania, Russia, Slovakia, Slovenia, Spain, Sweden, Switzerland and the United Kingdom. The Mastercard Economics Institute was established in 2020 and analyses macroeconomic trends through the lens of the consumer.
The survey was fielded by Dynata, which provided N=1000 completes across the following markets: Austria, France, Germany, Italy, Poland, Spain, Bulgaria, Slovenia and the UK. With panel partners providing N=1000 in Russia. These responses were collected between 24th of November and 14th of December.
Dynata use a multitude of methods to ensure data quality such as assessing survey pattern anomalies, speeder and straight liner checks as well as checking consistency with profiling responses and how panellist data lines up with 3rd party matches as well as location data.