Prague joins the Mastercard City Possible Network
February 9, 2022 | By James Issokson
8 February 2022 – Mastercard and the city of Prague today jointly announced the that the city has joined the Mastercard City Possible network designed to strengthen cooperation in the tourism industry, improve urban planning through better use of available data and develop sustainability through innovative solutions.
City Possible, pioneered by Mastercard, is a partnership and co-creation initiative that brings cities, companies and communities together to identify common challenges and co-develop solutions that advance inclusive and sustainable urban development. The platform aims to employ the latest technologies in fostering urban development and improving life in cities.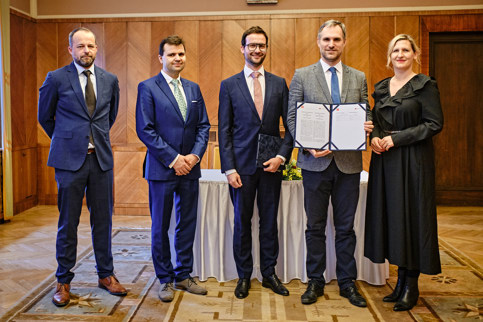 From left to Right ; Frantisek Cipro – Chairman of the Board of Prague City Tourism, Tomas Barczi – Chairman of the Board of Directors, CEO – Operator ICT, Michal Carny – Country Manager Mastercard Czech Republic and Slovakia, Zdenek Hrib- Mayor of Prague, Hana Trestikova – Member of the City Council in charge of Culture
The MoU signed today, lays the foundations for coordinated support in inclusive and sustainable city development with the use of innovative technological solutions developed in cooperation with experts, cities and organisations from around the world involved in the international initiative.
In Prague, the initiative will rely on the following three pillars:
1) Cooperation with Prague City Tourism to digitize City's tourism drive in-bound tourism backed by data and targeted marketing and communication activities.
2) Cooperation with Prague City Hall and its affiliated organisations with the aim of supporting sustainability via the use of innovative solutions.
3) Cooperation with Operator ICT, a.s. municipal joint-stock company that provides a wide spectrum of services for Prague in the area of information and communication technologies. 
The cooperation will involve analysing anonymised aggregated consumer and purchasing data for use in urban planning and development.
Digitization of the tourism industry and smart use of data in enabling economic recovery and growth are in alignment with the long-term "digital country partnership" established between the Czech government and Mastercard in 2019. 
"The signing of the memorandum between Prague and Mastercard fits in with our efforts to partner with private companies in data collection and sharing. I believe that such partnerships will allow for better analysis and planning of city services and enable decision-making on city development based on real data instead of perceptions. We want to establish such partnerships not only in the tourism sector, but also in the transport sector, for example with providers of navigation systems," said Prague Mayor Zdeněk Hřib.
"Technological innovations play a fundamental role in resolving the biggest challenges faced by big cities in these turbulent times. Uniting and sharing know how acquired by both private and public entities is one way of putting data to good use in making smarter and more efficient decisions for the benefit of all. As a result, the tourism industry and local businesses will benefit, while inclusive technological solutions will be developed and implemented at a more rapid pace. I am therefore delighted that Mastercard, as a technology company, is taking the lead in this area," said Michal Čarný, Country Manager of Mastercard Czech Republic and Slovakia.
"As part of the Stay in Prague campaign, we collaborated with Mastercard to analyse their behavioural data, which we used to effectively optimise the campaign and get the targeting right. We will continue to use the Mastercad Tourism Insights Platform tool in the preparation and implementation of other digital campaigns," said František Cipro, Chairman of the Board of Prague City Tourism. 
"We are very much looking forward to the cooperation. The data obtained will allow us to understand various aspects of the city's functioning that have not yet been mapped. However, the acquisition of data is just the beginning. Together we will have to find a way to make the best use of the data for the benefit of our capital city and its citizens. Whether it is to support tourism, culture or even economic recovery," added Tomáš Barczi, CEO of Operator ICT.
Modern partnership for hundreds of cities around the world
In just three years, the City Possible platform has grown from 16 founding members to an ecosystem of over 325 participating and candidate cities. Prague joins a network of cities that includes Athens, Helsinki, London, Dublin, Smart City Association Italy, New York, and Los Angeles. Business partners of the initiative include major companies such as AT&T and Citi.
There has been a multi-trillion-dollar impact on the global tourism industry over the past couple of years. Prague alone has recorded significant loss of its inbound tourism during the past two years which has adversely affected local businesses. By leveraging valuable data through Mastercard's Insights platform, the City and Mastercard will work together to digitize the tourism industry while enabling innovative technologies that foster an inclusive and sustainable recovery.
A new Mastercard Tourism Innovation Hub launched last month in Spain, to conduct research, leverage data insights and co-design technology solutions for the sector that will provide further opportunity for this kind of cooperation.
- ENDS-