Renfe deploys the technology to pay for train tickets with contactless cards or mobile devices in Cercanías Madrid with the collaboration of Mastercard and Santander
September 29, 2021 | By Ana Díaz Sacristan
After a successful pilot in Malaga, the roll-out will begin nationwide in 2022, starting with Madrid where 40% of stations already have this technology enabled.
The announcement took place at Nuevos Ministerios station, with the Minister of Transport, Mobility and Urban Agenda, Raquel Sánchez, and the President of Renfe, Isaías Táboas.
Madrid, 28th September 2021 - The Ministry of Transport and Renfe have announced that will deploy EMV contactless terminals throughout the Cercanías network in Spain, with the support of Mastercard and Banco Santander. The so-called Cronos Project will allow payment by contactless bank card or mobile device. The roll-out will be gradual, starting in 2022, and will begin in Madrid, where 40% of stations already have this technology enabled, until it is implemented in all Renfe Cercanías stations throughout the country.
The announcement took place at Nuevos Ministerios station and was attended by the Minister for Transport, Mobility and the Urban Agenda, Raquel Sánchez; Isaías Táboas, President of Renfe; Paloma Real, Country Manager of Mastercard Spain and Rubén Justel, Country Manager of Santander Merchant Services. This is a cutting-edge project in the field of mobility, making Renfe the first operator in Spain to adopt this technology on a national scale. With this project, contactless payment on local trains will be a reality both in the country's major cities -Barcelona, Sevilla, Málaga and Valencia- and in less populated areas where this public service is the backbone of the different population centers.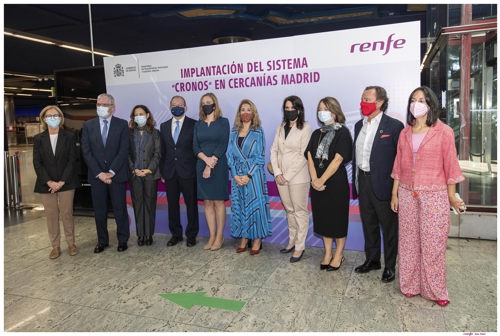 Boosting digitalisation, sustainability and tourism
EMV contactless technology has become a key factor in promoting the use of public transport, improving the competitiveness of our urban areas in terms of tourism, maintaining passenger health safety and creating a more sustainable and inclusive mobility. Which is why more than 300 cities around the world have adapted its use (London, Rome, Moscow, New York and Sydney, among others).
The Cronos Project will boost national technology, helping create a new economy based on digitization and the use of data, and to the vertebration of our cities and territories.
According to Paloma Real, Country Manager of Mastercard Spain: "The digitization of public transport contributes to building more sustainable, intelligent and, above all, inclusive cities. Projects like these, which have a national scope and represent an axis of vertebration in the territory, are possible through public-private partnerships, and we are delighted to collaborate, once again, with the Government of Spain, Renfe and Banco Santander to make our technology and tools available to them and offer contactless payments throughout the country. This is an initiative that will not only benefit local citizens, but will also contribute to tourism and the recovery of this sector".
Quote RENFE
In the words of Rubén Justel, General Manager of Santander Spain Merchant Services, "this project is a giant step forward in the digitisation of payment in public transport. It is a project with national scope and a spirit of service to citizens at a time when card payments have become widespread in all areas of society. We are very proud to have provided Renfe with the sector expertise of our wholesale banking and digital payments teams to create a simpler and more agile transport experience for all Cercanías users".
-ENDS-