PayPal and Mastercard continues expansion of popular debit card offering across Europe
September 1, 2021 | By James Issokson
PayPal Business Debit Mastercard® Rewards Small Businesses with Unlimited Cash Back on Eligible Spending and Gives Business Owners Fast Access to their available PayPal Funds Online and In Stores where Mastercard is accepted
EUROPE, September 1, 2021 – Today, PayPal (Nasdaq: PYPL) and Mastercard (NYSE: MA) announced that they are continuing the global expansion of the popular PayPal Business Debit Mastercard in four new European countries – Belgium, Finland, the Netherlands, and Portugal. This is in addition to Austria, France, Germany, Ireland, Italy, Spain, the United Kingdom and United States where the PayPal Business Debit Mastercard is currently available.
Over the past two years, PayPal and Mastercard have been focused on expanding its debit card offering for small businesses across Europe. From today, the PayPal Business Debit Mastercard makes it easier for small businesses to have fast access to their available PayPal funds and could give them unlimited cash back[1] on their eligible spending. Mastercard is the one of the most widely accepted cards in the world, meaning PayPal's business customers can now spend money held in their PayPal account at over 52 million Mastercard acceptance locations worldwide. The debit card has no monthly fees, no foreign exchange fees and a flat ATM withdrawal charge of just €2 worldwide.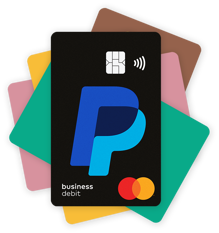 With its cash back program, PayPal pays out over 48 million USD to eligible business owners every year. In the European markets where the card is currently available, the PayPal Business Debit Mastercard is most often used for purchasing digital marketing services and retail goods for inventory and supplies, whilst in the US, the card is most commonly used to purchase business services and everyday essentials like groceries.
"The past two years have been challenging for small businesses around the world, and easy, fast, access to their available funds has never been more vital. The PayPal Business Debit Mastercard provides them with that, as well as the ability to get cash back, which helps businesses thrive", says Ed Hallett, Sr. Director, SMB Omnichannel, PayPal.
David Dechamps, Senior Vice President, Digital Partnerships at Mastercard Europe noted: "Mastercard is committed to supporting small businesses across markets. Providing SMEs with the best tools to easily access their funds is crucial, especially in the current environment. As such, we are delighted that we continue to be PayPal's partner of choice for issuing debit cards to their business customers."  
The PayPal Business Debit Mastercard was first launched in the US in 2003, providing a cashback reward whenever it was used. Since then, PayPal has chosen to work with Mastercard to expand its business debit card offering to Germany, United Kingdom, Austria, France, Ireland, Italy, Spain and now further to Finland, Belgium, the Netherlands and Portugal. For more information on the PayPal Business Debit Mastercard, and how to request one, please visit http://www.paypal.com/us/businessdebit
– ENDS –
[1] Cash back may vary per country. Terms and conditions apply
About PayPal
PayPal has remained at the forefront of the digital payment revolution for more than 20 years. By leveraging technology to make financial services and commerce more convenient, affordable, and secure, the PayPal platform is empowering more than 400 million consumers and merchants in more than 200 markets to join and thrive in the global economy. For more information, visit paypal.com.
PayPal contacts
About Mastercard (NYSE: MA)
Mastercard is a global technology company in the payments industry. Our mission is to connect and power an inclusive, digital economy that benefits everyone, everywhere by making transactions safe, simple, smart and accessible. Using secure data and networks, partnerships and passion, our innovations and solutions help individuals, financial institutions, governments and businesses realize their greatest potential. With connections across more than 210 countries and territories, we are building a sustainable world that unlocks priceless possibilities for all.  
Follow us on Twitter @MastercardEU and @MastercardNews, read more about our global impact in Perspectives, and subscribe for the latest news from the Mastercard Newsroom.