Bong Joon Ho, Tim Roth, Susan Sarandon, Marisa Tomei, Paolo Virzì shared their vision on cinema at the 78th Venice International Film Festival
September 7, 2021 | By Giuliana Abbate
September 7, 2021 - Mastercard, main sponsor of the 78th Venice International Film Festival – La Biennale di Venezia (September 1 - 11), and proud supporter of cinematic magic, new talent, different perspective, this year as well invited cinema lovers, students and future talents to join an exclusive virtual conversation series in partnership with La Biennale di Venezia with some of the most influential talents in modern cinema. Together, we will discover how stories told by great filmmakers can create an impact that lasts far beyond the film itself.
Bong Joon Ho, Tim Roth, Susan Sarandon, Marisa Tomei, Paolo Virzì and Robin Wright shared their thoughts on how great cinema can drive different perspectives, trigger myriad emotions and influence our lives from the moment the film begins.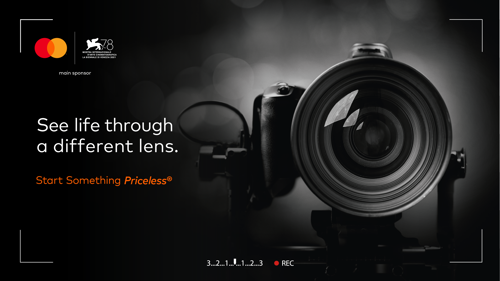 Bong Joon Ho "I am experiencing new cinema every day here. Just all great filmmakers, we don't need to debate if they are male or female directors. All we have to do is just enjoy it".
Tim Roth "I love walking into a cinema with a group of strangers and sharing what is on the screen. I think that is the most beautiful kind of experience as an audience member in the cinema. I think this should never be lost and the new platforms should support that. The new platforms benefitted from Covid. Now it is upon the platforms to support Cinema".
Susan Sarandon "I hope people tell stories to encourage people to be connected. We should be learning lessons upon how connected we are. We don't know what's going to happen in the future as our sense of time and being able to plan is completely disrupted. We have to re imagine our systems".
Marisa Tomei "I think more people have access to the equipment. Everyone has cameras even in their phones. The new generations are already looking through a lens from wherever they are in the world, and they have access for us to be able to see that now. They can make these movies from their phones if they want to".
Robin Wright "Women can tell stories. It's just different colors, different lenses. I want to promote all cultures to be more expansive in our Cinema, in America. We just have to speak louder and let know that we are here, we are not going anywhere. We want to make movies; we want to keep directing and acting".
THE PROTAGONISTS
Bong Joon Ho made his feature film debut with Barking Dogs Never Bite before gaining international acclaim with Memories of Murder. The Host and Mother were a great success with audiences and critics and received numerous awards. He made his first foray into international production with Snowpiercer, which starred Chris Evans, John Hurt, Tilda Swinton, Ed Harris, and Octavia Spencer, and followed it up with Okja which also boasted a stellar international cast. His latest film Parasite won the Palme d'Or, the David di Donatello Award, a Golden Globe, a Critics Choice Award, and BAFTA Awards for Best Screenplay and Best Foreign Language Film, as well as the Academy Awards for Best Original Screenplay, Best Director, Best International Feature Film, and Best Picture.
Tim Roth is one of the most versatile and talented actors on the world film scene. Starring in films by masters such as Quentin Tarantino, Francis Ford Coppola, Michael Haneke, Robert Altman, Werner Herzog and Wim Wenders, he also lends himself to more popular projects such as The Incredible Hulk, successful TV series for Marvel/Disney +, not forgetting his commitment to the theatre, which has won him numerous awards. His most recent films include Mia Hansen-Love's Bergman Island and Michael Franco's Sundown.
Susan Sarandon, considered one of the best talents of her generation, received five Academy Award nominations for Atlantic City, Thelma & Louise, Lorenzo's Oil, The Client and won the statuette for Dead Man Walking. Throughout her career she has also been honored with a BAFTA and a Screen Actors Guild Award, being nominated nine times for a Golden Globe and six times for an Emmy Award. In her long career she has worked with Billy Wilder, Jim Sharman, Louis Malle, Tony Scott, Paul Schrader, Joel Schumacher, John Turturro, Cameron Crowe, and Paul Haggis. In 2010, she was named a Goodwill Ambassador for the Food and Agriculture Organization of the United Nations (FAO).
Marisa Tomei, Oscar winner for My Cousin Vincent, is nominated twice more for an Oscar for In the Bedroom and The Wrestler. She divides her time between theater and leading roles in cinema with Somebody to Love, The paper, Only You. After the film Welcome to Sarajevo, she made her mark with two comic roles in Slums of Beverly Hills and What Women Want. She was nominated for an Independent Spirit Award for Before the Devil Knows You're Dead . She is cast as May Reilly in the Marvel Cinematic Universe films, including Spider-Man: Homecoming, Spider-Man: Far from Home and Spider-Man: No Way Home.
Paolo Virzì, debuted in movie direction in 1994 in Venice with La Bella Vita. His work set from the popular Livorno of Ovosodo (Grand Jury Prize at the 54th Venice Film Festival) and The First Beautiful Thing to the on the road genre. Along the USA East Coast with The Leisure Seeker, in competition at the 74th Venice Film Festival, starring Donald Sutherland and Helen Mirren (nominated by the Golden Globes as Best Actress). Magical Nights is his last film. He won 7 David di Donatello and 8 Nastri d'Argento. He was selected twice in the top five by the European Film Academy as Best European Movie Director. He represented Italy at the Oscars twice.
Robin Wright is an award-winning actress and philanthropist who is carving an indelible mark in Hollywood. Unforgettable in House of Cards, during her long and successful career, she played for Denis Villeneuve, Robert Redford, Robert Zemeckis, Nick Cassavetes, Rodrigo Garcia, David Fincher, Bennett Miller, Rob Reiner, Barry Levinson, Anthony Minghella, M. Night Shyamalan, Sean Penn, Peter Kosminsky, Luis Mandoki. In 2014, Wright launched Pour Les Femmes, a socially conscious sleepwear line, with clothing designer Karen Fowler. Robin is also a devoted advocate for the women of eastern Congo.
The "See life through a different lens" Conversation Series will be available on Mastercard YouTube, priceless.com and labiennale.org as follows:
Paolo Virzì, Wednesday September 1 – 4.30 p.m.
Tim Roth, Thursday September 2 - 4.30 p.m.
Robin Wright, Friday September 3 – 4.30 p.m.
Susan Sarandon, Saturday September 4 – 4.30 p.m.
Marisa Tomei, Sunday September 5 – 4.30 p.m.
Bong Joon Ho, Monday September 6 – 4.30 p.m.
-ENDS -
About Priceless.com
Priceless.com is Mastercard's experiential lifestyle hub designed to inspire and create once in a lifetime moments to be shared with family and friends at home, online, and everywhere in between. Exclusive to Mastercard cardholders, its unique multicultural proposition allows people to connect closer to their passions, fuels their desires for continuous learning and discovery, and gives them the opportunity to gift experiences, enter sweepstakes, and participate in special auctions to benefit important causes. Inspired from over 40 destinations and accessible from 90+ countries, consumers can find dynamically curated experiences both physical and digital across culinary, sports, arts and culture, music, and more, as well as custom editorial content enabling them to Start Something Priceless.
About Mastercard (NYSE: MA)
Mastercard is a global technology company in the payments industry. Our mission is to connect and power an inclusive, digital economy that benefits everyone, everywhere by making transactions safe, simple, smart and accessible. Using secure data and networks, partnerships and passion, our innovations and solutions help individuals, financial institutions, governments and businesses realize their greatest potential. With connections across more than 210 countries and territories, we are building a sustainable world that unlocks priceless possibilities for all.  
Follow us on Twitter @MastercardEU and @MastercardNews, read more about our global impact in Perspectives, and subscribe for the latest news from the Mastercard Newsroom.